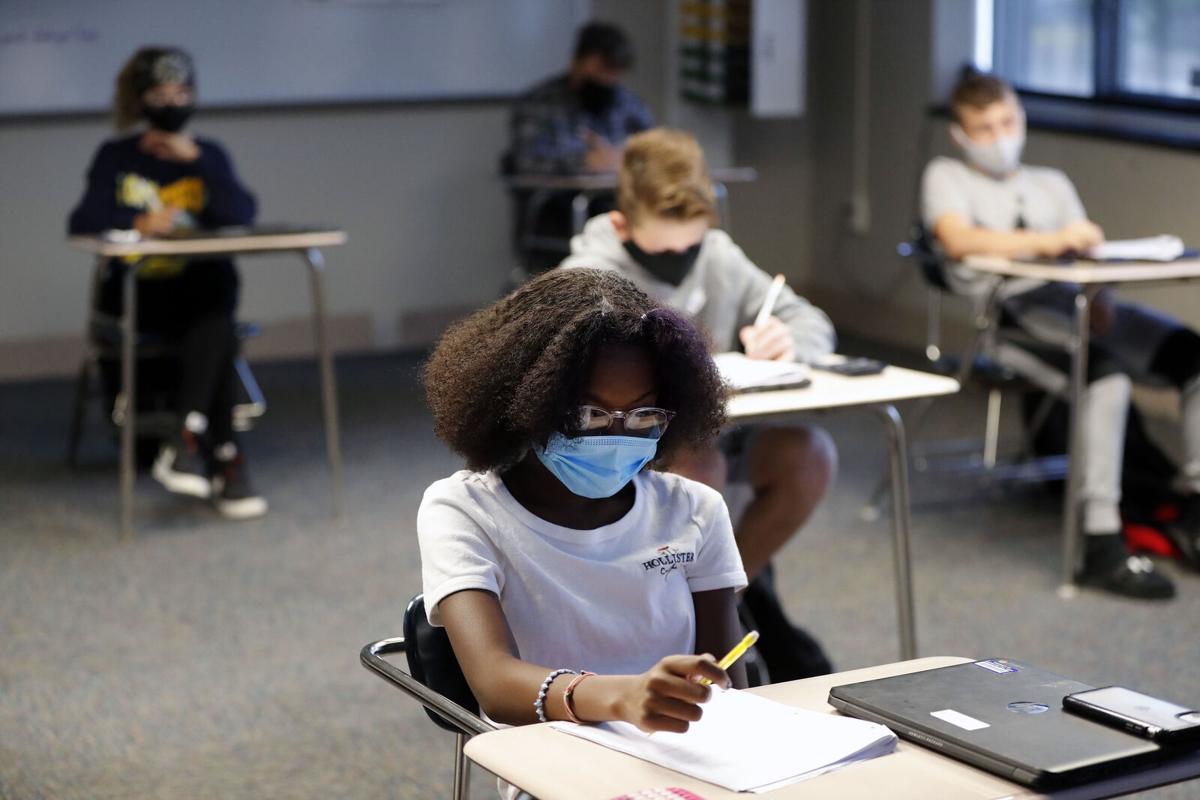 We were supposed to have a warm, quiet summer. Bright days, easy nights, fresh air – and the vaccine-enabled freedom to breathe, talk and laugh without a mask.
That idea deflated. Fast.
With the quick rise in Covid-19 cases around the country, we are heading back toward masking indoors, regardless of vaccination status. That recommendation came last week from the Centers for Disease Control and Prevention, and depending where and when you're reading this, it may be in effect for you right now. If you feel the reversal of the agency's mid-May guidance aching like a gut punch, that's understandable. Just when normalcy seemed within reach, we whirled around and went in the other direction.
Put another way, you could say we're making a small adjustment – remasking ourselves indoors is a cosmetic change, not a lifestyle overhaul – and one that is necessary to curb Covid-19 numbers.
To mask or not? To gather or distance? What's safe and what is risky? Does the finish line of the pandemic keep moving backward or is this our new normal?
As we learn that even vaccinated people can, in comparatively rare instances, get infected and spread the Delta variant, these are the questions we ask ourselves. In this week's Pandemic Lessons, we explore what it will take to get out of this and return to a life that feels just a little more normal.
We continually hear that the vaccines are largely effective, so what's the issue with the Delta variant?
The top-level answer is one you've heard many times: It spreads more easily than earlier versions of Covid. "It's more infectious, and it's much more easily transmissible," said Dr. Thomas Russo, chief of infectious diseases at the University at Buffalo's Jacobs School of Medicine and Biomedical Sciences.
More than eight in every 10 Covid cases in the United States today are caused by the Delta variant, according to CDC estimates – and the numbers are rising. In Western New York, the seven-day average positive test rate was 2.8% on July 29, up from 1.0% a year earlier. The seven-day average for case count was 83, up from 43 one year ago.
Compared with other regions of the country, those numbers aren't too alarming. The spread in most of New York is still somewhat controlled, although Erie County joined the New York City area on Friday in hitting "substantial" transmission level, with more than 50 cases per 100,000 people.
What's even more disconcerting is the difference from one year ago. Last July and August, with people gathering outdoors where the virus spreads less easily, felt almost like a reprieve. Our numbers back in summer 2020 reflected that, and remember, there were no vaccines back then.
Just masks, distancing and common sense.
Now we have vaccines, we know more about the virus and millions more people presumably have at least some protection from previous infection. (Scientists aren't sure how effective this natural immunity is, but the consensus is that it affords, at minimum, a bit of a shield.)
Still, our numbers are higher – and that's because as viruses evolve, they can become tougher and trickier for our immune systems to beat. That's what happened with Delta.
"If you remember the original pandemic, the first surge, everybody (and) everything got sick – and that was a wimpy virus," said Dr. Sharon Nachman, chief of the Division of Pediatric Infectious Diseases at Stony Brook Children's Hospital. Delta "is a much, much hardier virus. We built a better virus."
One set of numbers hasn't leapt: hospitalizations. Western New York's seven-day average for patients hospitalized with Covid was at 40 on July 29. Of those, nine were in intensive care units. Those same numbers one year ago were 33 and 10, respectively.
From a comparative standpoint, with cases considerably higher this summer, we're doing much better today than we were a year ago at keeping people out of the hospital.
That's the vaccines at work. A recent survey by ABC News of 17 hospitals in 50 states revealed that about 94% of the patients in ICUs were unvaccinated. Those findings reflect the national trend. It's worth noting, too, that vaccinated patients who get critically ill typically have other health issues, ranging from immunocompromising diseases to frailty.
This is why scientists still applaud the vaccines: They keep people alive.
Why are fully vaccinated people getting infected?
The basic answer: At their best, the two mRNA vaccines (Pfizer and Moderna) have an efficacy rate of about 94%-95% against the earlier strains of Covid. (Johnson & Johnson's baseline efficacy is less.) The mRNA protection levels have dropped a bit as variants emerge, and scientists are trying to figure out just how sturdy they are against Delta. Various studies have produced a range of results; Russo says "the bulk of the data" suggests an efficacy of about 88%.
That's good, but imperfect, and so people do slip through. In an internal report, the CDC likened Delta's ability to spread to that of chicken pox, according to the Washington Post. Meanwhile, a report released last week by the Kaiser Family Foundation noted, "The rate of breakthrough cases reported among those fully vaccinated is well below 1% in all reporting states." But only about half of the states are reporting such data at all, so there's much more to learn.
We do know this: The contagiousness of Delta is relentless. That was apparent in Provincetown, Mass., where 60,000 people gathered for closely packed and often-indoors July 4 celebrations, leading to an outbreak in which three-quarters of the infected people were vaccinated.
If an otherwise healthy, fully vaccinated person's immune system is hit with enough volume of virus, that can be enough to infect. Because Delta has been spreading at a greater rate among unvaccinated people, said Luis Schang, a molecular virologist at Cornell University, that buildup of virus can become so great that it is also starting to permeate the protections of people who have full vaccination.
"There are pockets of unvaccinated people that infect each other," he said, "and the total viral load becomes much higher for anybody who is exposed to it."
We have vaccinated people, unvaccinated people, vaccinated-but-immunocompromised people. Who is a threat to whom?
Think of it in three parts:
• Unvaccinated people can most easily spread to each other, which speaks to the importance of them wearing masks. The highest risks for infection, disease, hospitalization and death "by a very wide margin," Schang said, is among people who are not vaccinated.
• Vaccinated people can still contract Covid. The level of likelihood is unclear: It seems rare, but the risk rises as you're surrounded by more people. If you are vaccinated and infected with Delta – which you likely will be, since it's the dominant strain – you can spread Covid, too. But it's likely this so-called "epidemiological chain," as Schang calls it, will continue "by infecting a non-vaccinated person again."
• People with immunocompromising conditions (blood cancers, organ transplants, HIV/AIDS) are particularly susceptible, even if vaccinated. Schang noted that if he was visiting an immunocompromised person, he would always wear a mask. If he were living with one or was the main contact for that person, he said, "I would be making a big effort to minimize my contacts outside the household as much as I can." Work and groceries are fine, but "if I were playing beer league baseball, I probably wouldn't be doing it, for the time being."
How do we get out of this?
Vaccination is the simple answer, but that's not working at the level needed to snuff the pandemic. Only people ages 12 and older are eligible, and 60% of New Yorkers have at least one dose. That's a few points ahead of the national number (57%), but both essentially mean that four in every 10 people have no protection, save for whatever level of safety natural immunity provides for those who already had Covid.
Masking, which Russo calls "a bridge to vaccination," will help for now. Think back to last school year, when students wore masks in schools, and schools saw little spread, and that becomes clear.
"It's another effort, and it has been a long year," Schang said. "People are tired and that's perfectly understandable. But if we do the effort now it's going to be much faster going back to normal."