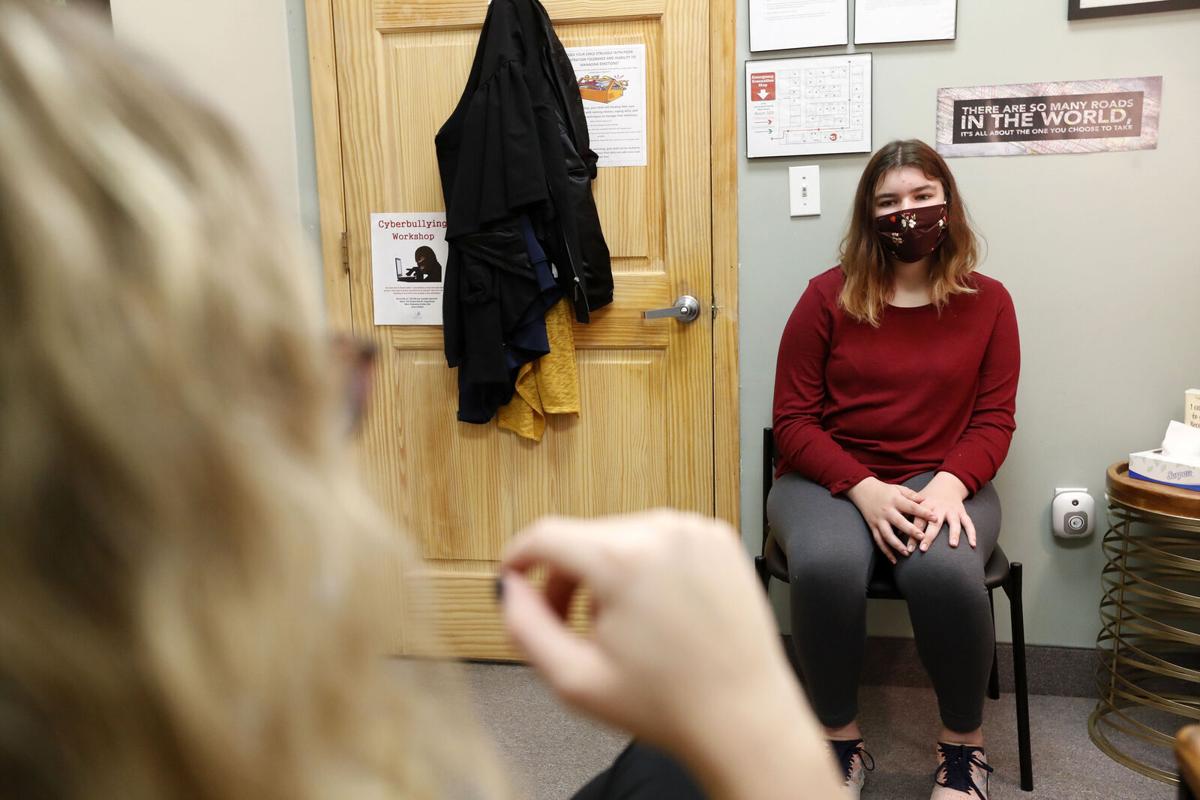 Grace Gordon finally had life where she wanted it.
She was part of a close-knit group of friends who navigated eighth grade together. They recognized each other's successes: Grace landed a lead role in her middle school play and earned a spot in the all-county chorus. Those were big deals.
They recognized milestones, bringing cupcakes to the cafeteria for birthday lunches. Grace and another girl celebrated their 13th birthdays last November within a day of each other, and wore matching Mickey and Minnie sweaters and braided their hair to mark the occasion.
"It was the first year in my life where everything was great," said Grace, who has been treated for anxiety since second grade, and depression since sixth grade.
By eighth grade, Grace felt the coping skills she had spent years learning were finally working. Her mental-health toolkit was empowering her to create a life she loved living – a happy life.
In the isolation of the pandemic – which stripped away every concert, trip, class and cupcake-birthday session from mid-March onward – Grace's mental health spiraled downward. "You could just kind of watch her fade away, as more and more stuff was taken," said her mother, Bonnie Gordon.
At some points, Grace was hearing voices in her head. She remembers it vividly: the deep, slow voice of a woman telling her to harm herself.
"The most terrifying day of my life was her coming to me and saying, 'Mom, I'm going to hurt myself,' " Gordon said. "Nothing a parent ever wants to hear. But thank God, we talk about everything."
Grace's parents took action, too, and got her the help she needed. Last spring, around the time she should have been soaking up applause at spring chorus concerts, Grace was hospitalized twice. Through that mental health treatment and regular counseling, she's doing better. But achieving wellness during Covid-19 is still a challenge for Grace, and for so many young people and their families.
In this installment of "Pandemic Lessons," we explore the mental-health implications for kids and teens, and how adults can help support the children in their lives – and themselves, too.
How is the pandemic impacting mental health?
Broadly, and deeply. Diagnoses of mental disorders are up, and so are reports of people experiencing symptoms without being diagnosed.
"We are seeing increased clinical depression," said Dr. Karestan Koenen, a professor of psychiatric epidemiology at the Harvard T.H. Chan School of Public Health. "But we're also seeing this sort of shift in the population where more people have some depressive symptoms."
In a recent presentation based on her research and that of her Harvard colleagues, Koenen pointed out several of the reasons Covid-19 is a traumatic stressor: It is new and threatening. It is unpredictable and you can't control it.
Koenen's research reveals that even just exposure to Covid-19 information several times per day – whether on social media or in the news, or through personal discussions or communication tools such as WhatsApp – may be bad for mental health. She also found a strong correlation between feelings of loneliness and the number of times per day a person engages in Covid-19 discussions or interactions with friends and family.
"Traumatic stressors are unpredictable and uncontrollable, and they overwhelm our ability to cope," said Koenen, adding that "most of us, at some point" will experience the pandemic in both those ways: Unpredictable, and uncontrollable.
In other words, you don't have to get physically sick for Covid-19 to affect your health.
Since the pandemic is unpredictable and – on a personal level, at least – uncontrollable, what can you do?
Stack up the good things and minimize the negatives.
To illustrate how families can build resilience through the pandemic, Harvard's Center on the Developing Child produced a graphic that depicts a seesaw and the idea of balance. On one side are positives: responsive relationships, stable housing and unemployment benefits. On the other side are negatives: distancing, schools closing, losing jobs, people getting sick.
The idea is to imagine your own balance. What's bad? Minimize those wherever you can. What's good? Add to those however you can.
"The same as we can offload stressors, we can also pile on supportive relationships and treatment for mental health issues," said Al Race, deputy director and chief knowledge officer at the Center on the Developing Child. "Those things actually help to build resilience."
Start by honestly assessing what you can and can't accomplish. "We love to focus on things we can't control – it's just in our nature," said Megan Quinn, a licensed clinical social worker and behavioral health department manager at the Community Health Center of Buffalo. "But the most important part is letting go of that and focusing, no matter how big or small, on the tasks and issues that we can control."
One thing we can control is turning off the constant flow of information about the pandemic and political and societal unrest. "Take that break," Quinn said. "Walk away."
That's offloading a negative. To onboard a positive, try engaging your family in "bolder conversations" to help you get to know your children better, suggests Ting Lee, a licensed mental health counselor in Buffalo. "We have to grow with our children," she said, noting that "we often assume that we know a lot more about our children than we actually do."
How do we know when to get help?
Sometimes it's clear, like when Grace Gordon told her mom that she was going to harm herself. But often it's difficult to discern the difference between the ups and downs of daily life and ongoing, potentially harmful mental struggle.  Lee suggests referencing your child's well-being in pre-pandemic months as a baseline for comparing daily habits, emotions and well-being. "February vs. October would be a great comparison point," she said.
While most kids and teens – especially those on distance learning – are likely spending more time in their bedrooms, if the amount seems disproportionate to what's needed, take note. If that is coupled with behavioral changes such as more irritability or frustration or snappiness, inattention, excessive crying, lack of motivation, an unwillingness to socialize even in ways that are allowable, consider connecting with a counselor.
The pandemic may not be the cause of the issues, either. In many cases, the extra stresses and increased time at home may uncover issues that already existed. "A lot of families could be struggling more with things that were easily buried by external distractions that are not necessarily present" now that  much of everyday life has shut down, Lee said. "Parents shouldn't be assuming that their kids are acting out because of the pandemic."
How is Grace Gordon doing today?
Better. Not as well as before the pandemic, but she's working at it. School is a challenge. Her grades are high, but Grace is on a hybrid schedule at her suburban high school that has separated her from many of her friends, and makes it difficult to keep track of tasks and maintain a sense of consistency. "My anxiety levels have probably never been higher," she said. "School is really ridiculously stressful."
There are positives, too. The help Grace received after sharing her struggles with her parents last spring helped her recover a sense of stability. She can build from that. While so many scholastic activities are canceled or cut down, Grace has been able to reclaim her passion for performing by joining a community theater near her family's home south of Buffalo. She's long loved visiting with her grandmother to watch "The Price is Right," and found ways to do that safely during the summer, although that's become more distant since school started too.
"It's very difficult, and it's very stressful," Grace said. "It's really hard, honestly."