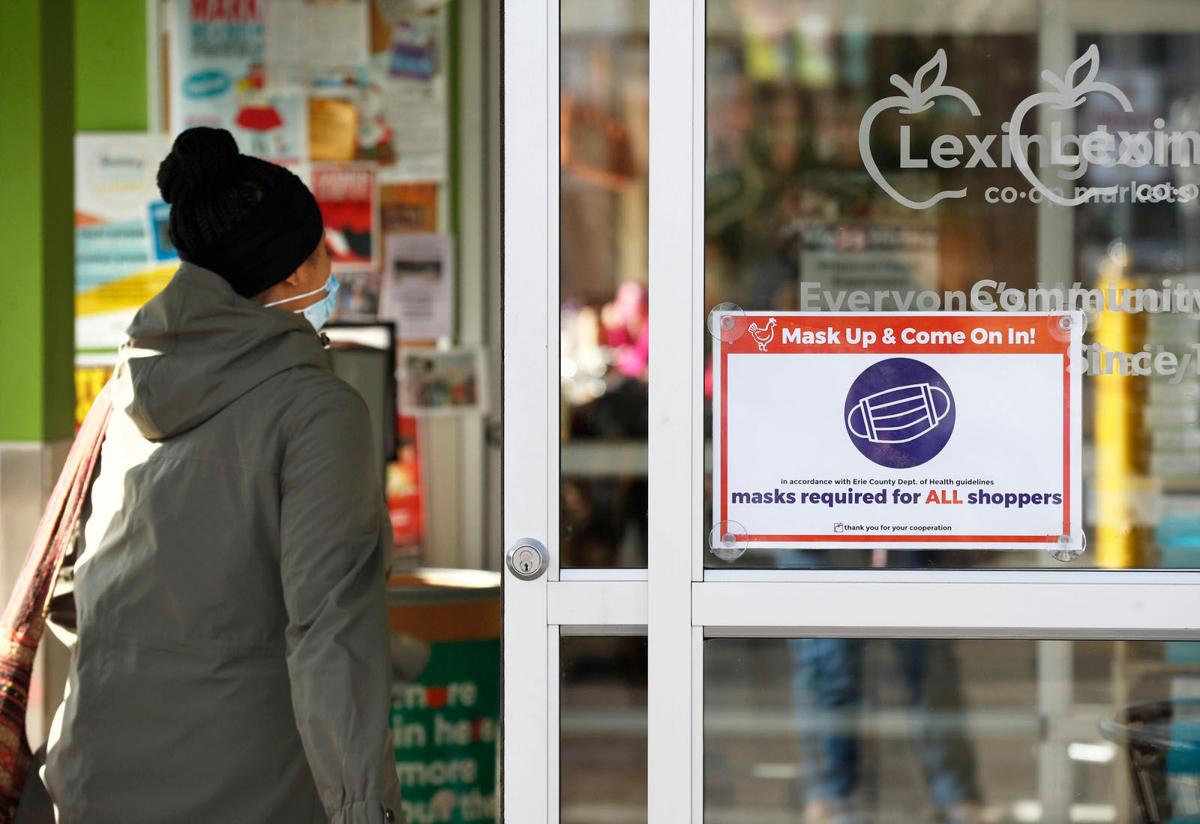 Some "gifts" are ones that nobody wants to receive.
Like Covid-19. But we're giving it anyway.
Western New York's virus numbers are hot and getting hotter. Coming out of Thanksgiving and heading into a season of holiday gatherings, there's little reason to think they're going to settle down.
In this Pandemic Lessons, we explore what that means, how to engage with people while gauging safety, and explore the reasons why going out – including and especially for worship – may be among the healthiest things you can do.
How bad are our Covid numbers?
Erie County and Western New York are experiencing some of their worst-ever daily case counts and positive test percentages, but the most telling number may be hospitalizations.
"That's really the marker of 'How is it affecting the health of people in our community?' " said Dr. Brenda Tesini, a pediatric infectious diseases specialist at the University of Rochester Medical Center. "Are people being hospitalized from this? Is it overwhelming our health care systems? Are these individuals having severe Covid, where they can die from it, or be in the ICU?"
Heading into Thanksgiving, Western New York's seven-day average for Covid hospitalization numbers was 386 patients, including 75 people in intensive care. Those numbers, accurate as of Nov. 23, are startlingly higher than the figures from exactly one year earlier: 264 hospitalized; 52 in the ICU. But more jolting is this: One year ago, those hospitalization and ICU numbers roughly doubled by Dec. 16, which almost certainly was a result of Thanksgiving gatherings.
It's too early to tell whether we'll see a similar spike in Western New York this year, but monitor it over the next few weeks – and as we learn to live with Covid, be prepared to watch hospitalization numbers.
"Our future world is probably going to pay more attention to the degree of complications, not so much the case rates," said Dr. Stuart Ray, vice chair of medicine for data integrity and analytics at the Johns Hopkins Institute for Nanobiotechnology.
How does vaccination play into this?
Vitally – for you, the people around you, and the world.
While it's clear that vaccine-induced immunity wanes after several months, necessitating booster doses that are now available to all U.S. adults, it's also clear that those shots significantly lower the risk of both contracting Covid and of being hospitalized for it. The majority of people hospitalized with Covid are unvaccinated, and most vaccinated people who do end up in a hospital bed with a breakthrough infection are older or have underlying health conditions.
The facts infer multiple conclusions: You're safer with a vaccine than without. If you're reasonably healthy and unafraid of what Covid will (or won't) do to your body, it's also worth noting that every new case of the virus perpetuates spread, especially if people are gathering in close quarters and unmasked. That can hurt people you know and love, and if you zoom outward and look at the broad picture, it hurts the world: Virus spread enables mutations, including Delta and the new Omicron variant emerging from southern Africa.
In the season of giving, that's a lump of coal worth keeping for yourself – or avoiding altogether.
"An analogy would be secondhand cigarette smoke," said Dr. Robert Klitzman, a psychiatrist and director of Columbia University's masters of bioethics program. "It used to be that you could go into a bar and smoke, and blow smoke in people's faces. That was OK. And then when it became clear that it's harming other people, we said, 'I'm sorry, you can't do that.' We believe you shouldn't harm other people."
What does this mean for holiday gatherings?
A gathering of fully vaccinated people, especially if they have booster shots, will generally have a low risk of spread. This is also likely true of people who had symptomatic Covid since July, when Delta became the dominant strain. While scientists are far from reaching a consensus on the long-term effectiveness of post-Covid immune responses, they acknowledge that people who have dealt with a significant case of Delta still "have natural immunity," said Dr. George Rutherford, an epidemiologist with the University of California, San Francisco.
A group with more varied levels of immunity can still gather with a reasonable degree of safety if you add in proactive measures like testing and preventative strategies such as opening windows or using an air filtration system, and masking when people are close, vulnerable or both.
"Some combination of vaccination, testing, trying to optimize ventilation, and to protect the vulnerable is the best strategy," said Dr. Thomas Russo, chief of infectious diseases at the University at Buffalo's Jacobs School of Medicine and Biomedical Sciences.
Some strategies are smart on a scientific level but may be difficult on a social one. At a dinner party, for example, you could spread out or separate unvaccinated people to minimize risk. But that's an awkward proposition.
"If that was my family, the answer would be, 'Sorry, but you're not invited,' " said Dr. John Sellick, an epidemiologist with Kaleida Health, Veterans Affairs and the University at Buffalo. "That's all there is to it. Which I know is hard."
Should you avoid religious services?
Not necessarily. In fact, there's plenty of good reason to believe that going to a house of worship is among the healthier practices you can do.
Attending a worship service in a relatively spacious, preferably high-ceilinged space that allows you to spread out can be done with relative safety. Crowding into a small area, unmasked and singing, is less advisable even if you're likely to have a high level of immunity, because it could allow a higher concentration of virus particles to gather.
Those are the risks to weigh for any close gathering, including those in churches, synagogues, mosques or temples. But the benefits of engaging your spiritual side are significant. A story last spring in this Pandemic Lessons series highlighted the benefits of worshiping in person: It's a healthy thing to do.
"There's no question that attendance at religious services is the most powerful factor in terms of health benefits," said Dr. Harold Koenig, a Duke University psychiatrist who has extensively studied the relationship between spirituality and wellness. His research and that of other scientists has illustrated a positive correlation between attending worship services and improving mental health, blood pressure, combatting conditions such as cancer and enhancing longevity.
In his interview with The News earlier this year, Koenig noted his own study that showed people who regularly attended spiritual services and read scripture at home are 40% less likely to have high blood pressure, which is considered a risk factor for bad Covid outcomes.
Attending religious services – or any gatherings – in person also helps alleviate loneliness, which is already widely considered to be a public health epidemic in the United States that leads to increased instances of heart conditions, mental health issues and death. A study conducted by Cigna just before the pandemic found that 61% of Americans feel lonely – a number that our Covid world has surely exacerbated.