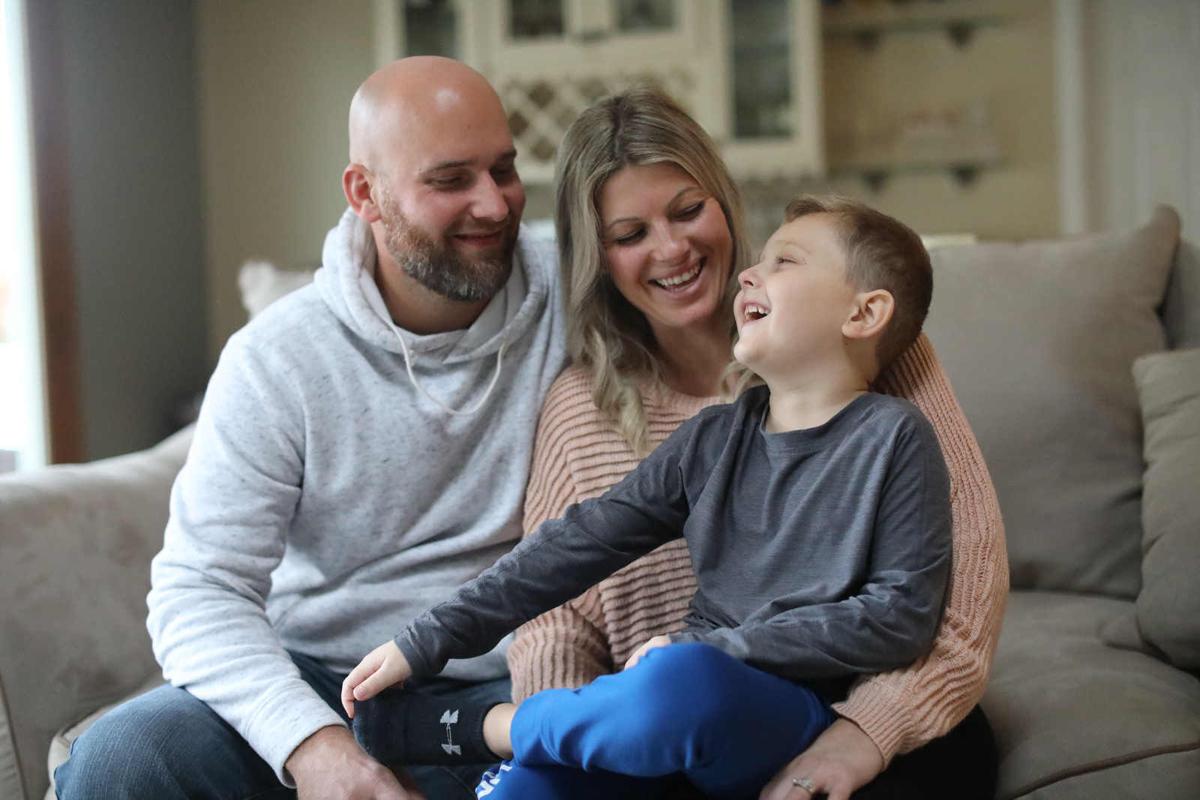 In March 2020, shortly after his 5th birthday, Lucas Grzybowski had a sickness he couldn't shake. He was fatigued and had trouble breathing; it seemed he had pneumonia.
Or it could have been Covid-19 – an especially scary prospect then, because "nobody knew anything about Covid at that time," Lucas' father Edward recalled.
Lucas took medication and underwent a series of procedures to drain his lungs. But the fluid kept coming back. "I had a bad feeling," said his mother, Kaitlin. "He wasn't getting any better."
Finally, by early May, doctors at Oishei Children's Hospital detected what was happening. A scan revealed a mass on Lucas' lung. The mystery illness wasn't Covid nor pneumonia. Lucas had a form of acute lymphoblastic leukemia – a cancer that was treatable, but through an arduous two-year regimen.
In the 19 months since, Lucas – who is a patient at Roswell Park Comprehensive Cancer Center – has undergone chemotherapy to knock out the malignant cells. He steps out of his kindergarten class on Tuesdays so a nurse can deliver a brief round of treatment. His prognosis is good, but the treatment has weakened his immune system, and he is especially vulnerable to Covid. "If your kid gets a fever of 102, they say, 'OK, just give them some Tylenol and they'll be all right,' " Edward Grzybowski said. "If my kid gets a fever of 100.4, you drop what you're doing and get them straight to the hospital."
That's why Lucas' parents were so eager to see vaccines approved for children his age. If Lucas and the children around him can be immunized, it will help keep him – and all of them – safe.
Finally, that's possible. Kids ages 5 to 11 – essentially, every child who attends elementary school – can now receive Pfizer shots, which were authorized this week by the Centers for Disease Control and Prevention. In this Pandemic Lessons, we explore the safety and implications of those vaccinations.
Why vaccinate a younger child?
If a child is immunocompromised, vaccines can be life-saving. Although doctors aren't certain how effective or durable the vaccines will be in children who have weakened immune systems, every bit of protection helps, and maybe just as vitally, surrounding those kids with other children and adults who are vaccinated can create a shield of sorts that minimizes the chance of infection. Even if children are healthy and likely to push through Covid without complication, boosting their immunity with vaccination can help protect vulnerable kids like Lucas, who may be sitting in the same classroom or riding on the bus.
"If you're around someone who has childhood cancer, you want to make sure you're not exposing them to Covid – that you have minimized your ability to spread Covid," said Dr. Ajay Gupta, a pediatric oncologist in the Roswell Park Oishei Children's Cancer and Blood Disorders Program. "The bottom line means getting vaccinated."
Even if a child isn't immunocompromised, the safety rule still applies. While people who have immunity through vaccination or a previous bout with Covid can still catch the virus, these breakthroughs and reinfections are relatively uncommon. This helps cut spread, and strongly minimizes the opportunity for a Covid infection, if it does happen, to have a bad outcome.
"My major concern is potential for long-term consequences" from Covid infection," said Dr. Thomas Russo, chief of infectious diseases at the University at Buffalo's Jacobs School of Medicine and Biomedical Sciences. "Every child we protect who doesn't get infected is a positive thing."
Dr. Sharon Nachman, the pediatric infectious diseases chief at Stony Brook Children's Hospital, compares Covid vaccination for healthy kids to wearing a seat belt: It's something you do because it's available, easy and can keep you alive.
"They may never be in an accident, but that one time they may be in an accident, that seat belt and the car seat will save their child's life," Nachman said.
What's the potential for side effects?
Though the time frame of reference is short, more than 7 billion Covid vaccine doses have been administered around the globe, which gives medical professionals a load of information about safety and efficacy. Sumit Chanda, a 1989 graduate of Williamsville East High School who went on to become one of the country's leading infectious disease researchers, told The News, "This is one of the safest medical products I've ever seen."
Side effects almost always emerge in the first two months following vaccination. The studies and trials of Covid-19 vaccination in children have started well outside that two-month window. "If there were significant side effects, they would have shown up in the trials," said Dr. Stephen Turkovich, who is vice president and chief medical officer at John R. Oishei Children's Hospital.
Side effects have been low in adolescents as well. One that is rare but has gotten attention – myocarditis, or inflammation of the heart muscle – has largely been treated "with very simple things like over-the-counter Motrin, and did not require any hospitalization," Turkovich said. Myocarditis that follows a Covid infection, he added, has tended to be more complicated. The vaccines largely help you avoid complications, or at least blunt the intensity of them.
For kids like Lucas, possibly. Pediatric cancer patients are particularly susceptible to Covid. Gupta, who is a principal investigator representing Roswell in the national Pediatric Oncology COVID-19 Case Report registry, noted that in a study of 900 cancer patients age 21 and under:
• 11% needed respiratory support
• 9% needed intensive care
"These numbers are very different from your kid without cancer who got Covid," Gupta said.
Vaccination is a necessary tool for combating that threat to younger cancer patients. It may also be an effective method for helping keep schools open, and possibly speed up the timeline for lightening or removing masking rules.
"It's a great day for children," said Dr. Paul Offit, a pediatrician and infectious diseases expert who is director of the Vaccine Education Center at Children's Hospital of Philadelphia.
Offit added that 28 million kids have been "all in one place – school – fully susceptible, some of whom are in communities where transmission is still high." While they've been shielded by masks – at least in schools that require one – now, parents can "protect their child by getting a vaccine, so from that standpoint, it's a game-changer," Offit said.
That's individual. But for the whole of society, it would take a mass movement to make a collective difference. Those 28 million kids represent just under 10% of the U.S. population. If every one of those children were to be vaccinated, Offit said that would push the county's population immunity level to about 90%. (He figures the United States has about 80% population immunity now between vaccination, post-Covid immunity and a combination of the two.)
"If the majority of parents made that choice, I think it would be a game-changer for society," he said. "But I don't think that's what's going to happen."
But it will for Lucas Grzybowski. As he hopefully finishes his fight with cancer, Lucas' parents are so anxious to armor him that his father Edward acknowledged, "I'd vaccinate my 2-year-old if I could."