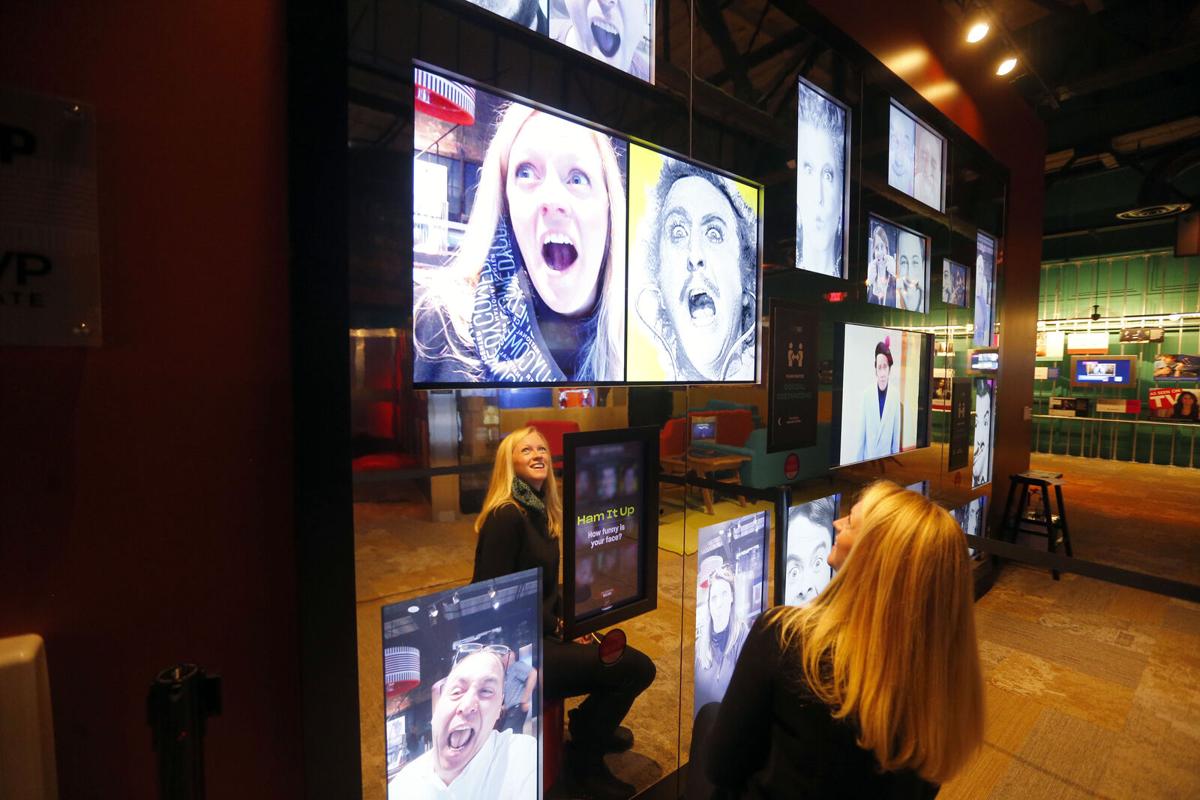 JAMESTOWN — Journey Gunderson is contorting her mouth wide and raising her brow until the whites of her eyes are popping off her face.
She's trying. She really is. But matching the twisted facial expression of the actor Gene Wilder isn't easy.
Gunderson looks at a split-screen image on a monitor in front of her. On the right is a still shot of Wilder as Dr. Victor von Frankenstein in the 1974 Mel Brooks comedy horror film "Young Frankenstein." On the left is an image of Gunderson as she follows the onscreen instructions ("Match This Expression") of this exhibit inside the National Comedy Center here.
"I needed more of the bottom teeth showing," she said, smiling it off.
For Gunderson, who is executive director of the Comedy Center, laughs are good to have around here, however you come by them. Keeping this place open during the pandemic is akin to walking through an unending house of mirrors: You're always moving forward – but under a constant state of self-examination.
In this installment of "Pandemic Lessons," we dive into what it takes to keep a cultural attraction open by using the National Comedy Center as a case study:
With schools and so many businesses closing, how can a museum-like attraction stay open?
State regulations allow indoor attractions including museums, historical sites and aquariums to open under a series of guidelines and restrictions. Among them: Capacity is limited to 25%, face coverings are required of all staff and visitors who are medically able, tour groups should be small or limited to households, and exhibits that present a high risk of Covid-19 transmission must be closed.
As virus case numbers rise across the state heading into winter, it's questionable whether attractions will remain open. While the Comedy Center is located in a region where Covid-19 numbers are spiking less dramatically than in Buffalo 70 miles to the north, the idea is to draw visitors from elsewhere. And so the Comedy Center has made adjustments. That includes a change in mid-November, shortly after The Buffalo News visited to report this story: Gunderson and her team modified or closed many areas, including the aforementioned "Ham It Up" expression-matching exhibit, that allowed visitors to briefly drop their masks. No food or drink can be consumed in the facility, either — not even at a cafe area that was set up for safe, table-seated distancing.
"LaughSafe was always intended to be a dynamic health and safety program, flexible and responsive should the Covid situation change," said Gary Hahn, the center's senior marketing executive, referring to the brand name the Comedy Center assigned to its pandemic protocols.
Even by requiring masks most or all of the time, how do you keep an indoor attraction safe? Especially an interactive one?
Early in the pandemic and while the Comedy Center was shut down, Gunderson instructed her staff to review the exhibits through the lens of safety questions: Would it have to be closed? Could it be done safely? How could it be altered to function safely?
"Pretty quickly, we realized that we shouldn't be the sole personnel making those calls when it comes to health and safety," Gunderson said. "We realized it would be wise to consult with epidemiologists every step of the way."
The National Comedy Center started consulting with epidemiologists from the University of Pittsburgh Medical Center, which has a satellite campus in Jamestown. The epidemiologists toured the entire museum via video call and later in person to analyze the health and safety protocols. Along with the standard and typically state-required rules about masking and distancing, the Comedy Center and medical professionals advising them put in place several more strategies:
• Visitors are encouraged to go online at home to create their "comedy profile," which asks for your favorite comics, shows and movies and is loaded onto a chip-enabled wristband that customizes your experience in the museum. (For example, say if you like the comedy of Tina Fey and Tracy Morgan, and you're more likely to see "Saturday Night Live" and "30 Rock" clips at one of the media exhibits.) You can create your profile at a monitor in the lobby, but doing it at home helps lessen crowding — and the touching of screens.
• On the topic of touching: The Comedy Center is loaded with touchscreens and hands-on exhibits that allow visitors to pan a full-size television camera and handle classic comedy props, such as a brain in a jar. Each visitor is given a stylus to use instead of fingers, and every exhibit that requires you to grasp something has loose-fitting, one-use plastic gloves, along with a trash can to toss them into after. Staff is on standby to disinfect items between visitors, too.
• Visitors are given a card with explicit instructions on the safety protocols. Their chip-enabled wristband is looped around the card, which also provides a barrier between their skin and the screens as they reach out with the wristband to activate an attraction.
• Exhibits that allowed the brief dropping of masks were only approved if they were well-distanced or blocked off from the flow of visitors. Now, they're either modified or closed down.
• Also closed: A hologram theater that features a 12-minute show with comedian Jim Gaffigan. While most of the Comedy Center is spacious – it's housed in a retrofitted train station with a new HVAC system – the hologram theater is just that: a cozier, tighter space. Distancing would be difficult, and the duration of the show, once you count in and out time, comes close to 15 minutes, which medical professionals have tagged as the likely amount of exposure time needed to catch the virus from an infected person.
• Wording matters: Some exhibits, like one featuring George Carlin's personal papers, require people to briefly crowd together. Those attractions are marked "One Household Limit." Gunderson's staff and the epidemiologists discussed the wording: Should it be "one party," "one carload" or "one family?" This matters: You can be related to someone, and therefore family, but not live with them. The verdict was "household." "It's a big part of this iterative process with epidemiologists about how we're going to run the place," Gunderson said. "If everybody lives together, and drives together, they can define themselves as a household."
Dr. Graham Snyder, the chief epidemiologist at UPMC, lauded the Comedy Center's "absolutely superlative approach to keeping people safe" with "science-based interventions" during a video interview with The News from his office in Pittsburgh.
"We laughed at the end of our most recent conversation that it's really important that people keep laughing," he said, "because the pandemic has got everybody down quite a bit. So the service they provide for their community is important."
OK, laughing makes you happy — that's clear. But beyond a brief smile, is it actually that important?
Laughter lowers stress hormones like adrenaline and cortisol and increases endorphins. "That's why it feels good," said Dr. Sophie Scott, a neuroscientist in London who studies laughter. "When you've been laughing you get something a little bit akin to a runner's high."
That sense of well-being lowers stress, which is chronically present during this pandemic, and that can lead to less anxiety and better sleep, said UPMC's Snyder, who added: "That is better for the immune system."
With the virus spreading more now than ever, amping up your immune system is one of the best things you can do – and a laughing bug might be the healthiest one you can catch.
Pandemic Lessons: Answers to Covid-19 questions
In this ongoing series, News staff reporter Tim O'Shei gets answers to common questions readers have concerning Covid-19. Check back for updates to "Pandemic Lessons."