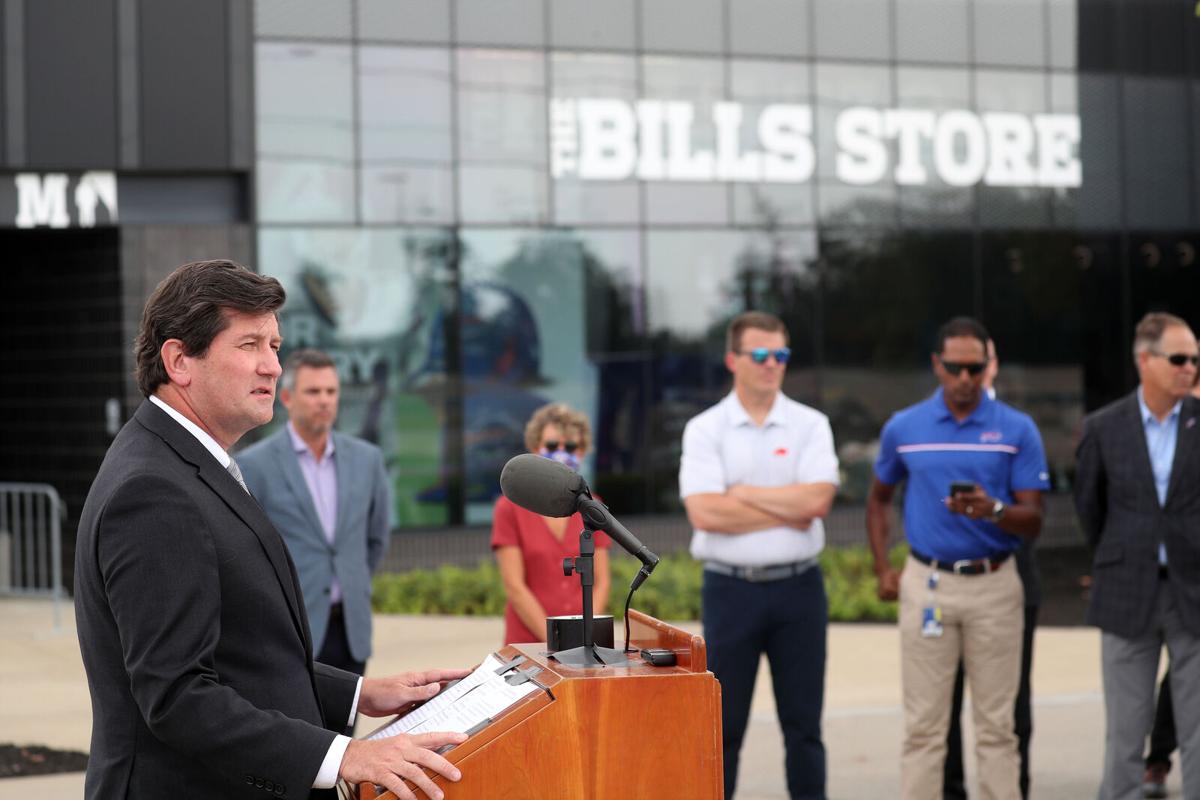 President Biden has imposed a series of vaccination orders that could impact 100 million Americans. Gov. Kathy Hochul, in her first month as New York's chief executive, issued or advocated vaccination and masking orders that encompass broad swaths of health care professionals and virtually every educator and child care worker in the state.
And now the Buffalo Bills and Buffalo Sabres are in on the vaccination action, too. If you want to attend a football game at Highmark Stadium, or a hockey game or concert at KeyBank Center, you need to be fully vaccinated by the end of October. That announcement was made last week, and followed within days by a similar announcement from Shea's Performing Arts Center: If you want to go to a show, you've got to get a shot.
With the pandemic showing no signs of quelling, similar announcements are likely to follow in the coming weeks and months. That will broaden an already noticeable chasm between vaccinated and unvaccinated individuals. We explore the implications of that in this week's Pandemic Lessons.
Are these strict vaccination rules surprising?
Whether they're right to implement is a debatable point, and one that lawyers are eagerly taking up in court against masking mandates for schools and vaccination for health care workers, among others. But the basic facts are not debatable, and that makes the rules – especially in a state like New York – fairly predictable. Those facts are:
• Covid is going nowhere anytime soon. Western New York's seven-day average case count on Sept. 16 was 394 – nearly six times higher than the number from one year earlier. The average number of hospitalizations (187) is also six times higher, and the average number of people in intensive care (45) is about four times higher.
• Western New York's vaccination rates hover around the national average, which is not enough to significantly stifle spread. As of Sept. 18, 64.7% of Erie County residents and 60.1% of Niagara County residents have at least one vaccine dose. (Those figures drop in the more rural, outlying counties.) That trails New York's statewide average (69.7%) and straddles the national average (63.7%).
Elected officials in New York – from former Gov. Andrew Cuomo to Hochul to Erie County Executive Mark Poloncarz – have not shied from instituting strict policies. Speaking last week of the Bills-Sabres rules, Poloncarz said, "For those that are complaining, there was always going to be this possibility." He also noted that the 322 Covid-positive test results reported on a single day in the county last week "was the highest day of new cases since April."
But aren't these rules going to create a vaccinated vs. unvaccinated dynamic?
They're punctuating one that exists already.
Between 60% to 80% of people hospitalized locally are unvaccinated, according to reports from area hospital systems. Those who are fully vaccinated and yet still are hospitalized or die from Covid tend to be older, immunocompromised, or both.
The still-considerable number of unvaccinated individuals is driving the spread of the Delta variant of the virus, which in turn is compromising people who are already at risk even with vaccination, often through factors they cannot control: age, or immunocompromising medical treatments.
The solution for slowing that spread is vaccination, as verified by ongoing testing, monitoring and the Food and Drug Administration's full approval last month of the Pfizer vaccine.
"We're not asking anyone to go storm a beach," said Dr. John Sellick, an epidemiologist with Kaleida Health, Veterans Affairs and the University at Buffalo. "We're not asking anyone to give up a piece of their liver. We're talking about getting a safe, effective vaccine so we can stop the carnage."
What about a have-vs.-have-nots scenario? Doesn't requiring vaccination lead to that?
On the basic level, no, because the shots are free, but there's still serious work to be done in the area of vaccine equity.
"I don't see it as a rich man-poor man kind of thing," Sellick said, "because this is available to everyone."
Supply chain is not a challenge here. For people 12 and up, vaccine appointments are readily available. (Children 11 and under aren't yet eligible for vaccination, but can generally attend events if masked and accompanied by a fully vaccinated adult.)
Personal choice – and the implications of it – is the core issue.
"If you don't want to get vaccinated – if you want to have a much-increased risk of getting a disease – that's kind of your business," said Dr. Robert Klitzman, a professor of clinical psychiatry and director of the master's of bioethics program at Columbia University. "It becomes an issue when your decision affects other people."
Klitzman acknowledges a "very tiny percent of people who may have a medical reason not to be vaccinated" and believes stadiums, arenas and other venues should try to accommodate them by allowing admission with testing and providing safety measures such as separate seating.
"But for others," he said, "we need to get as many people vaccinated as possible if we really want to stop Covid, get ahead of this, and not have to wear masks the rest of our lives."
So for most people, it simply comes down to choice?
That may be oversimplifying the challenge.
Many people of color, for example, have long-held hesitation over vaccination that is rooted in a history that is cruel and racist. That includes the Tuskegee syphilis study that began in the 1930s and over the course of some 40 years used Black men as experimental subjects, and a program in the 1970s in which doctors may have sterilized at least one of every four Native American women of childbearing age.
That dynamic plays out nationally and locally. In Western New York, Black people comprise more than 11% of the total population, but just under 8% of the vaccinated population. The gap is smaller, but still exists, for Hispanic individuals, who account for 5% of the population, and just over 4.5% of the vaccinated population.
Providing vaccination to more people of color will ultimately help slow the spread of Covid. But convincing people who are hesitant will require ongoing education and trust building. Dr. Jerome Adams, who served as surgeon general in the Trump administration and who is Black, said in a recent interview with The Buffalo News that the "historical scars from the way that their communities were treated ... aren't going to be able to be overcome in a matter of weeks to months."
Adams also emphasized the importance of not assuming "everyone who's unvaccinated is unvaccinated by choice, and it's on them. There are a lot of people out there – especially Black and brown people – who still have barriers to getting vaccinated." He pointed to the importance of providing education about vaccination, and fully understanding people's hesitations, which can be as practical – and vital – as keeping their job.
"They have concerns about being able to go to work the next day if they have side effects from the vaccine, and losing their job," Adams said. "They're still concerned about whether or not people have to pay for the vaccine – especially in Latino communities – and we have more education to do there."
Our society is heading fast toward a structure where unvaccinated people may be left on the outside of opportunities, events and even jobs. There's a science-based argument to be made for the policies that lead to this, and for much of it, there's a legal counter-argument that will play out in courts. But there's a larger issue at hand, and one we ought not bury in the midst of frustrations over watching a football game in person or on TV.
"You can't push it on the individual," Adams said, "if you aren't giving them the resources, the opportunity, the trust, to make those choices."