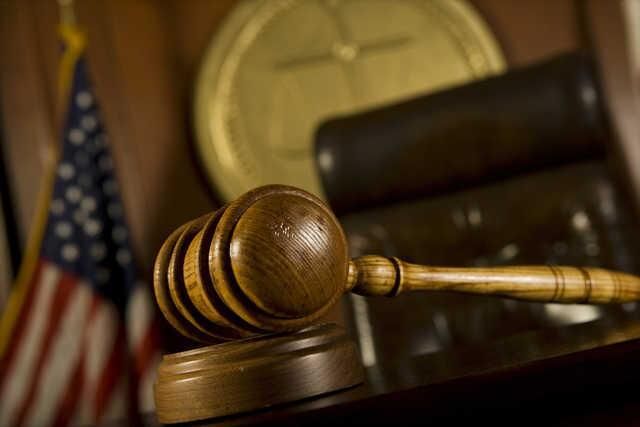 Covid-19 may be a global health crisis, but its ripple effects extend far beyond the world of public health.
Just ask the Erie County Attorney's Office.
"Essentially, I had to clear my desk and ignore all my files," said Jeremy Toth, the first assistant Erie County attorney primarily responsible for handling Covid-related cases.
The County Attorney's Office has been named in a dozen lawsuits over the past year and a half, beginning with a couple that sued Erie County in U.S. District Court over the right to exceed the 50-person capacity restrictions for a wedding last summer, according to the County Attorney's Office.
That figure doesn't count other Covid-related lawsuits in state and federal court that originated in Erie County but were filed against New York and excluded Erie County. If county legal offices have seen a stream of such lawsuits, the state has seen a flood of them. 
Unlike typical civil suits that move at a more deliberate pace, the coronavirus lawsuits are Article 78 proceedings in which petitioners are claiming immediate harm and demanding delayed enforcement or relief to rules imposed by government. In the county cases, the suits have sought the immediate suspension of restrictions that kept businesses closed, gatherings small and classrooms dark, said County Attorney Michael Siragusa.
Parents in four suburban Erie County school districts have decided the best path to the classroom is through the courtroom.
The county attorney's staff had to lay out the bones of their defense within a couple of weeks in order to fight preliminary injunctions. That led to temporary delays in handling dozens of other types of cases, like personal injury complaints, Toth said.
"It's a lot of work when you have to drop everything and work 10 days straight to say it's the state's fault," he said.
In most cases, New York was also named as a defendant in the lawsuits since former Gov. Andrew Cuomo used his emergency executive powers to temporarily close businesses, restrict capacity and set mask-wearing and distancing requirements. The county argued it was complying with and enforcing state mandates.
Erie County handled all its Covid-related cases in house. But Toth and Siragusa agreed that Erie County was likely one of the few upstate counties with enough legal staff and support to handle the suits without having to pay outside attorneys to pick up this work.
The county also benefited from being able to work with the state Attorney General's Office, which was inundated with Covid-related suits and working to build similar arguments to fight the flood of Article 78 filings, Toth said.
A recent series of local suits coming before State Supreme Court judges have led to temporary restraining orders and preliminary injunctions barring enforcement of the governor's Covid-19 restrictions.
County Executive Mark Poloncarz has broadly stated that those who sued the county over Covid-19 related restrictions lost their cases at the lower court level or on appeal. But a Buffalo News review of the outcomes shows a mixed bag.
In five of the 12 cases the county had to defend, a U.S. District Court or State Supreme Court judge sided with the plaintiffs by granting full or partial preliminary injunctions that temporarily barred certain restrictions.
These included a legal challenge to capacity restrictions in the wedding case; individual suits by Zoom Tan and Lasertron seeking the right to reopen; and a suit by more than three dozen Erie County restaurants and bars regarding the indoor dining ban. A judge granted a partial preliminary injunction for parents, coaches and student athletes challenging restrictions on fall school sports and fan attendance.
A judge sided with the company in its lawsuit over its right to provide tanning services during the pandemic.
Four other cases involved suits filed in the spring by the parents of Clarence and Grand Island students who wanted schools to reopen for in-school instruction five days a week. Two of those cases were withdrawn and refiled for technical reasons. The refiled cases eventually were discontinued as schools were allowed to reopen.
In fact, in many cases where preliminary injunctions were granted, further legal action became unnecessary as the state revised and relaxed its restrictions. Cuomo said the state scaled back and dropped its restrictions as infection rates and hospitalization levels improved. Local lawyers representing businesses and parents, however, believe the legal pressure being put on the state through successful and pending lawsuits forced the Governor's Office to make changes.
Erie County won three lawsuits in which preliminary injunctions were denied and/or cases were dismissed. An injunction was denied in a case brought by six event and banquet venues challenging the 50-person capacity limit, and so was one related to the closure of hair salons and barber shops.
A judge dismissed a lawsuit by Christian Central Academy in which the school sought to be exempted from public health orders mandating masks be worn by students and staff.
More recently, a suit filed by Christian Central Academy, a private school in Amherst, against the county and state regarding the school mask-wearing mandate was dismissed last month in State Supreme Court.
None of the Covid-related cases filed against Erie County government appear to have been appealed. Toth did point to one lawsuit originally filed by Erie County businesses against the state, regarding the state-imposed 10 p.m. curfew for restaurants and bars. In that case, a temporary restraining order suspending the state's 10 p.m. closure requirement was successfully appealed by the state.
Five days after more than 90 local bars and restaurants won a temporary restraining order to stay open past 10 p.m., an appellate court judge has stayed that order.