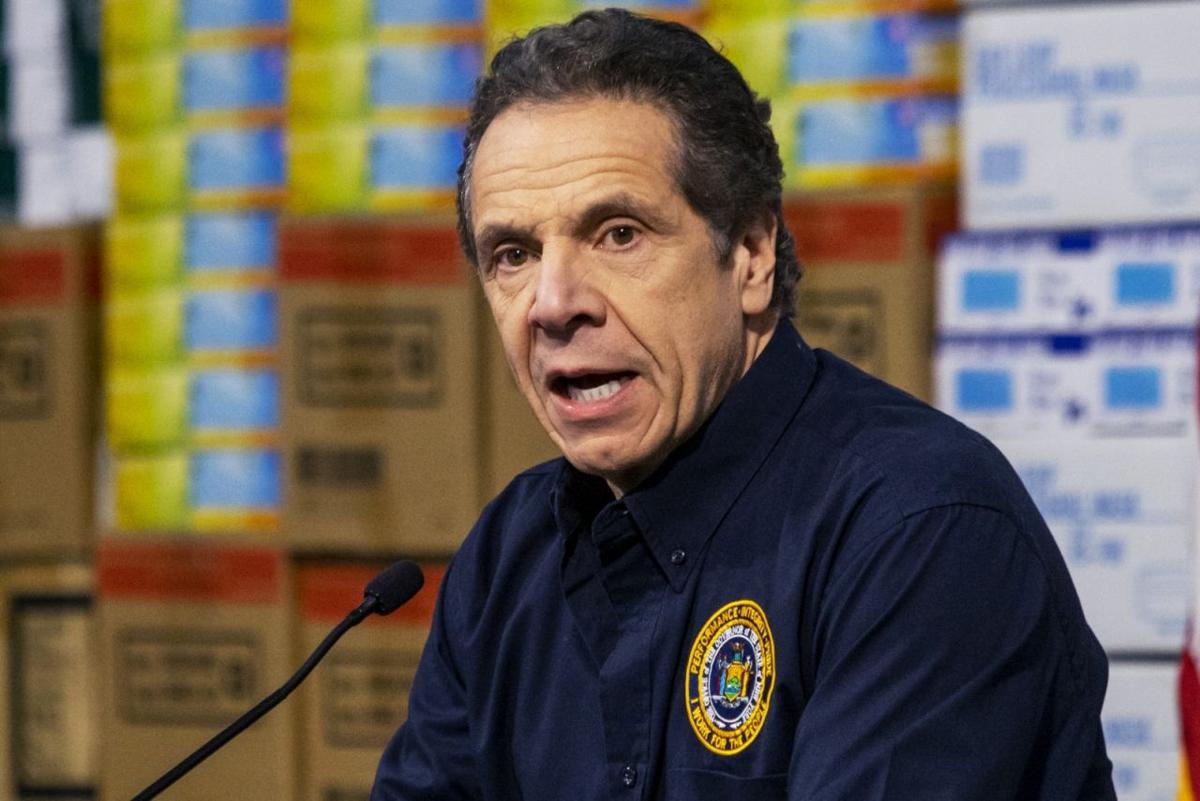 WASHINGTON – It's not just the pundits and the public who came away impressed with Gov. Andrew M. Cuomo's handling of the coronavirus crisis in the early weeks of its spread across New York.
Pandemic experts – New York's epidemiologists and infectious disease physicians – praised Cuomo, too.
"Gov. Cuomo has become an excellent leader on Covid-19, not just for New York, but the entire nation," said Chloe A. Teasdale, assistant professor of epidemiology and biostatistics at the City University of New York Graduate School of Public Health & Health Policy. "He is using available data and expert scientific input to guide the New York State response and is communicating clearly and frequently with the public about what is happening and what they need to do."
Teasdale was one of 20 pandemic experts across the state who responded to a Buffalo News request for comment on Cuomo's performance. All of the experts who responded did so before Cuomo's order Friday that upstate hospitals and other medical facilities will have to turn over ventilators and personal protective equipment for use downstate, the pandemic's hot spot. The order took area hospital leaders by surprise and drew sharp pushback from elected officials and health care administrators who say they need to be prepared for a potential surge in Western New York.
But academics who study how illnesses spread and doctors who treat infectious diseases said Cuomo's decisive approach in the first few weeks of the pandemic helped provide clear information to the public as 'social distancing' measures were put in place. Especially in comparison with President Trump, those experts said, Cuomo's approach in the first few weeks was a great, if imperfect, job as he led the state amid one of its greatest crises ever.
A great communicator
Through his daily briefings, Cuomo has made himself a phenomenon. A Siena College Research Institute poll released Monday found that 87% of New Yorkers approve of his actions on the pandemic.
Epidemiologists and infectious disease experts at universities across the state approve of Cuomo's actions, too. In particular, they hailed his performance as explainer-in-chief.
"Gov. Cuomo is an excellent communicator to the public and knows all the facts and wastes no time talking about unrelated issues," said Xiaojing Ma, a professor of immunology and microbiology at Cornell University. "He is doing his best to prepare for the onslaught of the virus."
Dr. Thomas A. Russo, professor and chief of the Division of Infectious Diseases at the University at Buffalo's Jacobs School of Medicine and Biomedical Sciences, praised Cuomo for his effort to educate the public, as well as his statewide call for "social distancing" and his efforts to press for more testing and medical supplies.
"He has not 'sugarcoated' the potentially dire consequences we are facing," Russo said.
Above all, those surveyed lauded Cuomo's briefings, which veer between just-the-facts tutorials on the pandemic to from-the-heart musings about its emotional toll.
"Gov. Cuomo's daily responses to this unfolding pandemic have given New York State a sense of order, which many who are anxious and confused appreciate," said Dr. Candace Marr, an associate clinical professor of medicine and infectious disease specialist at the University at Buffalo.
Right moves a bit late?
Experts also praised Cuomo for making the right moves in response to the pandemic – although some wish the governor had acted more quickly.
"Gov. Cuomo has been aggressive in approaching the Covid-19 epidemic and has not tried to minimize nor to overexaggerate or sensationalize the pandemic," said Dr. John Crane, a professor at the University at Buffalo School of Medicine.
At the same time, seven of the 20 experts questioned via email said Cuomo's step-by-step moves to enforce "social distancing" should have come sooner.
"His response has been very good generally, especially after the scope of the problem became more obvious," said Rupak Shivakoti, assistant professor of epidemiology at Columbia University. "However, his shelter-in-place and workforce reduction orders likely came at least a week too late. I understand the economic considerations of such a decision, but if it had been done earlier, New York State and New York City would likely be able to better manage the current situation."
In response, Cuomo's allies note that the lack of testing – which is a result of federal actions, not state actions – made it difficult to know how widespread the virus was in New York early on. They note that even so, Cuomo was the first governor to order widespread social-distancing measures – and that he couldn't act until after the State Legislature gave him the authority to do so on March 3.
Several academics raised similar issues.
"Even though there is much uncertainty about the overall risk from Covid-19, Gov. Cuomo has been decisive and has clearly articulated his reasoning for the decisions he has made with regard to social distancing and construction of new health care facilities," said Jaymie Meliker, an assistant professor of public health at Stony Brook University. "He has also explicitly stated that if people are upset with his decisions, to blame him. He is taking full responsibility and is leading."
No love for Trump
While praising Cuomo, public health experts said his performance stands in sharp contrast to that of President Trump.
"His response is garbage," David A. Larsen, an epidemiologist and associate professor of public health at Syracuse University, said of Trump. "He downplayed and lied about the coronavirus initially, now he is lying about the response."
Don Des Jarles, a professor of epidemiology at New York University, faulted Trump for being slow to enact the Defense Production Act to speed up the manufacturing of protective gear and medical equipment.
"He substitutes his own hunches and feelings for scientific information," Des Jarles added. "He conveys an attitude that he is more concerned with the stock market and his re-election that with the health of the U.S. population."
In response, a White House official vehemently defended Trump.
"The president's first priority has always been, and continues to be, protecting the health and safety of the American people," said that official, who asked not to be identified by name. "Throughout this pandemic, the president has engaged with the very best scientists and public health officials in the world to appropriately and expeditiously respond to and slow the spread of the coronavirus."
Most of those asked for comment via email disagreed. Some noted that in 2018, Trump disbanded the National Security Council office charged with preparing for pandemics, and has otherwise shoved aside federal experts.
And above all, the experts at New York universities derided Trump for the federal government's struggles to make tests for the coronavirus widely available. That lack of testing, they said, hampered New York's response to the pandemic, simply because Cuomo and his team had no way of knowing how widespread the virus was in the state a month ago.