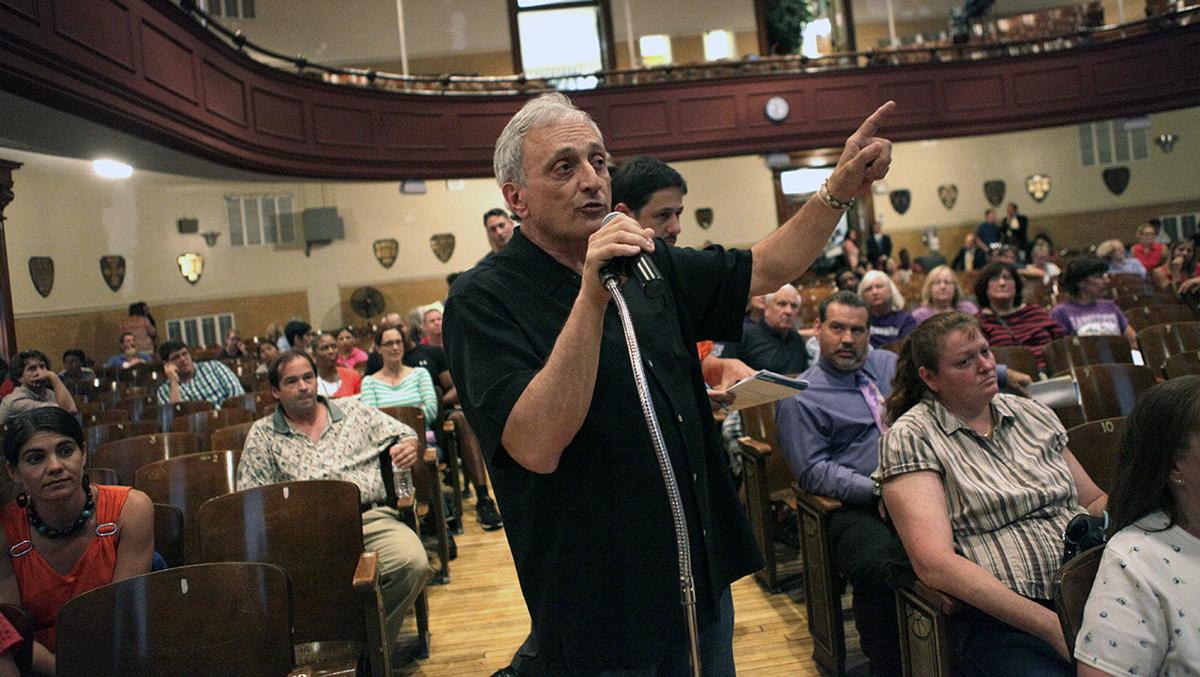 Carl P. Paladino, his family and his companies contributed more than $1.3 million to favored candidates and political organizations over the past 12 years.
Very little went to Buffalo Mayor Byron W. Brown, until this year.
Paladino's son and one of the Paladino development companies gave Brown a total of $4,000 during 2017.
Compared to the $105,675 in total contributions the Paladinos and their companies made this campaign season, that's not a huge amount.
But it was the largest Paladino contribution to any New York State or local candidate this campaign season.
And considering prior Paladino contributions to Brown during the Democratic mayor's three terms were limited to $600 donated almost five years ago, the $4,000 takes on bigger meaning.
Carl Paladino, after all, helped finance Brown's opponents in 2005 and 2009.
"He's come a long way," Paladino said of Brown when asked about the campaign contributions. "I've come to respect him. He's gotten rid of some onerous people around him and has gotten some competent people. They are good public servants. They are more business-friendly. They are running a good government.
"We are supporting him," Paladino added. "We will continue to help him get elected."
Brown didn't have much to say about the Paladino contributions, and a statement that the mayor's office issued indicates Brown likely was not aware of the Paladino donations before The  Buffalo News inquired.
"The mayor's campaign literally receives thousands of contributions in each cycle from residents, businesses and organizations that believe the city continues to be a better place to live and work every day under his leadership," said Brown's spokesman, Michael J. DeGeorge.
The controversy
Paladino is one of the biggest — if not the biggest — political contributors in Erie County, but his largess has become more complicated in recent years.
Given Paladino's  controversial statements, including offensive comments that started the effort to his getting thrown off the Buffalo Board of Education, the Erie County Democratic Committee stopped accepting or soliciting Paladino family or corporate money more than two years ago, according to Democratic Chairman Jeremy Zellner.
"We took donations until he was out of control," Zellner said of Paladino. "His comments were offensive, and anyone that takes his money is complicit. Candidates can do as they like, but we don't condone taking money from Carl Paladino."
The county Democratic Committee and  Erie County Executive Mark C. Poloncarz's political committee both received sizable Paladino contributions in the past, but not this year or last, according to campaign reports. Neither did any of the Democratic candidates running for countywide office this year.
"The county executive has not taken any donations from Mr. Paladino or his businesses since 2015, following Mr. Paladino's racist tirade against President Obama," Poloncarz spokesman Peter Anderson said.
Democratic and GOP candidates
But several Democratic candidates for local governments in Buffalo and its suburbs as well as the Erie County legislature did take Paladino contributions this campaign season, as did judicial candidates who ran on Democratic and Republican lines, the 2017 campaign reports show.
Erie County Republican candidates and committees also received Paladino money, and Erie County GOP Chairman Nicholas A. Langworthy criticized Zellner's position as hypocritical.
"For years, they were addicted to Ellicott Development and Carl's money," Langworthy said, referring to the Paladino company. "They didn't refund the money."
"We don't have the luxury of giving money back," Zellner responded. "When we get money in, we spend it."
Langworthy agreed Paladino's comments and tone have sometimes been inappropriate, but he noted Paladino apologized for his comments attacking former President Obama and his wife that many viewed as racist and disrespectful. Paladino and Ellicott Development have done a lot of good in the Buffalo community, Langworthy said, including creating jobs. Paladino wants what is best for the community, Langworthy said.
"He made some mistakes, said things he shouldn't have, and apologized," Langworthy said.
"Most people see the whole picture, the Ellicott Development and the Paladino family. It is a wonderful company. They are a wonderful family," he said, noting that Paladino's son William is now running the day-today operations of Ellicott Development.
"Billy is captaining the ship. He's doing a great job," Langworthy said.
Ellicott at City Hall
William Paladino — who last year issued a statement distancing the family's company from his father's offensive comments — is a regular visitor to City Hall, often seen attending Planning Board meetings where Ellicott Development projects are reviewed. Several Buffalo City Hall officials have said Paladino's son has developed a good reputation and good rapport with city officials in recent years. William Paladino is supportive of the Brown administration's efforts to increase minority hiring at construction sites, city officials have said.
Carl Paladino, meanwhile, said it was news to him that Zellner no longer wanted his money.
"He never told us," Paladino said.
Contributions since 2006
The Paladino family and its development companies made a total of $3.1 million in campaign contributions going back to 2006, according to a review of financial disclosure reports filed with the New York State Board of Elections, and the Federal Election Commission.
About $1.8 million was used to help fund Paladino's failed 2010 gubernatorial campaign. Those donations to the Paladino for the People political committee came from Paladino, and not from Ellicott Development companies or other family members, the reports show.
While Carl Paladino and his son made additional contributions (about $85,000 to state and local candidates), most of the remaining $1.3 million in political contributions was made through at least five dozen limited liability companies affiliated with Ellicott Development, records show.
Over the past 12 years, the biggest donations went to political parties, including the Erie County Republican Party, which received $202,275, from 2006 to 2017.
The New York State Republican Party received $68,525 from 2010 to 2017 while the New York State Conservative Party received $110,340 from 2012 to 2017.
Paladino and his companies also donated $69,300 to the Erie County Democratic Party from 2006 to 2015.
Collins, Poloncarz top list
Topping the list of candidates receiving Paladino money is U.S. Rep. Chris Collins, a Republican, who received just under $60,000 from 2007 to 2017 to help finance his runs for Erie county executive and for Congress.
The second biggest recipient of Paladino largess was  Executive County Poloncarz, a Democrat, who received $47,000 from 2008 to 2015, reports show.
Democratic Assemblyman Michael "Mickey" Kearns was third, receiving $27,500 from 2007 to 2017.
The donations to Kearns included $2,500 this campaign season, when he successfully ran for Erie County Clerk on the Republican line. The donations also included $9,000  in 2009 when Kearns unsuccessfully challenged Brown in the Democratic mayoral primary.
In the current campaign season, Paladino family and companies made about $105,675 in contributions. The  biggest donation - $16,300 - went to the Erie County Republican Committee followed by $14,000 to the state Conservative Party, and $11,000 to the New York State Republican Committee.
Paladino's son gave Brown's campaign $1,000 in April and another $1,000 in July, both before the September primary. Then, in the days leading up to last week's general election, the Brown campaign reported on Nov. 4 receiving a $2,000 contribution from a Paladino development company.
The Brown campaign did not solicit the funds, Carl Paladino said.
The $4,000 to Brown was the  largest donation in the 2017 election season to any single candidate state or local candidate, followed by $3,500 to incumbent Erie County Comptroller Stefan I. Mychajliw,  Kearn's $2,500 and $1,100 to incumbent Sheriff Timothy B. Howard's re-election campaign.
Paladino during that same period gave somewhat larger contributions to two Republican congressional representatives from New York State,  Rep. Tom Reed and Rep. Claudia Tenney, who each received $6,400, records show.
Paladino and his son are registered Republicans, but Carl Paladino said the contributions are apolitical, given to Democrats and Republicans as a way to support good government.
"I think it's an obligation of successful people," Paladino said of helping to finance political campaigns.
The contributions are not an attempt to curry favor or buy access, he said.
"I don't need to buy access. I knock on the door, and if they don't let me in, I knock it down," he said.
While Ellicott Development owns many properties that have government leases, the contributions  aren't an attempt to maintain or attract government contracts, he said.
"We are the largest landlord in Western New York,  Paladino said."Why? Because we are a good landlord. Our rents are competitive."
Paladino on Brown
Paladino acknowledged he's been critical of Brown in past years, but said his opinion of the mayor has changed as the individuals Brown has appointed, or is influenced by, have changed.
In particular, Paladino cited the 2014 departure of former Deputy Mayor Steven Casey, as well as what Paladino sees as the waning influence of Maurice Garner, the founder of the Grassroots political organization that Brown remains active in.
And Paladino praised Brown's 2010 appointment of Brendan R. Mehaffy as the city's Strategic Planning Director, and the expanding role Brown has given City Parking Commissioner Kevin Helfer, who was also appointed in 2010.
Helfer ran as the Republican and Conservatives party candidate against Brown in 2005 with backing from Paladino.
Paladino also praised James Comerford, the city's commissioner of Permits and Inspections.
"He's empowered good people to do the right thing," Paladino said of Brown.
Paladino also said he's not a fan of Mark J.F. Schroeder, the city comptroller who ran unsuccessfully against Brown in the September Democratic primary and appeared on a minor-party line in last week's general election.
Brown last year was among those saying Paladino should resign following publication in Art Voice of Paladino comments about Obama and his wife.