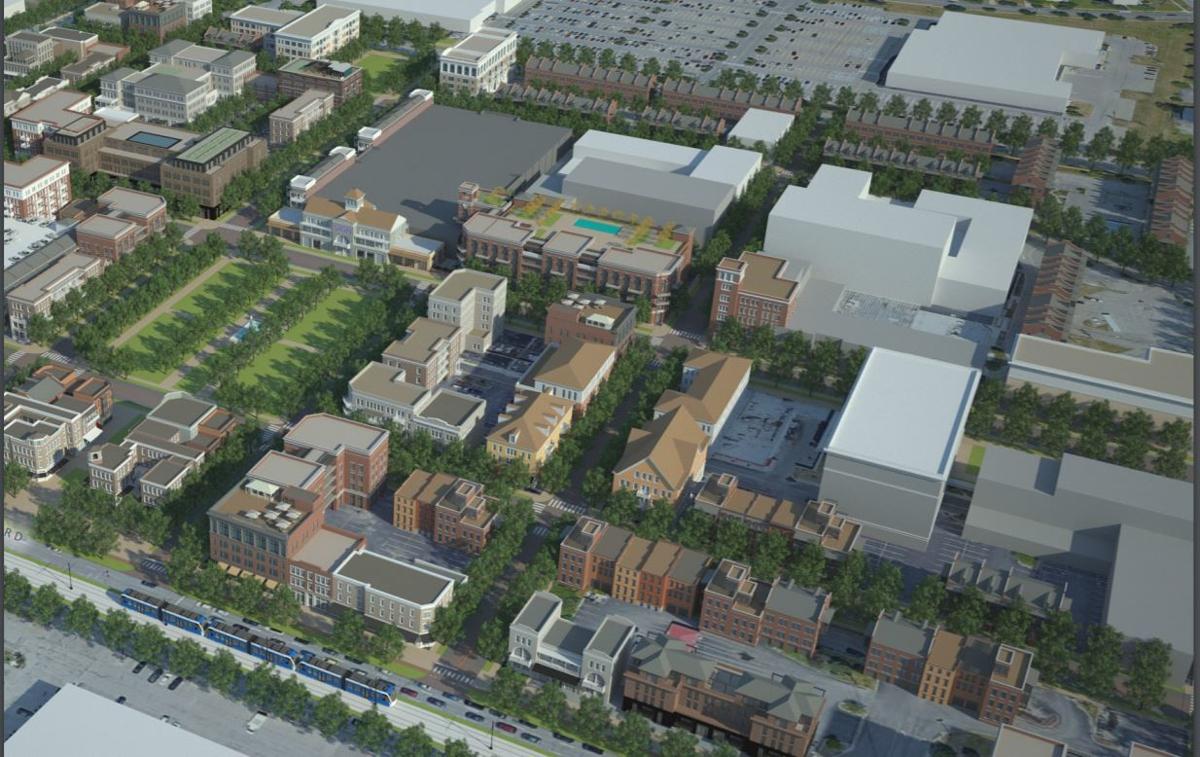 Developer Douglas Jemal sees a lot of similarities between his ongoing revival of the One Seneca tower in downtown Buffalo and what he wants to do with the Boulevard Mall in Amherst.
The tower was "a sea of concrete" when he bought it, all but vacant, and now is opening to apartment dwellers, tech workers and startup entrepreneurs.
The mall – "a sea of asphalt," as Jemal put it – also was built for a different time and likewise requires a transformation to make way for new uses. Tenants, including Bonefish Grill, continue to leave.
"What we're looking to create at the Boulevard Mall in Amherst is a sense of a community and interaction. And we have the ability to do that – to make it a little town," Jemal told Buffalo News reporters and editors on Wednesday.
The Town of Amherst wants to begin carving new streets through the Boulevard Mall next year with Jemal starting work on his proposed transformation of the site soon after.
The town would put down roads, sewer lines and other utilities through the mall building and the surrounding parking lot to break up the property's monolithic appearance and open it up for reuse.
Jemal then will begin what is expected to be a 10-year overhaul of the 63-acre property by constructing an apartment building along Alberta Drive between the mall proper and neighboring Wegmans.
The years to come would bring additional residential, retail and recreational activity on the site, especially along Niagara Falls Boulevard and Maple Road, breathing new life into the struggling mall.
Town officials must rezone the mall site and grant other administrative approvals before the work can proceed. But Amherst leaders eye the revival of the mall property as the linchpin for a redevelopment of a broad expanse of the surrounding town stretching to the north and east.
They seek to replace outdated big-box retail catering to motorists with a mix of residential and smaller-scale business space built into a walkable community served by public and alternative transportation.
"The Boulevard Mall property has an opportunity to be a catalyst for the rest of the area," said Amherst Supervisor Brian J. Kulpa.
Kulpa and Jemal have discussed how best to leverage the potential of the mall site since well before the developer ended up buying the property last year.
The town for years has worried as the region's oldest enclosed shopping center has seen its fortunes sag along with those of other malls nationally.
Forest City Enterprises, which opened the mall in 1962, put the property up for sale in 2016 and then, in February 2017, defaulted on a $92 million loan payment. LNR Partners took over in late 2017 and listed the property for an auction that took place in April 2019.
Buffalo developer Nick Sinatra submitted the winning bid of $24 million in the online auction but made way for Jemal to buy the mall and the neighboring Wegmans property by himself.
Jemal's Douglas Development has focused on reviving the Seneca One tower and has revealed few details about his plans for the Boulevard Mall property.
Amherst officials have taken the lead in considering what a renewed mall property could look like.
The town retained the services of a consultant – noted civic planners Dover, Kohl & Partners – to put together a new design for an area including the mall property, the neighboring commercial corridor between Sheridan Drive and Maple Road and the former University at Buffalo Ridge Lea campus.
This triangle-shaped section of Amherst, the Boulevard Central District, is marked by busy roads, sprawling parking lots and large retail outlets.
Dover, Kohl envisions a denser, mixed-use community that has more public green space and is friendlier to pedestrians, bicyclists and people who use public transportation.
The key, Kulpa said, is getting current property owners and new developers to buy into this concept and using public spending on new streetscapes and infrastructure to prime private investment.
The mall's location between UB's North and South campuses makes it attractive, but it was built for a moment in retail history that no longer exists, Jemal said.
"People went into a mall, they spent all day shopping in a mall. That doesn't happen anymore. They're either on Google or Amazon buying something," he said. "But what they are lacking is interaction."
Some anchor tenants, such as the Macy's Mens store and Sears, closed years ago.
The mall itself shut down in mid March because of the coronavirus pandemic, though some restaurants and stores with exterior entrances have reopened with reduced services.
One tenant that that is permanently closed is Bonefish Grill. The chain seafood restaurant that opened in the mall in late 2006 won't come back even when the state allows malls to open their doors again.
"I'm amazed every day at the damage that's been done," Jemal said of Covid-19's effect on mall tenants and their workers.
Kulpa and Jemal said the town needs to help jump start the mall's revival by breaking up the massive structure and surrounding sea of parking.
Viewed from the air, Jemal said, "It might as well be an airport hangar."
Building tree-lined east-west streets through the site, from Alberta Drive to Niagara Falls Boulevard, and a public park on the property will help draw in more foot traffic, Kulpa said.
The developer said the initial apartment building on the east side of the site will line up well with the Wegmans store on the other side of Alberta.
Future phases would mix residential and commercial development starting along Maple Road and Niagara Falls Boulevard and then moving deeper into what is now an asphalt lot.
The supervisor said companies that own small pieces of the mall property, such as Benderson Development Co., have offered general support for the redevelopment vision. And success at the mall site could spur investment throughout the district.
"All I can tell you is if the market drives fast and gets hot then, yeah, people are going to come along for the ride," Kulpa said.
Jemal said his plans don't hinge on a possible extension of the Metro Rail between the North and South campuses that would run along the mall property. That proposal appears increasingly unlikely for financial reasons, though the cheaper option of bus rapid transit has drawn interest.
"You kind of like to deal with reality," Jemal said.
Kulpa envisioned hundreds of millions of dollars invested in the site over the next decade but said it was too soon to provide a precise cost.
Kulpa on Wednesday said he and Jemal will work out a temporary reduction in value for the mall.
Get local news delivered to your inbox!
Subscribe to our Daily Headlines newsletter.