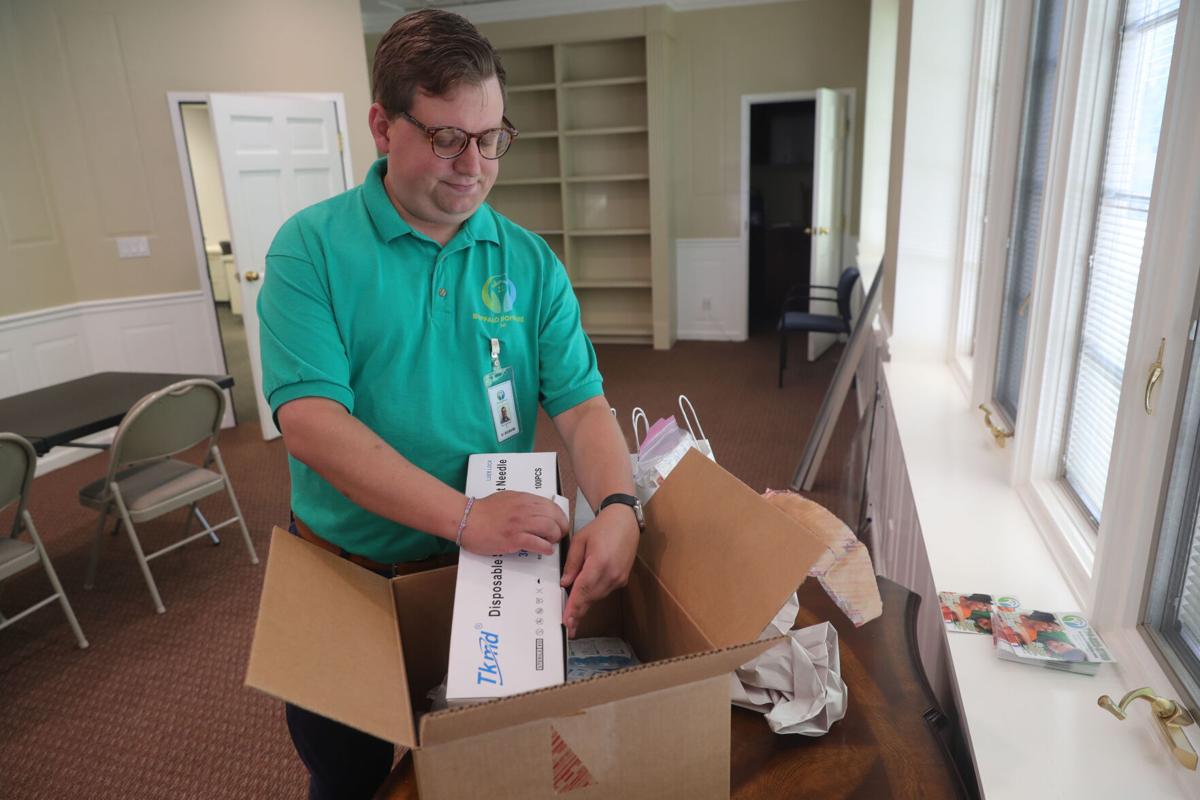 For two years, Elizabeth Pope's 98-year-old father barely left his Cheektowaga home, where he feels safe.
He wanted to get vaccinated.
His children became hopeful when Pope's brother, a Meals on Wheels volunteer, came across a flier in March announcing Erie County would deliver the Covid-19 vaccine to homebound residents. The father's name was put on a list. His sister followed up. Vaccine was still scarce, so the family expected a delay.
Four months and multiple calls later, they were still waiting.
"It's frustrating," Pope said. "The concern is always if he needs to leave the house and go someplace, to the hospital for something serious, then he's unvaccinated. I would think that would be the case with anyone who is homebound and unvaccinated."
Her father last week finally received the one-shot Johnson & Johnson vaccine after The Buffalo News asked about his situation. The Pope family's experience raises concerns about the efficiency of the county's Vax Visit program, which aims to deliver vaccine to the doorstep of any county resident who requests it.
Erie County Health Department spokeswoman Kara Kane said the county has information on 186 individuals who have not been scheduled for a variety of reasons, including inability to contact.  The county and its agency partners rely solely on phone calls to contact interested residents.
"We are asking all people who have called in for this service to please answer the phone for unknown numbers," Kane said. "This is the only way we have to reach them."
Pope and her brother Roger said they made half a dozen calls to county and agency administrators since March.
Roger asked that his last name not be used to help protect his father's privacy. He said some delay is understandable, but not a monthslong wait.
"We'll come straight to your home," County Executive Poloncarz said at his Tuesday Covid-19 media briefing. "If you've got five people there, we will vaccinate all five people."
"We're at the stage in Covid where they're begging for arms to push this vaccine into," he said. "You wouldn't think it would be this hard." 
Erie County Executive Mark Poloncarz first announced on May 11 that the county had contracted with Buffalo Homecare and the Visiting Nursing Association of Western New York to deliver and administer the vaccine to the homes of eligible residents who request it, regardless of whether they are homebound.
"Our goal is to finish the homebound population," he said.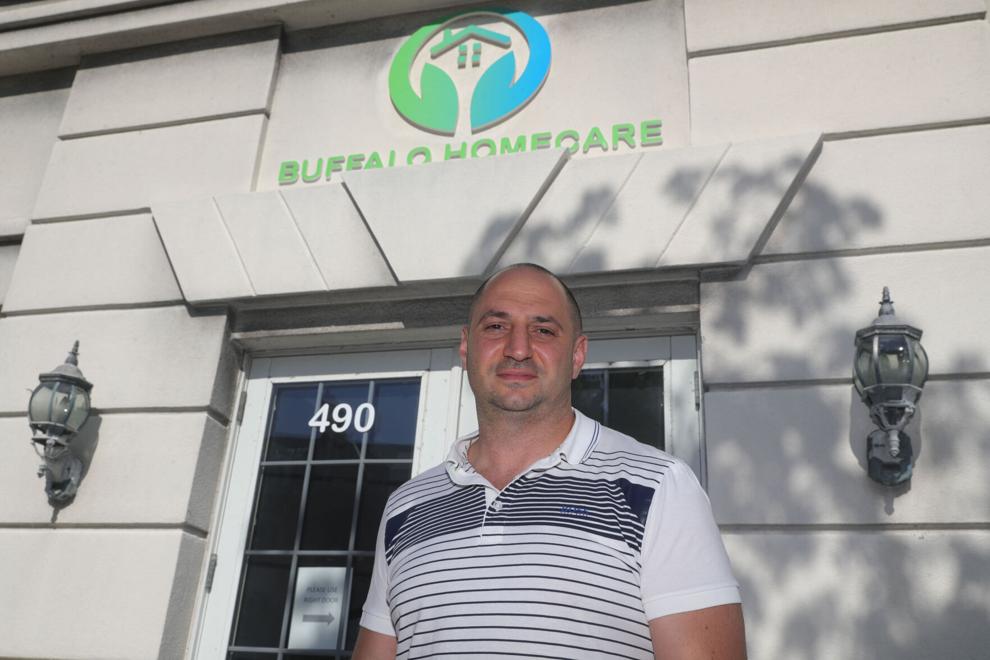 The VNA vaccinated several hundred residents, mostly its own clients. The bulk of the residents who signed up for the county program were referred to Buffalo Homecare.
"We usually try to get to everybody within the first week," said Igor Yuzbashev, owner of Buffalo Homecare. "That's our goal."
The county has received 1,290 recorded requests. Of those, the Erie County Health Department reports 1,104 residents have been vaccinated through the vaccine home delivery program. Participants are offered their choice of vaccine: Moderna, Pfizer or Johnson & Johnson.
Yuzbashev's agency's active wait list a week ago included only 16 people, all of whom were scheduled for vaccination within a week or two, he said. 
That number doesn't include the much longer list of residents who initially requested home vaccination but whom neither Buffalo Homecare nor Erie County workers have reached. Buffalo Homecare and the county Health Department could not clearly quantify how many people originally signed up for the home vaccination program but couldn't be reached or scheduled.
Yuzbashev said he didn't know how many names are on the "dead file" of people whom the agency couldn't connect with despite multiple attempts.
"There's never going to be a person who calls the office who doesn't get scheduled," he said. "If you answer the phone, you'll get scheduled immediately."
Pope and her brother Roger said that between the two of them they exchanged multiple calls with the county and Buffalo Homecare. They made a couple calls to the county in March but were told it was too soon to schedule an appointment and someone would be in touch. They both left their contact information. The siblings checked again in April to make sure their father's name was still on the list.
In May, Pope said she called the county's Covid-19 hotline about her father and was told the list was still being sorted through. Then in late May or early June, she said she got a call from Buffalo Homecare asking if her father still needed to be vaccinated. She said yes, and she was told that her father would be referred for scheduling but that it might take a couple of weeks.
She didn't get a call, but her brother did. He was in a meeting at the time, so Buffalo Homecare left a message for him. But when he called back hours later, he was told another person had already been slotted into the schedule and his father's name would be put back on a list for rescheduling. He asked if a new appointment could be made right then, but was told no.
Yuzbashev said appointments are scheduled in geographic batches so that vaccine vials are most efficiently used. If someone is placed back on the active wait list, they are contacted within a day or two. But Pope and her brother said a week passed with no call to either sibling.
"That's very unusual," Yuzbashev said. "There's no reason why anyone would be neglected, especially if someone has been waiting for such a long, long time."
He said his staff even works on weekends to try to keep up requests.
Buffalo Homecare finally contacted Roger after The Buffalo News passed on the father's name. Arrangements were made to have the father vaccinated last Thursday.
Yuzbashev said that based on his conversations with schedulers, several unanswered calls were made to the family over time.
"We tried to get a hold of them multiple times," he said. "I guess it didn't work out."
He added, "If you do want to be vaccinated, you also have to be proactive. You have to answer your phone. Our agenda is to vaccinate as many people as possible, and if people are not proactive, then it's tough."
Both Pope and her brother say they hope their experience is rare. Their father is fortunate to have family advocates to ensure his health, with five children who all live within a 15-minute drive of his home.
They worry more for other homebound adults who might be struggling to get vaccinated on their own.
Health Commissioner Dr. Gale Burstein was not available to answer The News' questions about the program. Kane emailed responses to questions with assistance from the Department of Senior Services.
Those who call the county's Covid-19 hotline – 858-2929 – to schedule a home vaccination appointment provide their names and contact information to a call taker. Anyone who calls for a home appointment is eligible for vaccination, but those who are homebound receive priority.
The Department of Senior Services and the Department of Health have been passing on updated lists of names to Buffalo Homecare regularly, Kane said. She acknowledged the county continues to receive some follow-up calls from individuals who've requested home vaccination through the Vax Visit program and never gotten one. 
Kane also said that the Buffalo Homecare agency sends back the names of individuals who have not been successfully reached after multiple attempts so that the Department of Senior Services can continue to try to reach out. That effort has been successful so far, she said.
Yuzbashev also agreed that improvements have been made to the Vax Visit communication, reporting and tracking process.
"We now have an excellent system in place where we report to each other on a weekly basis," he said. "We schedule people as we get them."