Buffalo School Board member Carl P. Paladino's latest inflammatory comments to a weekly Buffalo paper saying he wished death by mad cow disease upon President Obama, referred to the first lady as a man and said he'd like her to be "let loose in the outback of Zimbabwe where she lives comfortably in a cave with Maxie, the gorilla" prompted calls for his removal from the board and sparked outrage from Buffalo to the state capital.
Even the transition team for President-elect Donald J. Trump – who Paladino campaigned fervently for – called his remarks "absolutely reprehensible" and having no place in the public discourse.
Erie County Executive Mark C. Poloncarz called on Paladino to resign immediately, as did Assemblyman Sean Ryan D-Buffalo, who said Paladino's comments are "outrageous, dangerous and disturbing."
Paladino said in an interview on WBEN that he would not step down.
Gov. Andrew M. Cuomo described the remarks as "racist, ugly and reprehensible" and urged New Yorkers to stand together against such discrimination. Mayor Byron W. Brown weighed in, calling the comments "terrible."
By Saturday afternoon, more than 5,700 people had signed an online petition calling for his removal from the school board in a diverse district where the majority of students are black. The story was trending on social media, and news outlets around the world picked it up. A Facebook  page inviting people to voice their outrage at the next School Board meeting on Wednesday, Jan. 18. had been shared over 800 times.
The chorus of community leaders condemning Paladino's remarks grew.
Paladino's alma mater, St. Bonaventure University, issued a statement calling his comments "reprehensible and in complete contradiction to the values of St. Bonaventure University."
The statement read: "It is true that a university is a place that encourages political discourse, but a civil discourse that, as Lincoln said, speaks to "the better angels of our nature." Such racist and demeaning comments have no place in civil society. As in the America we all love, so too at St. Bonaventure – we're better than that."
Democratic leaders, including Erie County Democratic Committee chairman Jeremy Zellner said Paladino should apologize and State Democratic Executive Director Basil Smikle called on New York Republicans to denounce the remarks.
The Partnership for the Public Good asked Saturday for "elected officials and candidates to pledge not to take campaign donations from Carl Paladino and for businesses, non-profit groups, and individuals to pledge not to rent from his development companies or otherwise do business with him."
And the District Parent Coordinating Council,  a Buffalo schools parent group, called on Paladino to resign from the school board and for the state education commissioner "to intervene."
Buffalo School Board President Barbara Nevergold also called on the community to take a stand against such racism and did not rule out the prospect that members of the board might seek his removal from office.
"Silence is not permissible," Nevergold said. "Silence is agreement. Silence to this would be agreement to what Mr. Paladino has said … There's a time and place for you to stand up and confront people who are saying things unjustly and bullying, or abusing their power."
"People have a right to call for his resignation or for his removal," she added.
The authority to remove an elected School Board member from office falls with the state commissioner of education, and a spokeswoman for MaryEllen Elia said that since she might be called on to act in this instance, she could not comment on the situation.
But Elia's boss, who oversees the state education system, issued a statement saying she found Paladino's remarks unacceptable.
"As adults we are morally bound to ensure both the physical and emotional well-being of our children," wrote Betty A. Rosa, chancellor of the New York State Board of Regents. "All of us serve as role models for our young people.  In a time when we should be focused on the issues of respect and unification, I personally find it unacceptable for anyone who touches the lives of our children to speak in this manner... This kind of language does not belong within the context of our communities and our schools. Being an American demands we respect the office of the President. That's what we teach our children in New York State as part of our civic learning, and it's a lesson that Mr. Paladino apparently needs to review."
There have been previous attempts to have Paladino removed from the Buffalo School Board who was first elected in 2013.
The comments from high-ranking local and state officials joined a chorus of outrage that started late Thursday evening after the alternative weekly newspaper Artvoice published Paladino's response to a survey inquiring about his wishes for the New Year.
Paladino verified to The Buffalo News that he did make the comments.
"Yeah, I'm not politically correct," he said. "They asked what I want, and I told them."
Paladino said he made the statements because of what he considered Obama's ineffective response to the crisis in Aleppo. He called Obama the worst president in the history of the United States and criticized him for "putting criminals back on the streets."
He later sent out a statement arguing that his comments in Artvoice had nothing to do with race, but more to do with a political movement among the middle class.
"And yes, it's about a little deprecating humor which America lost for a long time," he wrote. "Merry Christmas and tough luck if you don't like my answer."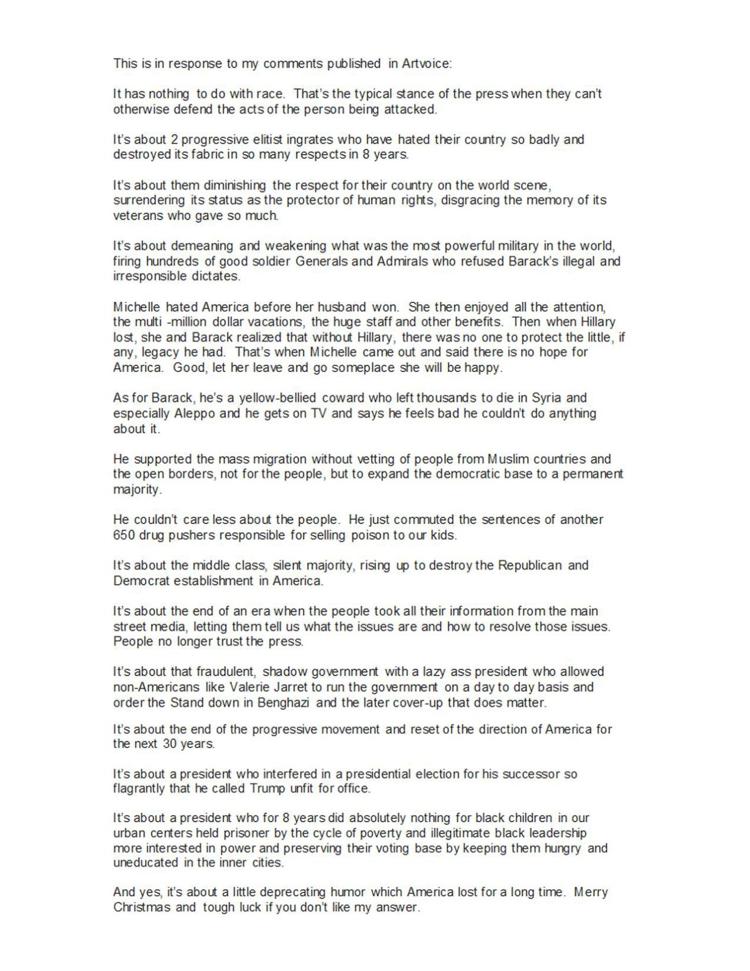 Friday's response left many wondering about Paladino's political future.
"This is no longer a black issue, this is a community issue," said Warren Galloway, a Republican who was the local president of Jesse Jackson's Operation PUSH. "This is a reflection of the whole community. As an African-American Republican, the party should sever ties with him."
The Artvoice comments are the latest example in a long history of Paladino making offensive statements, some of which caught national attention because of his role as a co-chairman in Donald J. Trump's New York State election campaign.
During the campaign, Paladino appeared on National Public Radio and described supporters of Trump as people frustrated with government who "want the raccoons out of the basement." He described what's happening in the presidential race as "a political revolution" aimed at getting rid of "the establishment class" within the Republican Party and ridding Washington, D.C., of "the Washington elite monsters."
In June 2015, Paladino commented during a political rally in Olean about "damn Asians" and other "foreigners" attending the University at Buffalo.
Paladino also defended a then-Buffalo Municipal Housing Authority commissioner who used a racial epithet to describe several African-American politicians, including Mayor Byron W. Brown.
And during his run for governor in 2010, Paladino received national attention for circulating emails, including pornographic images, and one that included the use of the N-word.
"Paladino has a long history of racist and incendiary comments," Cuomo wrote in a statement Friday. "While most New Yorkers know Mr. Paladino is not to be taken seriously, as his erratic behavior defies any rational analysis and he has no credibility, his words are still jarring. His remarks do not reflect the sentiments or opinions of any real New Yorker and he has embarrassed the good people of the state with his latest hate-filled rage.
Earlier this week, Paladino was also criticized for introducing a resolution to mandate that all Buffalo Public Schools display a picture of Trump. Paladino served as co-chairman in President-elect Trump's New York State election campaign.
Such comments have led to a push by some community members and a few of his colleagues on the Buffalo School Board to have him removed from the elected position. Earlier this year, the group devoted part of a committee meeting to discuss their legal options for his removal.
"The question we continue to ask is if we should have someone like this sitting on a board representing children," said board member Sharon Belton-Cottman. "The board sets a policy of expectations for student behavior. We expect them to be civil. We expect them to be courteous. And we should model that behavior."
News contributor Dave DeLuca contributed to this report.
Get local news delivered to your inbox!
Subscribe to our Daily Headlines newsletter.