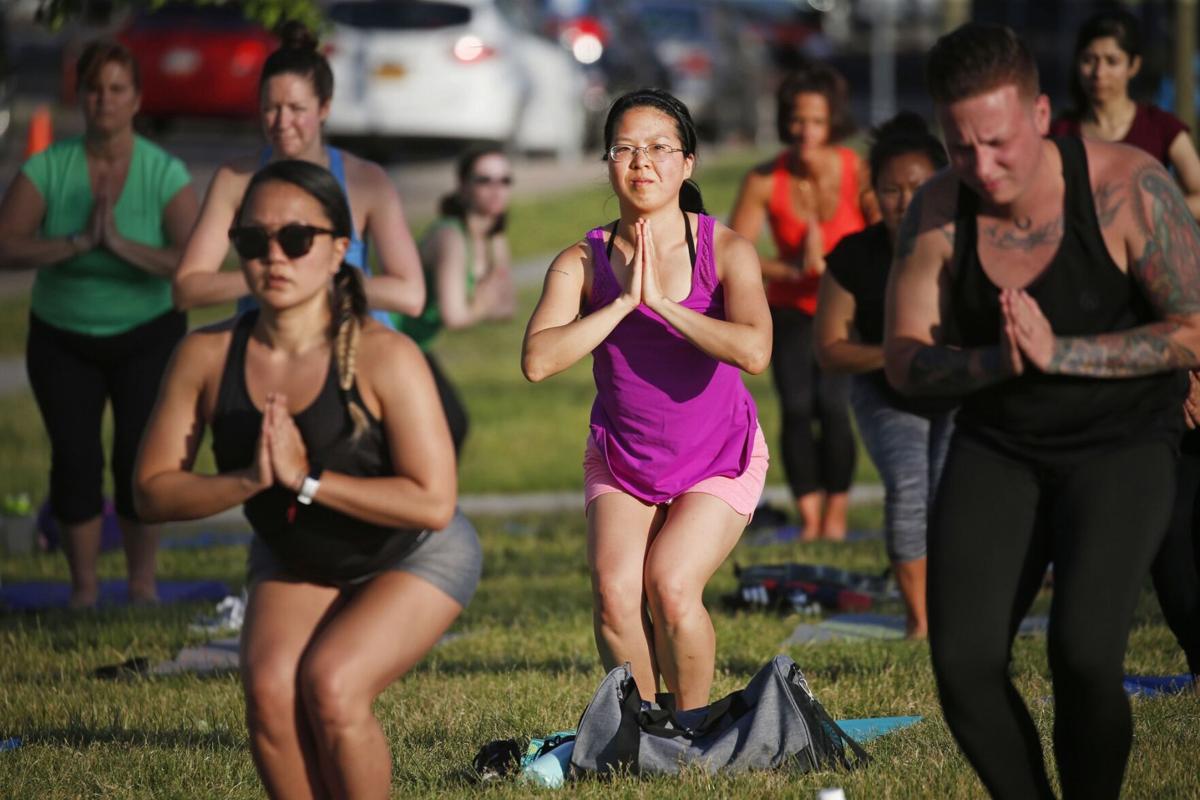 Canalside and Martin Luther King Jr. Park will start hosting outdoor group fitness classes this weekend, halfway through a planned exercise season weakened by the coronavirus pandemic, yet still the latest sign that the region is reaping rewards for a relatively low incidence of new Covid-19 cases.
BlueCross BlueShield of Western New York announced Wednesday that several summertime fitness favorites that have taken place online during the last eight weeks will return starting Saturday.
La' Movement Fitness also will take place at 10 a.m. Saturdays at Martin Luther King Jr. Park, with help from Mayor Byron W. Brown, who will stream classes on his Facebook page for those who prefer to continue workouts at home.
"BlueCross BlueShield is pleased to bring the community back together again at some of Buffalo's most-beloved destinations to exercise in a safe and healthy way," said Julie R. Snyder, senior vice president and chief marketing and communications officer. "Our virtual fitness classes will also continue through the end of the summer to give the community options to stay healthy however they are most comfortable."
The classes are free and weather dependent. Those who want to participate must register beforehand at bcbswny.com/play or through BlueCross BlueShield social media pages.
Participants must wear masks when arriving and leaving the classes, as well as maintain a distance of at least 6 feet from others during workouts.
State health and economic development officials – who established guidelines for outdoor fitness classes to resume – continue to grapple with regulations for indoor fitness studios and big box gyms, which closed by order of Gov. Andrew M. Cuomo in mid-March and have not reopened.
More than 11,000 people in Western New York have tested positive with the novel coronavirus and more than 840 have died from Covid-19, the disease the virus causes, though the number of confirmed cases, hospitalizations and deaths have fallen considerably during the last five weeks.
In fact, Catholic Health on Monday announced it had resumed standard operations at Sisters of Charity Hospital St. Joseph Campus, in Cheektowaga, which was temporarily turned into a treatment facility for patients with Covid-19 in late March.  
Fitness in the Parks will offer nine in-person classes at parks across the region starting this week.
Virus rates in the region remained troubling into May, forcing most popular outdoor fitness classes to go virtual until late July, when Independent Health and the YMCA Buffalo Niagara announced they would bring a smaller selection of Fitness in the Parks classes to parks in Erie, Niagara and Chautauqua counties. Find a schedule of nine outdoor classes and five virtual classes at independenthealth.com/fitpark.
Two other fitness studios provide paid outdoor classes several times a week in Larkin Square.
Space on Seneca offers classes by certified Iyengar Yoga teachers Colleen Heidinger and Dan Irwin at 6 p.m. Wednesdays and 7:30 and 9 a.m. Sundays at the Larkin Square Pavilion. Cost is $15 per class, with packages available. Text 716-207-1566 to reserve a spot and visit @spaceonseneca on Instagram for more information.
The Buffalo News: Good Morning, Buffalo
The smart way to start your day. We sift through all the news to give you a concise, informative look at the top headlines and must-read stories every weekday.