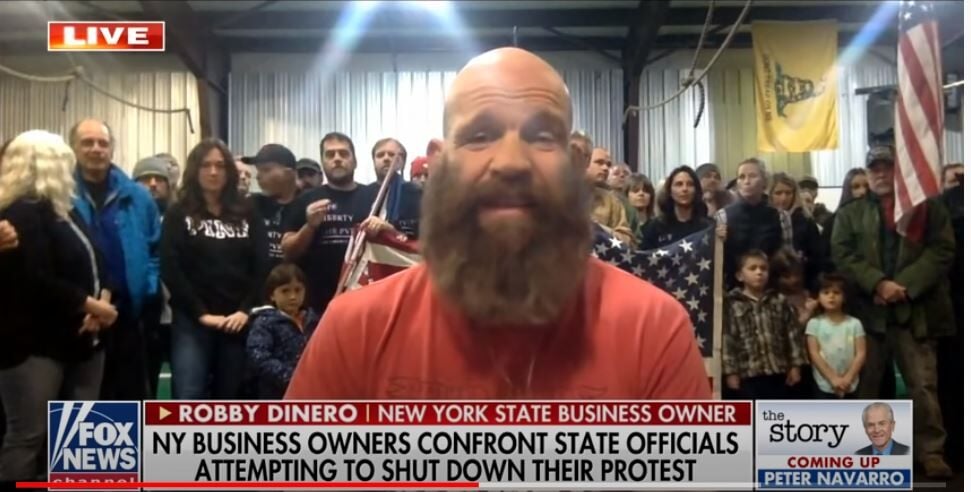 The owner of an Orchard Park gym at the center of a dispute over the enforcement of Covid-19 restrictions filed a lawsuit Monday challenging the legality of executive orders issued by Gov. Andrew Cuomo that limit business operations.
The lawsuit, filed by Athletes Unleashed Inc., argues Cuomo acted beyond his authority in extending executive orders issued as part of the state's pandemic response.
Extensions of several orders "are impermissible, illegal and/or unconstitutional under the New York State Constitution," the lawsuit contends.
The lawsuit, filed in State Supreme Court, cites seven causes of action, including accusations the governor violated state executive law, as well as state constitutional limits.
The suit seeks a temporary restraining order and a preliminary injunction. The lawsuit names the governor, the state Department of Health and Empire State Development Corp., the state's economic development agency, as defendants.
Gym owner Robert F. Dinero garnered national attention after he hosted a protest in his California Road gym Nov. 20 against Covid-19 business restrictions.
Dinero faces accusations of racism after an email he wrote to a customer came to light. The email, punctuated with profanity, referred to a woman as a "filthy, foreign, Third-World country piece of (expletive)."
A copy of a July email obtained by The Buffalo News, with the recipient's name redacted, told the customer he would refund her $395. That was the cost to participate in a team-based athletic event that had been scheduled to take place in March, but then canceled due to the pandemic. The customer reached out to an acquaintance, who is an active member of Amherst's Indian American community.
Dinero's gym, a CrossFit-style facility, saw its formal affiliation with CrossFit LLC, the popular workout brand based in Washington, D.C., severed on Friday, according to a company spokesman.
"We are outraged and appalled by the language used by Mr. Dinero, which has no place in the CrossFit community," a CrossFit spokesman said in an emailed statement. "When we heard about the issue, we contacted Mr. Dinero, who did not deny using the language in question, so we have terminated his affiliate relationship with CrossFit, effective immediately."
On Monday morning, as a guest on WBEN radio, Dinero told host David Bellavia that when he wrote the email, he thought he was replying to someone who was trying scam his business.
"I absolutely wrote that email and sent it to what I thought was a scammer," Dinero told Bellavia.
Dinero said he sees the attempted email scams "all the time."
"They always come from foreign countries. It's always from a foreign country," he said. "So my standard reply to these dirtbags is a very filthy, angry reply, a very insulting reply, where I call them a couple of words I can't repeat here."
Dinero said he does not know the ethnicity of the customer who requested the refund.
Dinero told The News on Saturday he was confident he did nothing wrong, though he declined the opportunity to directly refute the claim of racism. He called the accusation "disingenuous" and "completely out of context."
In his radio interview, which aired before news of the lawsuit spread, Dinero said his next steps would involve allowing "the system to work." But if the system doesn't result in an outcome in his favor, acts of "civil disobedience" would follow, he said.
Dinero had threatened to reopen his gym Monday in defiance of restrictions put in place by the state in areas designated as "orange zones." Those restrictions, which are tighter than in "yellow zones" but looser than "red zones," mandate the closure of gyms, salons, barbershops and tattoo shops among other businesses deemed by the state as "high-risk, nonessential businesses."
He asked his supporters to "have faith" until the system hears them.
"Faith is absolute belief in the absence of proof," he said. "That's all I can ask for right now. But soon enough, we'll have proof."
He asked supporters to "help the cause" by continuing to come out and show support and to donate as they are able.