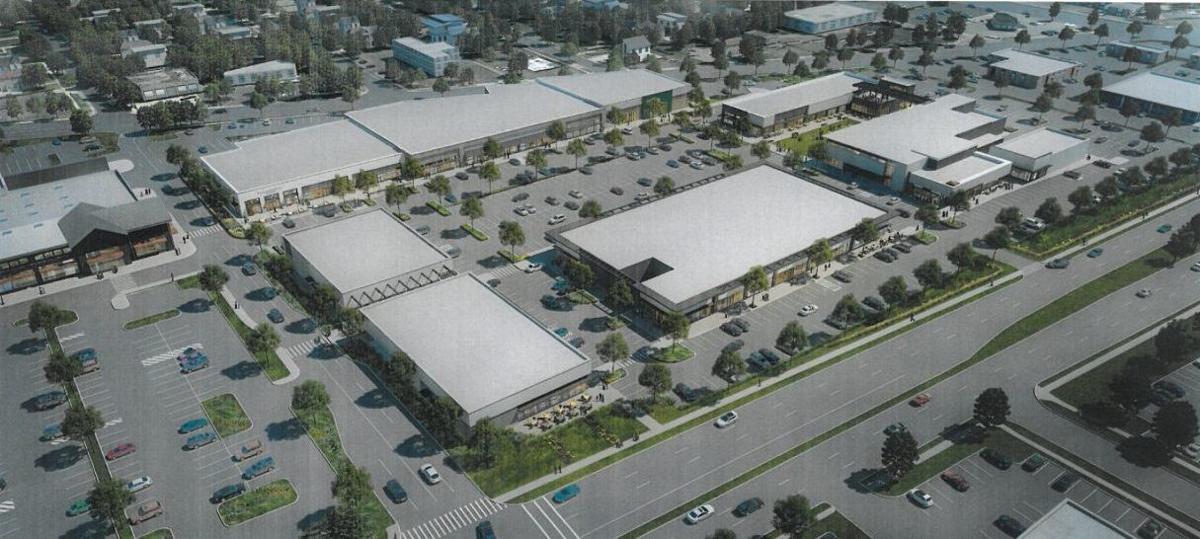 Stores in the new-look Northtown Plaza won't open to area shoppers until spring 2020 at the earliest, the developer said.
A top WS Development executive told The Buffalo News that the company won't begin demolishing existing buildings on the Amherst property until spring 2019 and won't have the new structures ready to occupy until a year later. That's a delay of six months or so from the company's previous projections.
The company said it's taken longer than expected to sign leases with some tenants, and it opted not to have contractors work during the winter. WS Development on Friday did reveal the name of one new tenant – Public Espresso + Coffee – and said it's confident in the project's prospects.
"In fact, in spite of things taking longer, we're more bullish than ever," Brian Sciera, WS Development's senior vice president for leasing, said in an interview.
WS Development's transformation of the Northtown Plaza has been in the works since 2015, when the Massachusetts-based developer bought the shopping center, on Sheridan Drive just east of Niagara Falls Boulevard, for $18.5 million.
Today, all that remains on the western expanse of the property is a Dunn Tire, which soon will move farther east on Sheridan Drive.
The company proposes tearing down four existing buildings and constructing six new retail buildings in their place, along with a common green where shoppers can do yoga, watch movies and ice skate.
An executive earlier this year called it an "experiential center" combining entertainment, dining and shopping options. WS Development has identified few of the retailers that will set up shop in the plaza, although it has revealed L.L. Bean, Pottery Barn and Williams Sonoma, West Elm and the restaurant chain B.Good are coming.
Documents filed with the town in the spring said demolition would start this May, with construction on the new buildings starting soon after and wrapping up in fall 2019.
While work to remove and mitigate asbestos on the site started this summer, demolition has not begun. Sciera said two main factors are driving the delays.
First is the company's decision to avoid construction during the winter because, Sciera said, it's more difficult and more expensive.
Second is the overall retail climate in the country, with online sales surging at the expense of brick-and-mortar outlets. WS Development has no lack of experience coping with this, Sciera said, but signing tenants now is more complicated.
"Doesn't mean that they're not happening, it's just taking longer," he said.
Sciera said some additional signed tenants aren't ready to go public, but he confirmed Public Espresso will open a shop in the plaza. Sciera said WS Development plans to give the coffee chain, the first locally based tenant, a prime spot along the common green.
Public's Sam Scarcello did not respond to a message seeking comment Friday afternoon. The company has a location in the Hotel @ The Lafayette and is planning a second location for Shea's Seneca Theatre in South Buffalo.
WS Development did bring in the area's first Whole Foods Market, which opened in September 2017 on the eastern portion of the Northtown Plaza site.
Whole Foods now will remain on its own for another 18 months or so.
He said Whole Foods is a large, patient company but the chain certainly is looking forward to WS Development rebuilding the rest of the plaza.
WS Development expects to open at least five of the six buildings at roughly the same time, in spring 2020, if not all six at once, Sciera said.
The company also is planning to rebrand the shopping center, with a new name, but Sciera said he couldn't reveal details at this time.
A.J. Baynes, president and CEO of the Amherst Chamber of Commerce, said he's not worried about WS Development abandoning the project. He said delays are typical in a project of this scale and the company has a proven track record in other markets.
"I have all the confidence that they'll be able to get this done," Baynes said.
Get local news delivered to your inbox!
Subscribe to our Daily Headlines newsletter.