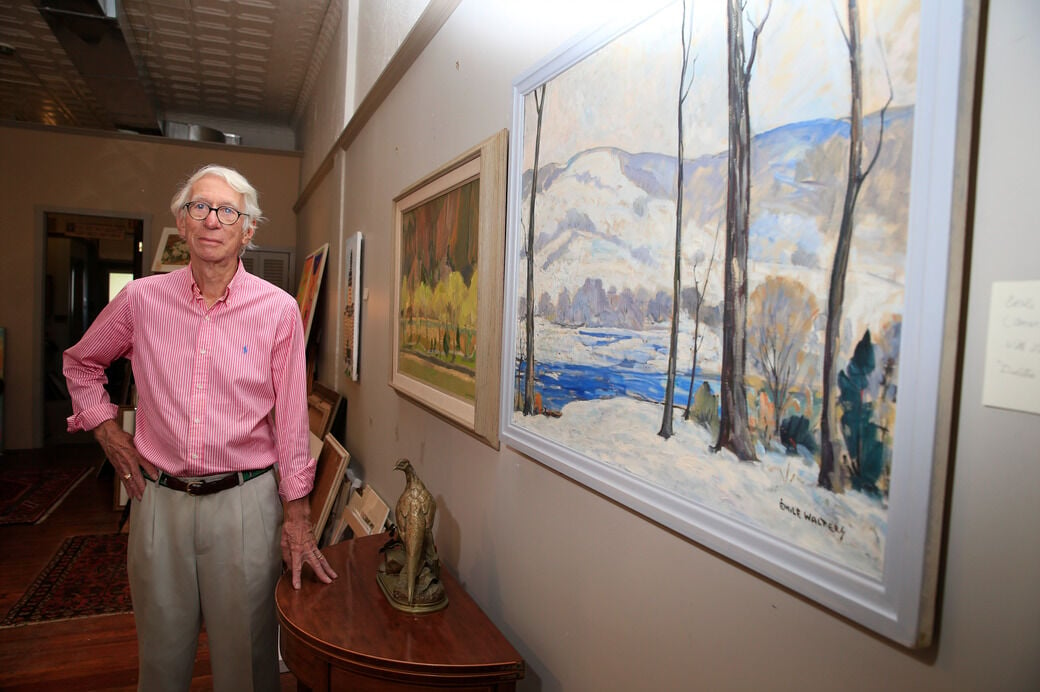 Antique dealer Dana Tillou developed a national reputation over the decades for a keen eye for fine art, American decorative arts and antiques.
He specialized in colonial period furniture, 19th and 20th century American and British paintings, contemporary art, early 19th-century American folk art and early brass and porcelain.
But after 54 years, Dana Tillou Fine Arts – which was located at 417 Franklin St. for 50 years before moving to 1478 Hertel Ave. four years ago – is closing its doors today.  
Tillou over that time established a national reputation among his peers for buying, selling and appraising antiques.
"I would say Dana Tillou is definitely one of the most highly regarded and knowledgeable antique dealers between New York and Los Angeles," said Leigh Keno, an appraiser for PBS's long-running "Antiques Roadshow" and co-owner of an auction house in Manhattan.
When HSBC Bank needed someone to close out its vast modernist art collection – much of it originally acquired by arts patron Seymour H. Knox Jr. after the bank left what is now Seneca One tower – it turned to Tillou.
For many local buyers and collectors, Tillou's departure marks the end of an era.
"Over the last 50 years, he's been the go-to guy in Western New York for 19th and 20th century antiques and art, including period furniture," said Jon Teamon, an antique collector in Lewiston. "The Manhattan art galleries and every major dealer in the country knows Dana Tillou."
Teamon said Tillou's departure leaves a void he doesn't see being filled.
"If you want to buy a piece of period American furniture of the 18th and early 19th centuries, where will you go?" Teamon said. "No one even knows about it. That's what the area's losing when he closes up."
Gary Mucci, whose homes in Buffalo and Skaneateles display art and antiques purchased at Dana Tillou Fine Arts, echoed Teamon's concern.
"I bought a lot of things from Dana, and it was always a wonderful experience," Mucci said. "The breadth of his knowledge is extraordinary. While I'm happy for Dana that he's transitioning, it's going to leave a big hole in the art and antiques community in Buffalo."
Tillou, who's 83, put the impact of his departure this way: "I'm one of the last breed willing to buy quality pieces and present them to collectors."
Tillou isn't retiring, however – he enjoys his work far too much to contemplate that. He plans to operate a private gallery for fine art at his home by appointment only.
"I still enjoy the hunt of finding that special piece and passing it on to a collector," Tillou said. "Every day is a treasure hunt for me."
Tillou's interest in art was strongly influenced by his mother, the portrait and still life painter Virginia Tillou.
She was part of a community of artists and others that included Knox, former Albright Art Gallery director Gordon Smith and painters Seymour Drumlevitch, Virginia Cuthbert and Martha Visser't Hooft, all of whom the young Tillou came to know.
Watching his mother paint as he grew up in Buffalo's Parkside neighborhood ignited the young Tillou's lifelong interest in art.
After graduating Bennett High School, Tillou earned degrees in art and history at Duke University. Returning to Buffalo, he and his brother Peter opened the Tillou Gallery in 1961 in the first floor and basement of the family's large home at the corner of Franklin and Virginia streets, where they had moved when he was 15.
Peter Tillou left after five years and took the shop's name with him, leading Dana to start Dana Tillou Fine Arts in 1966. Peter relocated to Litchfield, Conn., to be closer to New York City and Boston to capitalize on the stronger demand there for rarities and other high-end antiques.
The highly respected dealer and collector received the prestigious Award of Merit from the Antiques Dealers Association of America in 2013.
"My brother deals with million-dollar pictures," said Tillou, who considers Peter his best friend. "You can't do that in Buffalo, but I love living here."
Jackie O. was his customer
The brothers continued to do several annual shows together for many years. That included the Winter Show, a prestigious art, antiques and design fair in Manhattan where Jacqueline Kennedy Onassis one year came up to their booth.
Onassis bought a flat weather vane swan, and Dana Tillou gave her his card after explaining how to hang it. She called him four years later at the shop, asking him to tell her again how to properly hang the weather vane at the Kennedy compound in Hyannis, Mass.
There was also the time Tillou bought a Niagara Falls painting by American artist Ferdinand Richardt from a dealer in Sheffield, Mass. Tillou considered it a masterpiece, and persuaded the curator of the Diplomatic Reception Room in the Department of State in Washington, D.C., that he obtain it. That collection is arguably the best of American-made furniture, silver brass, paintings and other decorative arts, in the country, Tillou said.
"It meant a lot to have it in a national collection," Tillou said.
Mucci recalled seeing what was misidentified as an English cylinder desk in a Sotheby's auction catalog about 10 years ago. He didn't buy it, but was surprised to see the same desk turn up in Tillou's shop. Tillou explained it was actually an American desk, told Mucci of its lineage and that it was worth more than Sotheby's wanted. Mucci bought the desk.
Tillou is a supporter of the Burchfield Penney Art Center and a former board member of the Albright-Knox Art Gallery. His wife Catherine, whom Dana credits as being an indispensable partner in the business, co-chairs the Collectors Club at Burchfield, a select group of 24 people who provide funds to the Burchfield to buy one or two works of art each year to fill gaps in the collection.
The market for antiques has changed considerably since what Tillou considered the peak period of the 1970s and '80s, most notably with younger buyers.
"Young people are not so interested in period furniture anymore," he said. "Many don't have the background and aren't interested in acquiring historic, authentic period antiques. The ones who grew up with it are interested though, which is so nice to see."
Avid collector John Dugan is one of those customers. His father Fred Dugan, in Rochester, purchased antiques from Tillou for more than 40 years, and now he does, too.
Paintings Dugan has bought from Tillou cover the walls of his house.
Tillou's house includes cherry and tiger maple American colonial furniture and three major still lifes of his mother's, along with works of several other Western New York artists.
Tillou said people today are more apt to sprinkle 18th and 19th century quality pieces with modern, comfortable pieces, and he's fine with that.
"You see this in the magazines of some of the most sophisticated homes," he said. "I think it's a wonderful way to decorate a house.
"It's hard for anyone to have a whole house of antiques," he added.
Mark Sommer covers preservation, development, the waterfront, culture and more. He's also a former arts editor at The News. 
The Buffalo News: Good Morning, Buffalo
The smart way to start your day. We sift through all the news to give you a concise, informative look at the top headlines and must-read stories every weekday.