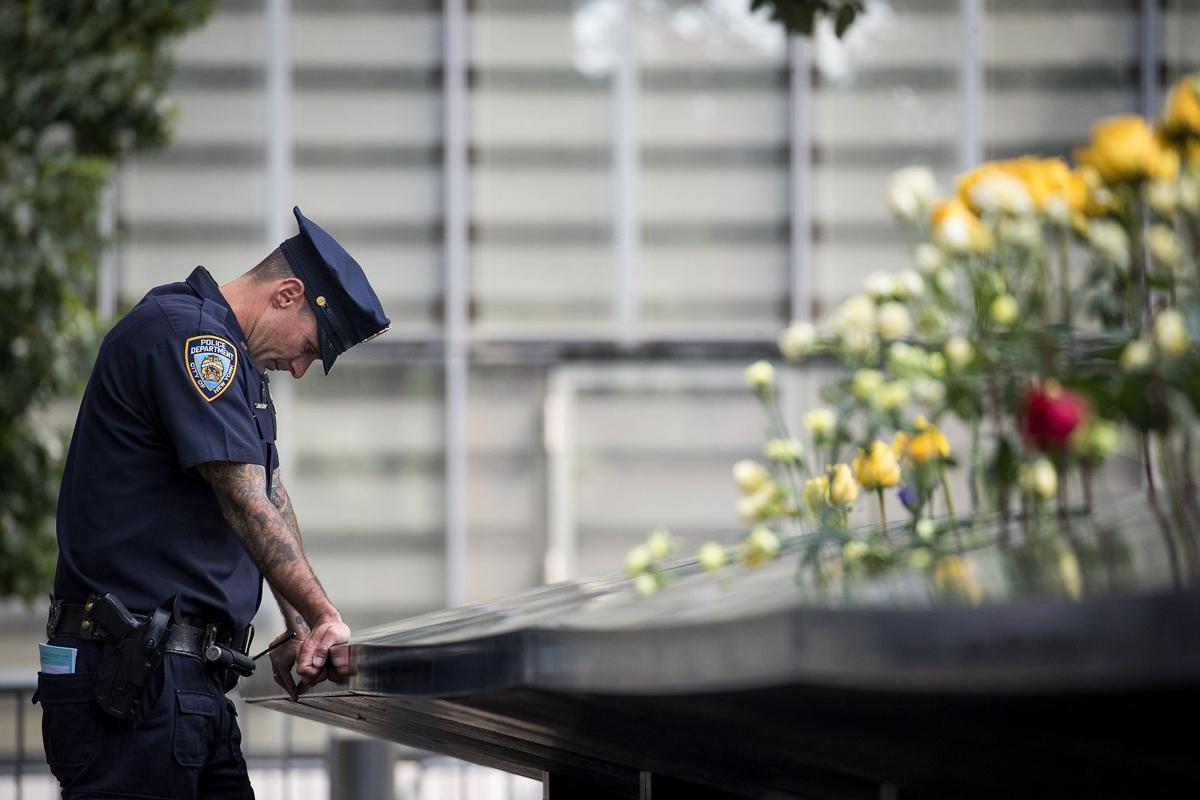 NEW YORK CITY — Every year for the last 16, George Pataki has visited this spot. The former New York governor knows what he will see – and what he will feel, and remember – when he returns each Sept. 11 to the former site of the Twin Towers.
"You can't help but have this horrible feeling of loss," said Pataki, who was in the second of his three terms as governor when the attacks happened in 2001. "Just the people you knew, the people you respected, the thousands of people who died."
The area formerly known as Ground Zero is now home to the 9/11 Memorial, a quiet, tree-lined park. The names of the nearly 3,000 people who died here are inscribed into low-standing bronze walls that form the outline of the north and south towers. Waterfalls cascading into reflective pools provide a sound wall that shields visitors from the horns and motors of Manhattan.
It's peaceful. It's sorrowful. Especially on the anniversary of the attack, when thousands of family members gather for a reading of the names of every victim.
"It's a day that I always look forward to with a real sense of dread, because of how awful it was," said Pataki, who has a gentle, almost folksy conversational style. "But then you get there ..."
You get there, and there's still a purpose. There's purpose for the loved ones of the people who died. There's a purpose, too, for Pataki. He kisses the cheeks of people who are crying. He wraps his long arms around slumping shoulders. He embraces family members he has come to recognize through 16 years of trying to be their rock.
Yes, he is a partisan politician, a Republican who maintains strong views even 11 years after he exited office. But on this point, he casts politics aside: Pataki has long embraced the role of New York's comforter-in-chief for 9/11 families.
Two years ago, as Pataki was preparing to run in the Republican presidential primary – a campaign that barely made a blip in polls – Buffalo native Charles G. Wolf shared a story with The Buffalo News. Wolf, a Western New York native whose wife, Katherine, died in the north tower, talked about running into Pataki years ago in the men's room during the intermission of the "World Trade Center" movie premiere. Wolf, a visible advocate on behalf of victims' families, knew Pataki from official matters. No one was around in that moment, though; Pataki easily could have nodded a hello and slipped away. Instead, he slipped his arm around Wolf's shoulders as they headed back to the theater.
"I was almost like a kid, and my dad was taking me," said Wolf, who shared similar embracing moments with Pataki at the Sept. 11 remembrance ceremony last year and yesterday. "He's just such a nice, nice man in terms of his personal dealings. Very compassionate."
Pataki was one of a large contingent of recognizable former and current politicians who converged at the 9/11 Memorial for the Monday morning ceremony. Most of the congressmen, senators, mayor and governors stuck to a tight area that seemed to be reserved for VIPs. Pataki spent time there; from a distance, he was visible over the shoulder of New Jersey Gov. Chris Christie, stood adjacent to former New York Mayor Michael Bloomberg, and chatted for a while with New York Sen. Kirsten Gillibrand.
But Pataki didn't stick there. He ventured out, stopping to talk to family members, many of whom wore shirts or carried signs with the picture of the person they lost. Toward the tail end of the ceremony, Pataki and his small entourage headed over to the adjacent One World Trade Center, the 1,776-foot skyscraper that he pushed for as part of the rebuild of the site.
"It's going to take a few minutes to walk over there," said John Cahill, Pataki's longtime aide and now partner in a consulting group. Pataki was stopping to shake the hand of every police officer he passed. Cahill smiled knowingly, almost proudly.
Inside the skyscraper, Pataki took an elevator to the 64th floor, where tall windows provide a panoramic view of Manhattan and Brooklyn.
Sixteen years ago to the day, people were gasping for air and grasping for hope as they crossed the Brooklyn Bridge, trying to escape the inferno of downtown Manhattan.
Today, as cars crawled across that same bridge, Pataki sat in an upholstered chair and reflected on that day in 2001:
The night before Sept. 11, he had stayed in Manhattan – a rarity during his days as governor. He got a call a little before 9 a.m. from his daughter Emily, who worked at Bloomberg News.
"Dad, do you have the TV on?" she said.
"Turn it on," Emily urged her father. "A plane hit one of the Twin Towers."
At first, like many, Pataki assumed it was an errant pilot flying a small plane. He was trying to calm Emily when the second plane hit the second tower. Instantly, he knew New York was under attack. Pataki hung up with Emily and got to work. He called then-Mayor Rudy Giuliani and President George W. Bush. He activated all of New York's emergency-response mechanisms and ordered Cahill, then his senior policy adviser, to make sure that doctors, nurses and medical supplies were being deployed to the southern region of Manhattan.
Meanwhile, the people charged with protecting Pataki had their own security concerns. The State Troopers who served as Pataki's bodyguards urged him to take a helicopter to the emergency bunker in Albany. He refused.
"In the 12 years I was governor, it was the only time I didn't listen to them," Pataki said. "I didn't think it was right to be going to Albany when being visible in New York City mattered."
As the morning proceeded, the day got worse. Both towers fell. A plane crashed into the Pentagon. In a small but still painful victory, terrorists aiming another plane toward Washington were overtaken by passengers who downed it in a Pennsylvania field.
Pataki took to the streets of lower Manhattan. At one point, he turned a corner and saw a long line of people. He thought they were trying to leave the city, but quickly learned they were lining up to donate blood.
They were showing strength, which became Pataki's ongoing resolve, too. He visited St. Vincent's Hospital, a few blocks from Ground Zero. Doctors and nurses were standing at ready to treat injured survivors. But not many survivors arrived. When the towers fell, few made it out.
In the hospital, Pataki saw a woman whose husband he had just appointed to a high position. She was crying and said to the governor, "You have to find him."
"Where was he?" Pataki asked.
The woman told him that her husband was having breakfast at Windows on the World, a complex on the top of the north tower. The tower had crumbled, and Pataki knew there was almost no chance the man had survived.
But he couldn't say that. Not in this moment. Instead, he consoled her. "We're trying," Pataki said, and then he did for her what he is still doing today: He gave her a hug.