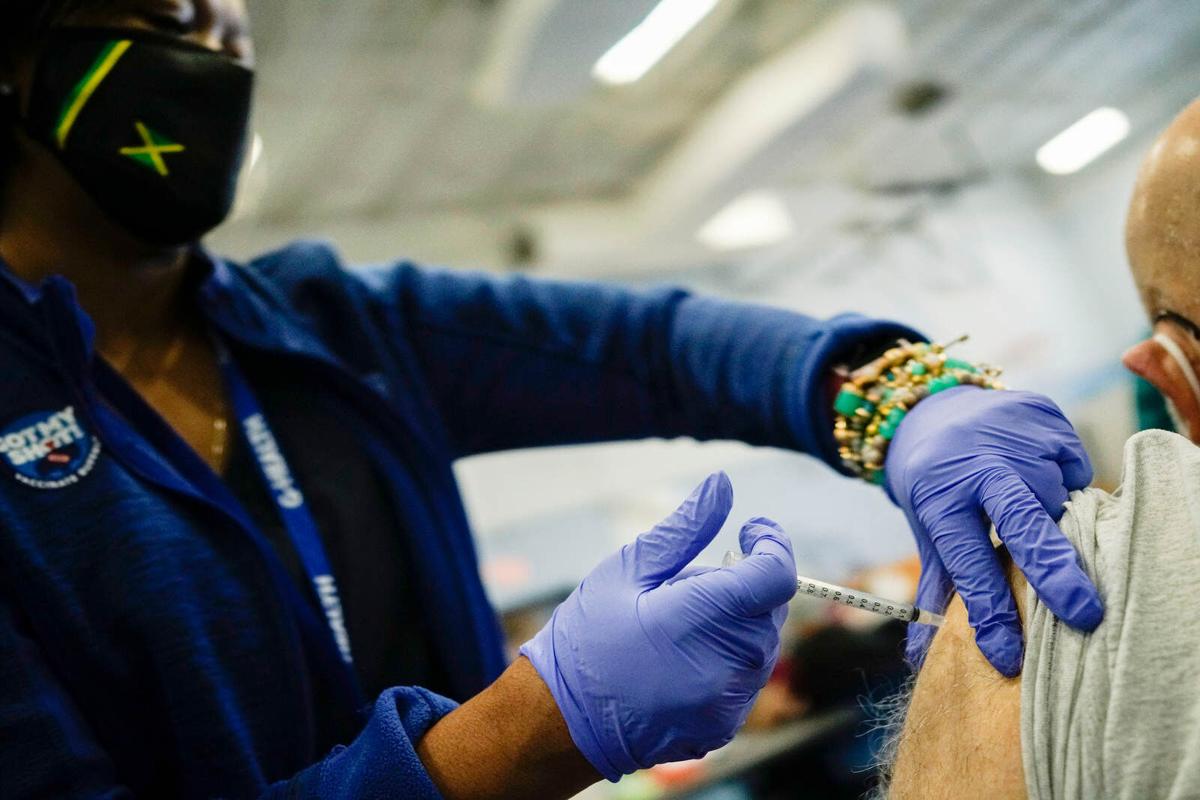 Should we feel optimistic about the coming months of the Covid-19 pandemic because positive tests and hospitalizations are declining and more people are getting the vaccine every day?
Or should we be pessimistic because dangerous, easily transmissible variants of the virus are spreading around the globe and into New York?
Data on the novel coronavirus show promising trends but trouble is looming, as demonstrated by the Cuomo administration's announcement on Tuesday that the first cases of the UK variant were found in Erie County.
Can providers get enough vaccine shots into our arms before the potentially deadly variants take hold? How effective will the various vaccines prove to be in preventing the variants' spread? And – maybe more importantly when it comes to reopening – how long before we reach a herd immunity level?
On top of that, will people continue to follow public health measures, such as mask wearing and social distancing, or will fatigue set in as we reach and pass one year since the virus appeared with no end in sight to the disruptions to our lives?
Sure, schools are opening but the big St. Patrick's Day parade is canceled. Yes, you eat in a restaurant, but you still can't go to a Sabres game.
This is why experts are divided on what shape they expect the pandemic to take as winter gives way to spring and summer.
"I think I am a glass-half-full person," said Dr. Manoj J. Mammen, an associate professor in the University at Buffalo's Jacobs School of Medicine and Biomedical Sciences who contributed to international guidelines on how to treat seriously ill Covid-19 patients. Still, he added, "We haven't won the war yet. We'll still have to struggle in the coming months."
Covid-19 cases and hospitalizations in Western New York are headed in the right direction.
The five-county region reported an average of 364 new cases during the seven-day period that ended Monday, a sharp drop from the all-time high average of 1,124 cases reported six weeks earlier. Area hospitals also have seen a significant decrease, with the 242 Covid-19 patients reported Monday the region's lowest such figure since mid-November.
Will this trend, also visible across the state and country, continue in the weeks and months ahead?
Dr. Michael Osterholm, a prominent University of Minnesota infectious disease expert who serves on President Biden's Covid-19 task force, has repeatedly warned of another serious Covid-19 surge as winter turns to spring.
"I think the darkest days of the pandemic are yet to come," Osterholm told lawmakers earlier this month in Minnesota.
But other doctors and researchers are more optimistic.
Dr. Peter Winkelstein is executive director of UB's Institute for Healthcare Informatics and leads a team that models Covid-19 hospitalizations in Erie County. As of Monday, 213 Covid-19 patients are undergoing treatment in Erie County hospitals. Winkelstein's team calculates that number could rise as high as nearly 400 patients by late April if variants spread here and vaccines don't keep up.
However, if vaccinations can reach 5,000 or more doses delivered per day, the number of hospital patients could fall to almost zero within two months assuming variants don't take hold. Other models predict a patient load somewhere in between.
"We don't have to wait for everybody to be immunized before we see an effect from the vaccine," Winkelstein said.
It's a race, experts say, to get as many people vaccinated as quickly as possible before the variants identified in the United Kingdom, Brazil and South Africa spread further in this country.
"The virus is continuing to mutate," UB's Mammen said, and it's possible those variants can infect people who either had the virus previously or who had a Covid-19 vaccine.
Also, more research is needed to show whether those who have received the vaccine still can spread the virus to others, he said.
But initial studies show the vaccines provide at least some protection from the variants, and even if they don't provide 100% protection, someone who was vaccinated is less likely to get seriously sick from the virus, said Winkelstein, his university colleague.
Numerous other factors will determine whether we will see a springtime swell in cases and hospitalizations along the lines of the surge that struck between November and January.
First and foremost, public fatigue with following safety recommendations would make it easier for the virus to spread.
"I'm a big believer in human behavior as the primary driver in all this," said Brooks B. Gump, a professor of public health at Syracuse University. "This is not the time to let up. This is the time to double down, as hard as that is."
Experts also wonder whether people will look to travel far afield during school vacation periods, such as the week just completed or the coming spring break. This raises fears travelers exposed to the virus in another state or country will bring it back to this area.
Holiday-related gatherings were believed to be at least partly to blame for the surge seen in the late fall and early winter. With St. Patrick's Day, Easter and other celebrations looming, it's important to stay safe and avoid risky activities, especially if the variants spread locally, Gump said.
Looking ahead even further, will we ever eradicate Covid-19 or will it return on a seasonal basis like the flu?
It depends, experts said, whether the Covid-19 virus continues to mutate, as happens with flu, requiring people to get a new flu vaccine each year to protect themselves. The swine flu, source of a 2009 pandemic, is now part of the standard flu-shot cocktail.
"My crystal ball is saying, yeah, welcome to the flu shot, we're going to get one every year. Unless, of course, this one burns out like the other SARS and MERS did," said Dr. William F. Mills, chief medical officer of the Upper Allegheny Health System, which includes Olean General Hospital.
As more people get the vaccine, and more people get Covid-19, the virus has fewer new targets to infect – though we are still far away from herd immunity.
More than 92,000 Western New Yorkers have contracted Covid-19 since March and more than 106,000 residents had received both vaccine doses as of Tuesday. This means roughly 14% of the population in the five counties has at least some immunity to the virus, although overlap between the populations likely brings down the figure. Public health experts believe the threshold for herd immunity is somewhere between 70-90% of the population.
Even for people who have received their vaccine doses, it's still important to follow basic public health measures: Wear a mask, practice social distancing and wash your hands.
Those and other standards adopted during the pandemic are likely to stick with us in the years to come. Some may continue to wear face masks, and it may take a while to bring back handshakes with anyone you're meeting for the first time. 
Take the tradition of blowing out candles on cakes and sharing slices with family, friends and colleagues. Daniel J. Stapleton, Niagara County's public health director, never thought this was a good idea to begin with.
In his department, even before the pandemic, people instead waved a piece of paper to put out the candle flames.
"The new way of living," Stapleton said.