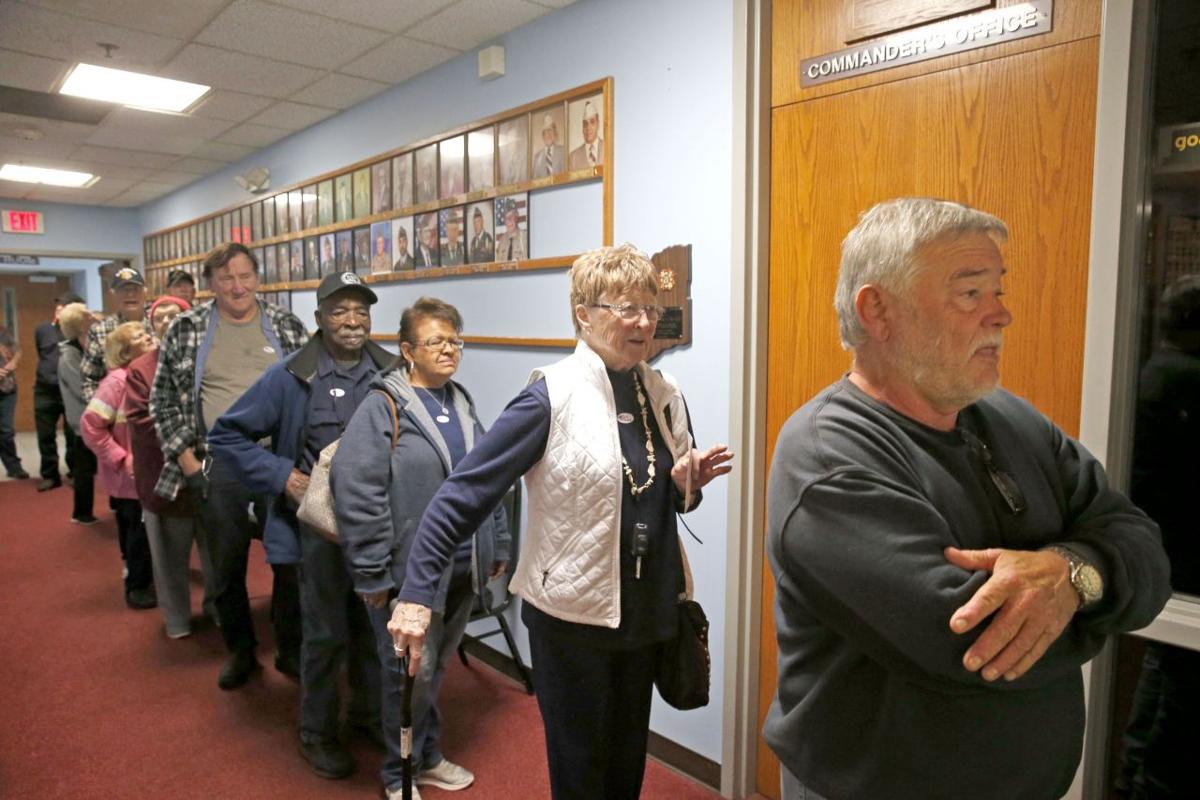 Erie County officials are "seriously concerned" about safely conducting the next scheduled election on April 28, prompting calls for its rescheduling until after health threats from the Covid-19 virus have subsided.
At the very least, say the county's Democratic and Republican elections commissioners, availability of absentee ballots should be vastly expanded to avoid exposure dangers to voters and poll workers alike.
"If we are required to conduct this election, it's going to be a serious test of our ability to do so," said Republican Commissioner Ralph M. Mohr.
Jeremy J. Zellner, his Democratic counterpart, noted their bipartisan agreement reflects voter concerns already pouring into the Board of Elections.
"I'm not sure how we can hold any election in April," he said. "I am concerned, and mostly concerned about not disenfranchising any voter if we have an election."
Voters waiting in potentially long lines to cast votes in the special election for the 27th Congressional District seat as well as in the state's Democratic presidential primary are prompting new concerns as New Yorkers are continually asked to avoid even small gatherings of people. At the same time, efforts have been underway for months to restore representation to the eight-county district since Republican Chris Collins resigned back on Sept. 30 after being caught in an insider trading scandal.
Indeed, Gov. Andrew M. Cuomo told a Sunday news conference in the Capitol that his administration is studying the situation, especially the possibility of extending absentee ballots – on paper – to all voters.
"We are discussing. We have done increased absentee ballots for elections," he said. "I think it's a good idea anyway. We should have done it a long time ago. It's especially a good idea when you don't want a lot of people going to a polling place."
Attorney General Letitia James on Sunday lent her support to the expanded use of absentee ballots, saying "democracy should not be suspended if there is a safe alternative."
"If we act now, we have more than a month before the presidential primary and numerous special elections across our state to take action and ensure every eligible New York voter receives an absentee ballot," she said. "Let's make it easier for every voter to cast their vote without spreading the coronavirus and jeopardizing public health."
Assemblyman Joseph Lentol, D-Brooklyn, also said this week he will introduce a bill to implement emergency, absentee voting for the April election.
Mohr, a veteran election law attorney, believes Erie County is on solid legal ground by already offering expanded absentee ballot opportunities for April 28 that it announced last week. The application now includes Covid-19 concerns as one of the listed reasons that a voter can request an absentee ballot. Since sickness has always served as a basis for obtaining an absentee ballot, he says the Board of Elections has the discretion to expand their use in the face of a dangerous pandemic.
"The threshold is Covid-19, and the definition of illness is broad enough to include that," he said, adding that several other elections commissioners in the state's major counties agree.
"Absent the governor postponing the election, we've made a very practical response by allowing as many people as possible to vote [by absentee ballot]," he said.
Sill, some knowledgeable observers say a chaotic situation could result if somebody filed suit over an expanded interpretation of "illness" to include the coronavirus.
Mohr said the board is receiving approximately 150 absentee ballot applications per day, far more than normal.
Much of Mohr's and Zellner's concern surrounds basics such as staffing polling places. They fear they cannot attract the required number of inspectors to satisfy all the requirements of state election law. In addition, many regular polling places such as schools are now closed.
"That presents a real problem for us," Mohr said. "If we call in these people, they might just say, 'I don't want to work.' "
John W. Conklin, spokesman for the state Board of Elections, said "there have been discussions" about addressing the situation among county elections officials as well as legislators. Much of the study surrounds the prospect of obtaining an absentee ballot "for any reason."
"That would be one of the ways to deal with an election without having to move it," he said, adding the governor's recent emergency decree in the face of the pandemic allows him to suspend some state laws "within the confines of the Constitution."
Zellner acknowledged that some controversy may still complicate efforts to expand absentee voting.
"But we've done a lot of research and we believe the illness provision of the election law allows this, though some don't believe it," he said.
"We don't want to disenfranchise anyone if we have an election," he added. "And if we have one, we certainly don't want anybody who is ill come to vote if they want to do it by paper."
Mohr noted that Cuomo has already postponed the March 17 village elections and rescheduled them for April 28. He said if the situation clears up in coming weeks, a new date could be set for June 23 – the same day as regularly scheduled primary elections – acknowledging that village elections originally set for March 17 and the April 28 would "back up" to the same day as the June 23 primaries.
"In Erie County, we have enough equipment to make it work," he said. "I'm not sure the smaller counties would have enough equipment to run three elections."
The Buffalo News: Good Morning, Buffalo
The smart way to start your day. We sift through all the news to give you a concise, informative look at the top headlines and must-read stories every weekday.