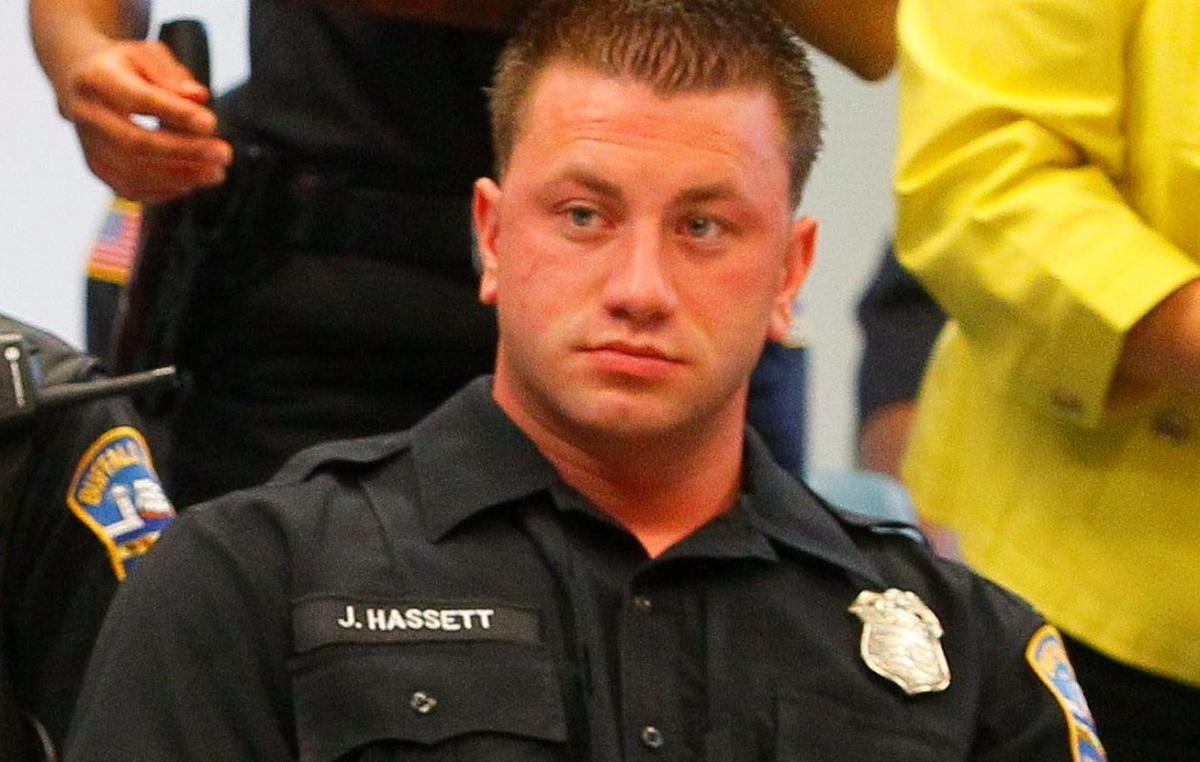 A suspended Buffalo police officer on trial for assault told a judge Friday that he did what he had to while trying to keep control of a much-larger arrestee in a cellblock.
"I used enough force to take down a 350-pound man who was 6 inches taller than me," Officer Joseph R. Hassett said at his State Supreme Court bench trial. "It had nothing to do with anger."
Hassett acknowledged he twice shouted at Timothy Staton Jr. after the arrestee had fallen on his face, cutting his forehead on a concrete floor at Central Booking.
The shouts included an obscenity followed by what Erie County Assistant District Attorney Nicholas T. Texido referred to as "a derogatory name for a handicapped person."
Hassett said he used a "leg sweep" to take down Staton. Without warning, he thrust his right leg in front of Staton's left leg. Staton's hands were handcuffed behind his back.
"I did not trip him," Hassett insisted. "I used a leg sweep to gain control."
Staton landed face-first and required medical treatment in Erie County Medical Center. A surveillance video showed Staton being escorted to the ambulance with a bandage around his head. He returned from the hospital in four hours.
"You didn't apply any downward force?" Texido asked.
"I guided him to the ground," Hassett answered.
Hassett faces five misdemeanor counts including assault and official misconduct.
His nonjury trial, with State Supreme Court Justice Russell P. Buscaglia presiding, will continue Monday.
First questioned by defense attorney Timothy W. Hoover, Hassett said that Staton was continually shouting at him and his partner, Officer John Beyer, after being arrested on felony and misdemeanor crack cocaine possession charges March 18, 2017.
Staton kept trying to reach inside the back waistband of his pants and disobeyed commands to stop doing that, Hassett said. Staton also was trying to resist his efforts to get him from the patrol car through a hallway into the booking area.
"His elbow and hands came up in my face," Hassett said.
At one point, Staton "faced up to me to yell directly in my face," Hassett said.
He said the handcuffed man's right hand was in a fist at one point.
"I'm trying to maintain control of this large man as best I can," Hassett said as watched the video in the courtroom. "He was much larger than I was, or am, and his hands were up in my face."
He also worried about Staton's pants.
"I'm trying to figure out why he's so insistent about going to his waistband," the officer testified.
He said no complete search had been done until after Staton was brought back from ECMC. No drugs or weapons were found on Staton, who was strip-searched.
Earlier this week, Staton testified that officers had him lie on the ground when he was first arrested while they went through his pockets, waistband and sweatshirt, and when he got to Central Booking he was told he would be strip-searched, but he never got that far, because he said he "was slammed to the ground" and taken to the hospital.
"I felt that I had very little control of my arrestee, because he was dragging me toward an officer I didn't want to go toward," Hassett said.
He said an officer at the processing desk had to dodge Staton to avoid a collision.
That officer, David Bauer, said Staton "was continuing to scream and be belligerent."
Beyer testified that he had "double-cuffed" Staton.
Bauer said that is a technique sometimes used on "large individuals," but it also gives the suspect more freedom of motion.
"I decided I needed to get control of Mr. Staton," Hassett said. "I decided to do a leg sweep to take him to the ground."
During an Internal Affairs investigation last summer, Bauer testified that he thought Staton digging in his waistband was the main reason for the takedown.
Beyer said Hassett didn't ask for help handling Staton in the booking area.
"There wasn't a need to help him out at that point," Beyer said.
Bauer said people who are handcuffed remain potentially dangerous.
"They can still use their body. They can kick. They can head-butt," he testified.
Hassett, now 32, is a nine-year veteran of the Police Department and received its highest decoration in 2013 for helping apprehend a suspect in a chase even after Hassett had been shot in the knee.
During cross-examination, Texido brought up other incidents from Hassett's record and asked him if he used undue force, injured civilians and falsified reports.
Texido cited a 2014 incident in which Hassett allegedly confronted a man at a gas station at South Park Avenue and Louisiana Street for leaving his car unattended. The man was standing next to the car, according to the prosecutor.
Texido said Hassett drove the man's car away from the gas station onto Buffalo Municipal Housing Authority property and then arrested him for trespassing on the BMHA property. At some point, the man suffered an arm injury.
Hassett said he didn't remember the details.
Texido said that in 2014 Hassett dealt with three people outside a bar where he was doing private security work, and refused to let them in because the bar had closed.
Texido said one of the three slapped Hassett in the face with a stack of dollar bills.
"Do you remember hitting one of them in the head with a baton?" Texido asked.
"No, I was defending myself," Hassett answered.
Texido asserted the three never got into the bar, but he accused Hassett of writing a deposition that said they did enter, and of calling a friend of his on the police force who arrested them for criminal trespass.
Returning to the Staton incident, Texido asked, "On the day in question, Timothy Staton made you pretty mad, didn't he?"
"No, he didn't," Hassett answered.
Texido asked if Hassett would have used the expletives he did after Staton went down if he weren't angry.
"I have sworn at people I wasn't angry at in general conversation," Hassett said.
Answering a follow-up question, the officer said, "As I've stated, I was angry at the situation, not the person."
Staton was charged with obstructing governmental administration after his return from ECMC. But the written charge says, incorrectly, that multiple officers were needed to take Staton down.
The video shows, and Hassett acknowledged, that he did it alone and the others came to the scene after Staton was down. But Hassett signed the paperwork that mentioned multiple officers, typed up by a report technician he talked to. Hassett testified that he signed it without reading it.