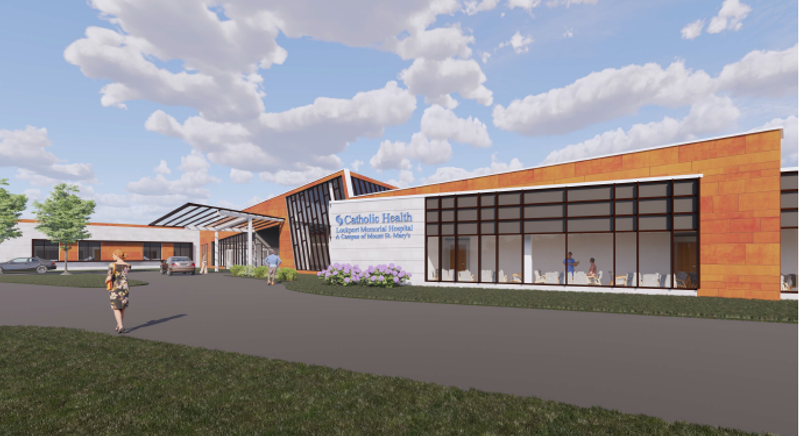 The New York Civil Liberties Union said Monday that state regulators should require Catholic Health System to offer abortions and other procedures banned by the Catholic Church at a planned new hospital in Lockport.
The NYCLU offered its views in written testimony submitted to the state Public Health and Health Planning Council, which is to vote Thursday on a permit for the new facility.
A fellow for the NYCLU, Gabriella Larios, denied Monday that the group opposes a new hospital for Lockport or that its recommendations, if adopted, would infringe on Catholic Health's religious liberty.
"What we are trying to do here is ensure is that health care is available to all people – comprehensive health care, reproductive health care, end-of-life care. This is not a religious liberty issue," Larios said.
Catholic Health's application says the new Lockport Memorial Campus of Mount St. Mary's Hospital "will have a significant primary care and OB/GYN presence to promote health for the entire family including women and children."
The NYCLU testimony says, "However, maintaining OB/GYN care as a practice is not the same as maintaining all reproductive health services, including access to contraception, unrestricted miscarriage management, tubal ligations, and abortion care."
Through a spokeswoman, Catholic Health President and CEO Mark A. Sullivan declined comment. He and other Catholic Health executives will be at Thursday's meeting in Albany.
According to its website, Catholic Health follows the Ethical and Religious Directives for Catholic Health Care Services, set by the U.S. Conference of Catholic Bishops.
That document says abortion "is never permitted" and that "Catholic health institutions may not promote or condone contraceptive practices."
It also says sterilization, euthanasia and assisted suicide are not permitted because they are contrary to the church's longtime teaching.
The NYCLU's written testimony says the church's policy "limits a patient's ability to make end-of-life choices; prohibits gender-affirming care; and jeopardizes the ability of LGBTQ+ patients to access care free from discrimination."
There are three non-Catholic hospitals within 20 miles of Lockport: Niagara Falls Memorial Medical Center, Medina Memorial Hospital and Millard Fillmore Suburban Hospital.
But the NYCLU says if the new Lockport Memorial Campus of Mount St. Mary's Hospital is built, access to procedures Catholic belief opposes will be restricted.
"We are not trying to stop a community from having a local hospital," Larios said. "We are just trying to ensure that this local hospital provides care to all people, that people in Niagara County are able to get the full spectrum of health care, free from these policy-based exclusions."
The new campus is to replace the bankrupt Eastern Niagara Hospital. After the latter filed for Chapter 11 bankruptcy protection, it signed a management agreement with Catholic Health, for which the Lockport hospital pays $478,322 a year.
The new hospital is to open by April 2023, starting with 10 acute care beds, a number which matches Eastern Niagara's current average daily patient count. It will have space for 10 more acute care beds if needed.
Full lab and imaging services, outpatient surgery, an emergency helipad and a separate medical office building also are planned.
Eastern Niagara Hospital, which filed for bankruptcy in November 2019, will close when the new hospital opens. The site of the new facility is off the west end of Shimer Drive, on land Catholic Health purchased from Hall Apple Farm.