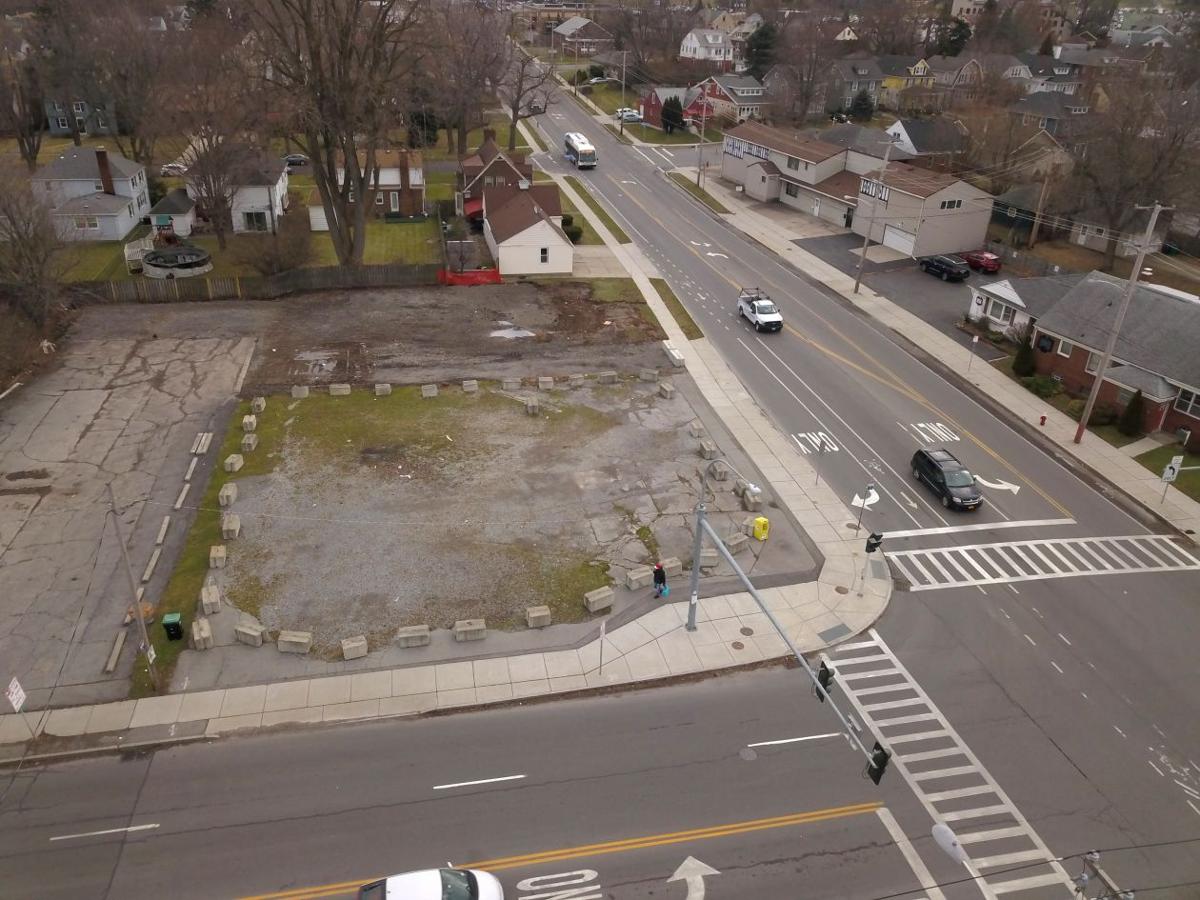 The Town of Amherst officially took over a run-down former gas station site in Eggertsville, but the New York City billionaire who previously owned the property isn't giving up yet.
The town plans to remove the concrete barriers and begin to build a pocket park on the site at Kenmore Avenue and Niagara Falls Boulevard.
But John A. Catsimatidis has refused to accept the town's offer for the property and, instead, said he will take Amherst to court to win a higher payment.
And Catsimatidis isn't finished. In an interview, the prominent Republican and talk-radio host vowed to donate to the campaign of whoever challenges Amherst Supervisor Brian J. Kulpa next year.
"I don't care if Mickey Mouse runs against him – I'll contribute to Mickey Mouse," Catsimatidis said.
Kulpa, for his part, has sought for more than two years to revive the property because of its gateway position on Amherst's border with the Town of Tonawanda and Buffalo. The Democratic supervisor sidestepped the personal political potshot from Catsimatidis.
"He can do as he likes," Kulpa said. "I am busy trying to rejuvenate Eggertsville and keep our town moving forward."
Amherst has sparred with Catsimatidis and his United Refining Co. since at least 2018, when Kulpa began to focus on the vacant, quarter-acre property at 159 Niagara Falls Blvd. lined by concrete barriers.
A Red Apple gas station and convenience store there closed in the late 1990s and United Refining later tore down the structure.
United Refining and Catsimatidis have cleaned up several other shuttered "zombie" gas station sites in Erie County, but in those cases the company kept ownership.
Amherst wanted to take hold of the property and filed to do so through eminent domain. Catsimatidis objected but he lost his appeals in court and the town recently took ownership of the site after the required documents were filed with the Erie County Clerk's Office.
The town would build a gateway park on the former gas station property and a neighboring parcel that Amherst bought for $194,000 in August 2018.
Kulpa in January showed off plans for the combined property that features a curving trellis that would provide shade for farmers market vendors and their customers. Benches, Amherst welcome signs, two bus stops and tree plants also would be added.
The town would like to begin cleaning up the site this summer and fall, an effort that began with Town Attorney Stanley Sliwa formally asking United Refining whether the company wants its concrete barriers back. Otherwise, they would go to the town Highway Department.
Benches soon would go in and construction would begin in the spring and, Kulpa said, hopefully wrap up by next summer with most if not all of the park's cost covered by a $364,000 state grant.
"I want to get it cleaned up and get it safe and comfortable for people," Kulpa said.
The legal fight isn't completely over, Sliwa said. Amherst is waiting for a judge to set the price the town must pay for the property. The town has offered to pay $81,000, the appraised value for the site.
"We believe our appraisal is generous," Sliwa said.
Catsimatidis has blasted Kulpa and town officials, urging voters to throw them out of office and vowing never to invest more money in this area. He said the town doesn't need a park, particularly of such a small size, at the site.
He said he'll continue his fight over the project's value, which he puts at $320,000 or more, but it's not a matter of money for Catsimatidis, whose wealth is estimated at $2.8 billion by Forbes.
"I don't care if I spend a million dollars suing them. It's about the principle," said Catsimatidis, who repeated his contention that taking property through eminent domain is tantamount to "stealing."
He then asked when Kulpa was up for re-election and was told it's 2021.
Catsimatidis, who is mulling his own run for New York City mayor next year, said, "I'll contribute to whoever is running against him."