New York City billionaire John A. Catsimatidis has accused Amherst officials of "stealing" the former gas station property he owned in the town.
He's called Supervisor Brian J. Kulpa an expletive and promised to support whoever challenges Kulpa in his 2021 re-election bid – even "Mickey Mouse."
Now, after two years of brawling over the small parcel in Eggertsville, Catsimatidis says he is ready to move on. If the town pays him the $250,000 he believes the property is worth, he promises he will donate that fee to a charity in Erie County.
But there are geographic strings attached.
"Other than Amherst," he said in an interview. 
John Catsimatidis has refused to accept the town's offer for a run-down former gas station site in Eggertsville.
Courts have upheld the town's right to acquire the parcel through eminent domain. The town puts an $81,000 value on 159 Niagara Falls Blvd., and that is how much it is willing to pay Catsimatidis.
Amherst is pursuing its plans to build a pocket park at the site and says it must follow the law in resolving the tiff with Catsimatidis.
"This sounds interesting, but I have yet to see a proposal and it's only been relayed through The Buffalo News," Kulpa said. "I have questions about how it would need to play out in a legal framework."
Amherst has sparred with Catsimatidis and his United Refining Co. for more than two years over the quarter-acre property at Niagara Falls Boulevard and Kenmore Avenue.
A Red Apple gas station and convenience store closed there in the late 1990s, and United Refining later tore down the structure, leaving the site vacant and lined by concrete barriers.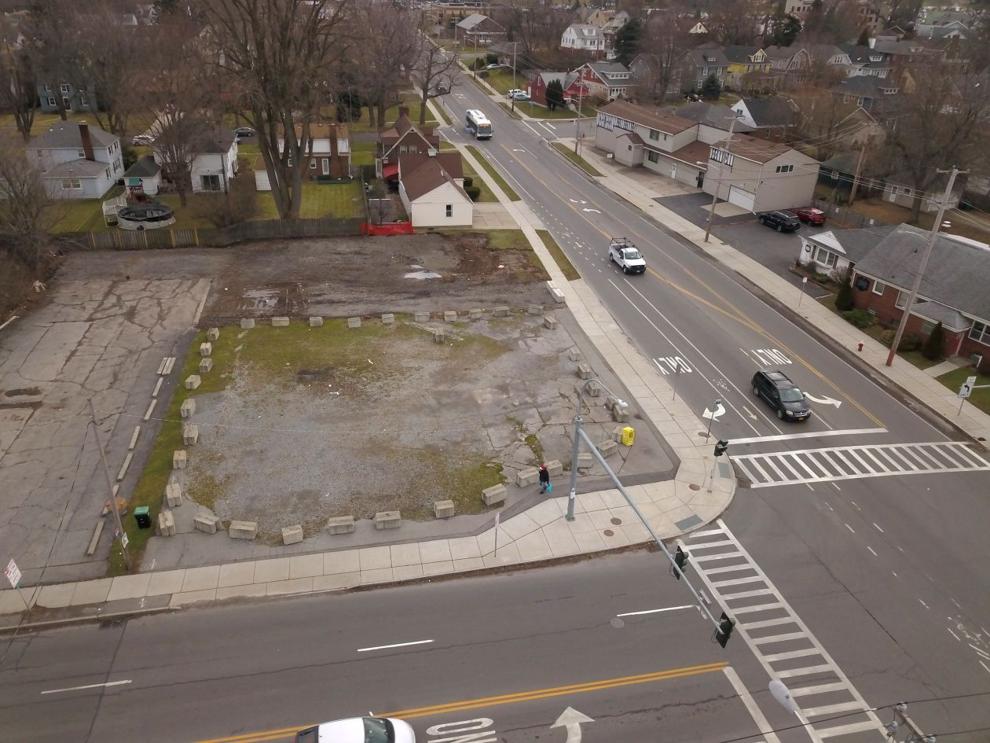 United Refining and Catsimatidis cleaned up several other "zombie" gas station sites in Erie County without giving up ownership.
Amherst, over Catsimatidis' objections, filed to take control of the property through eminent domain. Catsimatidis lost his court challenge and the town this summer took ownership of the land.
"I just don't understand rationally why he's hung up with this property, other than he has a fundamental problem with municipalities trying to clean up decrepit areas," Town Attorney Stanley J. Sliwa said.
The town wants to create a gateway park on this parcel and a neighboring property it bought in 2018. The town already has removed the concrete barriers and installed benches at the site, which is along major bus routes.
John A. Catsimatidis has taken Amherst to court to try to block the town's bid to take over the property – the site of a former gas station that closed 20 years ago – through eminent
Sliwa said United Refining never responded when he asked if the company wanted the barriers back. Instead, he said, the town Highway Department took them.
He also said the company hasn't told the judge overseeing the legal dispute how much it believes the property is worth. United Refining and Catsimatidis have three years to do this.
Amherst has offered $81,000 for the parcel, which is assessed for tax purposes at $32,000.
"I think it's more than reasonable," Sliwa said. "Given its present zoning, there's nothing that can be built there. Its only value is as a vacant lot."
Sliwa and Kulpa say Catsimatidis and his local representatives have not shared documentation for the $250,000 appraisal and have not directly broached the idea of a charitable donation. Both said they learned about the offer when a News reporter contacted them for comment.
"I continue to be met with dead silence," Sliwa said.
Catsimatidis said the fight over the property is a matter of principle for him. He strongly believes governments don't have the right to take property through eminent domain, which requires them to pay fair market value and to convince a judge that the public purpose for the property justifies this action.
"We will make zero investment in Erie County. Thank you for burning another businessman," says John A. Catsimatidis, whose company owns dozens of gas stations and convenience stores in this area. Catsimatidis is frustrated by the town's attempt to take control of a "zombie" property on Niagara Falls
Catsimatidis has made the battle deeply personal, roundly criticizing Kulpa and town officials in interviews with The News and other media outlets.
The idea of a billionaire clashing with an upstate suburb over a quarter-acre, vacant lot drew the attention of Forbes magazine this summer. In the article, Catsimatidis referred to Kulpa as "one (expletive) politician in one little town."
Asked about his use of the language, Catsimatidis didn't apologize but said, "I probably had a bad day. We all have bad days."
Kulpa, in response, said, "I don't have any personal feelings about the guy."
Catsimatidis, who is worth an estimated $2.8 billion, according to Forbes, now said he is willing to bring an end to the feud he has done so much to stoke.
"You can't fight stupid wars forever," he said.
If Amherst pays him the $250,000, he said, he will donate the full amount to a charitable organization in Erie County, as long as it is not in Amherst.
Why? "Because they make bad decisions and they hurt people," he said of town officials.
There is a political element to the fracas.
Catsimatidis' point person in the Buffalo area is Brian D. Rusk, chairman of the Amherst Republican Committee. Catsimatidis is a generous donor to Republican candidates in the state.
This year, he said he gave $5,000 each to at least a half-dozen GOP contenders for State Senate seats, including Erie County Legislator Edward A. Rath III, at the urging of Senate Minority Leader Rob Ortt, R-North Tonawanda.
Rath ran against Jacqualine A. Berger, Kulpa's deputy supervisor and fellow Democrat. Berger previously said it is clear that Catsimatidis sought to punish her over the property fight. Catsimatidis denied this, saying he was motivated to try to prevent Democrats from winning a supermajority in that body.
Both Kulpa and Catsimatidis have complained that the other has declined to meet.
"I just want to do the right thing," Catsimatidis said.
Amherst officials said municipal law generally bars paying above market value for a site and prohibits payments by the town directly to private organizations.
Kulpa shrugged off Catsimatidis' vow to support a Republican challenger and said he is willing to discuss the proposed settlement with Catsimatidis.
"I'm just doing the best thing I can do for our community," he said. "I never engaged in the personal stuff because, to me, it's not about that."