In New York State, nursing homes can hire companies in which their investors or their families have an ownership interest to perform services at their long-term care facilities with little public disclosure of the arrangement.
Take Safire Rehabilitation of Northtowns, for instance.
Safire Rehabilitation and Nursing of Northtowns was fined in August for letting groups of residents dine within 6 feet of each other on June 12, at a time that nursing homes in the region were reeling from coronavirus infections and deaths.
The Town of Tonawanda nursing home hired two companies in which its investors or their families have an ownership interest in to supply the facility with temporary nurses and perform accounting services. The two companies netted profits totaling more than $1 million in 2019 from Safire Northtowns and from other nursing homes, according to documents filed with the New York State Health Department.
Just which of Safire Northtowns' investors – there are five – have ties to these companies is not clear in public documents. 
But that may soon change.
New York State's Health Department says it will soon issue guidelines to implement a new law that requires nursing homes for the first time to clearly publicly disclose whether their facilities do business with a related company.
The practice of nursing homes doing business with outside companies that have connections to the facilities' owners is legal and widespread.
In 2019, 72% of for-profit nursing homes in New York State did business with "non-arms length" companies, according to an analysis of state documents by 1199 Service Employees International Union, which represents thousands of nursing home workers statewide.
The state defines a non-arms length arrangement as one where the nursing home operators do business with an organization that has common ownership or control, where there is a family relationship between the operators and the other organization, or where the operators and other organizations are involved in any other business together.
Owners of nursing homes have repeatedly complained that state funding for their facilities is inadequate, and for-profit owners that do business with related companies say they allow them to create economies of scale that eliminate redundancies and reduce costs at individual nursing homes.
But advocates of nursing home residents, elected officials and 1199SEIU say these non-arms length business arrangements provide the owners with a way to pocket money instead of spending it on the residents entrusted to their care.
"Unfortunately, there is a long history of owners taking advantage of shady real estate, contracting and financial arrangements to siphon funds into their own and family members' pockets and away from patient care," said Assemblyman Richard N. Gottfried, who sponsored the transparency law and is chairman of the Assembly Health Committee.
The new state law requires nursing home investors and their relatives to be identified by name if companies they own do business with the nursing homes.
The law also requires nursing homes to provide residents and people considering moving into a facility with details of these related business dealings, Gottfried said, explaining that they "have a right to know the ownership structure of a facility."
Health Department spokesman Jeffrey Hammond says the legislative reform will "hold these operators more accountable." And when the details for releasing the information are implemented, Hammond said, it will be accessible and understandable to the public.
Transactions buried in Health Department reports
Until now, transactions involving these related companies were buried in hundreds of pages of dense cost reports that nursing homes file annually with the Health Department. For the ordinary citizen without an accounting degree, these documents – packed with numbers and codes – are difficult to interpret.
Safire Rehabilitation of Northtowns LLC is licensed by the state Health Department to operate that nursing home. The limited liability corporation's stockholders are identified as Judy Landa, Richard Platschek, Solomon Abramczyk, Robert Schuck and Moshe Steinberg.
Safire Northtowns' 2019 cost report indicated it hired a related company, the Floral Agency LLC, which provides temporary nursing staff and other personnel to nursing homes.
Floral Agency made overall profits of $1,040,109, according to the Safire Northtowns' 2019 cost report. That information is on page 68 of the 195-page report, and Floral is identified there only by a code number of 1.
The cost report doesn't identify who owns the Floral Agency.
Safire Northtowns' cost report indicates it also did business with another related company, TYTY LLC, an accounting and data processing company, which made overall profits of $313,861. 
The cost report doesn't identify who owns TYTY.
But in documents filed with the state Department of State, TYTY identified Safire Northtowns shareholder Abramczyk as the person the state should notify if legal papers are served against it.
Safire Northtowns' owners also paid more than $700,000 a year in rent to Sheridan Drive HC LLC, which owns the nursing home's building and property, according to the 2019 cost report.
The report identified the shareholders of Sheridan Drive HC as Platschek; Abramczyk; Schuck; Judy Landa's husband, Benjamin; Alexander Platschek; and LTC Midwest Investment.
After expenses were deducted from the rent, Sheridan Drive HC made $75,625, the cost report stated.
Safire spokesman Michael A.L. Balboni defended the nursing home's hiring of the Floral Agency and other related companies.
"Many nursing homes are facing an unprecedented labor shortage. These companies that provide these services are experienced and knowledgeable. The state regulations require that these companies be fully disclosed and have transparent transactions," he said.
Balboni said he could not identify the owners of Floral Agency and TYTY because he does not have access to that information.
Analysis shows 72% of for-profit homes hire related companies 
Nursing home cost reports from 2019 filed with the Health Department show that 72% of for-profit nursing homes in the state do business with "related parties," according to Grace Bogdanove, vice president of 1199SEIU, which represents nursing home workers in Western New York. 
"Examples of these transactions include … paying companies for services like agency staffing, pharmaceuticals and laundry," Bogdanove said, adding, "This practice essentially puts money back into the owner's pocket rather than investing in providing quality care for residents."
In recent years, for-profit owners have been buying up nonprofit nursing homes, which have been unable to keep up with rising expenses.
State Health Department records show that 395 of the state's 616 nursing homes are for-profit, while the remainder are government-run or nonprofit.
Owners of nursing homes, both for-profit and nonprofit, have frequently complained that the state does not provide adequate financial support to operate the homes, which rely largely on Medicaid reimbursements.
Nursing home trade group officials say the state's Medicaid reimbursement rate, on average, is $210 per day. But the nursing home's average cost of providing care for a resident is about $265 a day.
They say this funding disparity is a reason why nursing home owners have hired companies they have a financial interest in to provide services to the nursing homes. Those related businesses allow them to eliminate duplicate services and reduce costs at individual nursing homes, they say.
Hammond said the new law requires nursing home owners to sign an annual statement attesting to the accuracy of the information they provide about any related companies they hire.
If questions arise, Hammond said the Health Department will require additional information from the owners and "take appropriate action against any nursing home operator who fails to comply." Actions could include referrals to law enforcement "and measures that may impact a facility's licensure," he said.
Implementation of the transparency law showing ownership connections is "forthcoming," Hammond said, although he did not provide a specific date.
"Recognizing the value and importance of transparency, this standardized approach will include a method for sharing this information publicly with New Yorkers," Hammond promised.
Nursing services hired at Buffalo facilities 
The Buffalo Center for Rehabilitation and Nursing and the Ellicott Center for Rehabilitation and Nursing filed 2019 cost reports that shows each facility paid Centers for Care $158,996 and $127,196, respectively, for "Nrsg Contracted Svc," an apparent abbreviation for nursing services.
According to a report by Dun & Bradstreet, which tracks commercial data, Centers For Care is owned by Kenneth Rozenberg. 
Rozenberg is identified by the U.S. Centers for Medicare and Medicaid Services as the majority stockholder in limited liability companies that own the two nursing homes.
In their 2019 cost reports, the two nursing homes did not identify Centers for Care as a "non-arms length," related company. But in the prior year's cost reports, they did identify Centers for Care as a "non-arms length" related company.
When asked for an explanation, Jeffrey Jacomowitz, a spokesman for the nursing homes, said everything was in order.
"Buffalo Center and Ellicott Center are in compliance with the operational and fiscal regulations established by the New York State Department of Health," Jacomowitz said, while declining to elaborate.
Both nursing homes were awarded overall one-star ratings, or "much below average," by the federal government.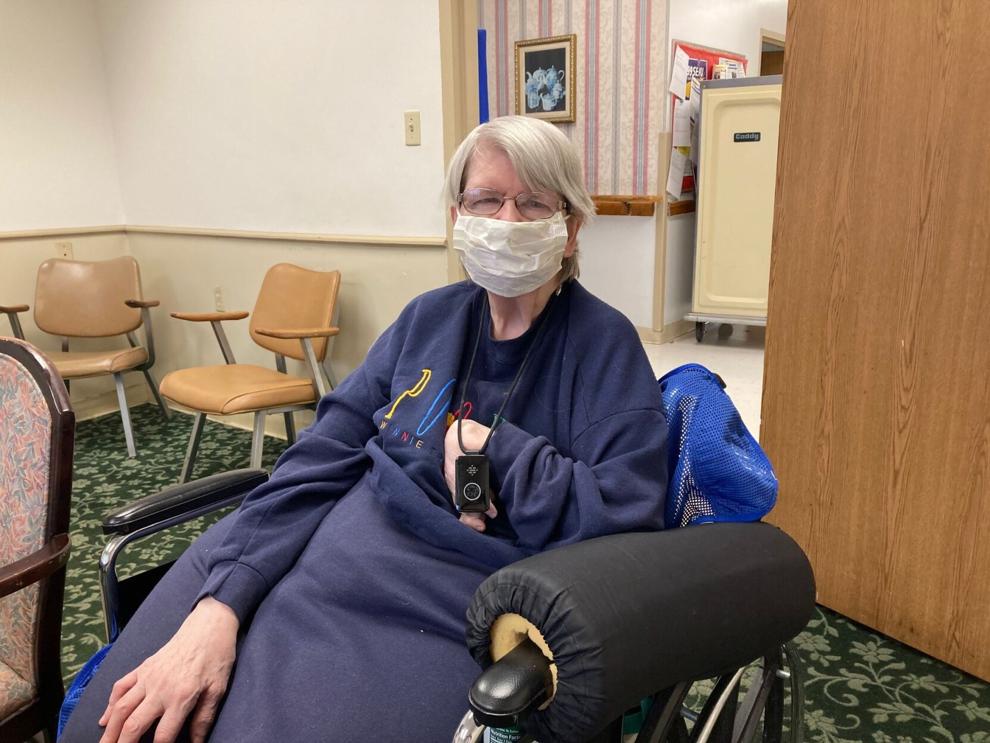 Gail Logan, a seven-year resident at Safire Northtowns, said she and other residents frequently suffer indignities because of a lack of staffing and supplies.
Unable to care for herself because of cerebral palsy, the 74-year-old Logan said the absence of staff at the nursing home during the overnight shift has become more common.
"The other night there was no staff on the third floor. People needed their diapers and bed linens changed or help going to the toilet, but no one was there. I was one of them who needed help," Logan said.
Even when temporary nursing staff from the Floral Agency is brought in, she said inadequate care continues.
She said hiring temporary workers does not result in proper care for residents.
Safire Northtowns gets a one star overall rating, or "much below average," from the federal government. Its staffing rating is three stars, or "average."
Calls to the nursing home's administration by The Buffalo News were not returned. 
Other state reforms in nursing homes are set to start this year.
They include a requirement that nursing homes spend a minimum of 70% of revenues on direct resident care, with 40% of it going to "resident facing staffing." In addition, nursing homes will also be required to provide an average of 3.5 hours of nursing care per resident per day.
Stephen B. Hanse, president of the New York State Health Facilities Association, which represents more than 450 skilled nursing and assisted living providers, said he does not believe either of those regulations can be implemented, however.
"They fail to acknowledge the fact that one, the state has failed to provide a Medicaid cost-of-living increase for the past 14 years, and two, there are simply not enough health care workers in the state of New York to meet the minimum staffing mandate," Hanse said.
The regulations as they currently stand, he said, are setting up New York long-term care providers for failure.
"The state needs to work in partnership with providers on proactive initiatives to increase Medicaid funding and direct that funding to long-term care workers," Hanse said.
Gottfried, the Democratic assemblyman from New York City, said the reforms will improve care to nursing home residents, and he wants to go even further by halting expansion of for-profit nursing homes.