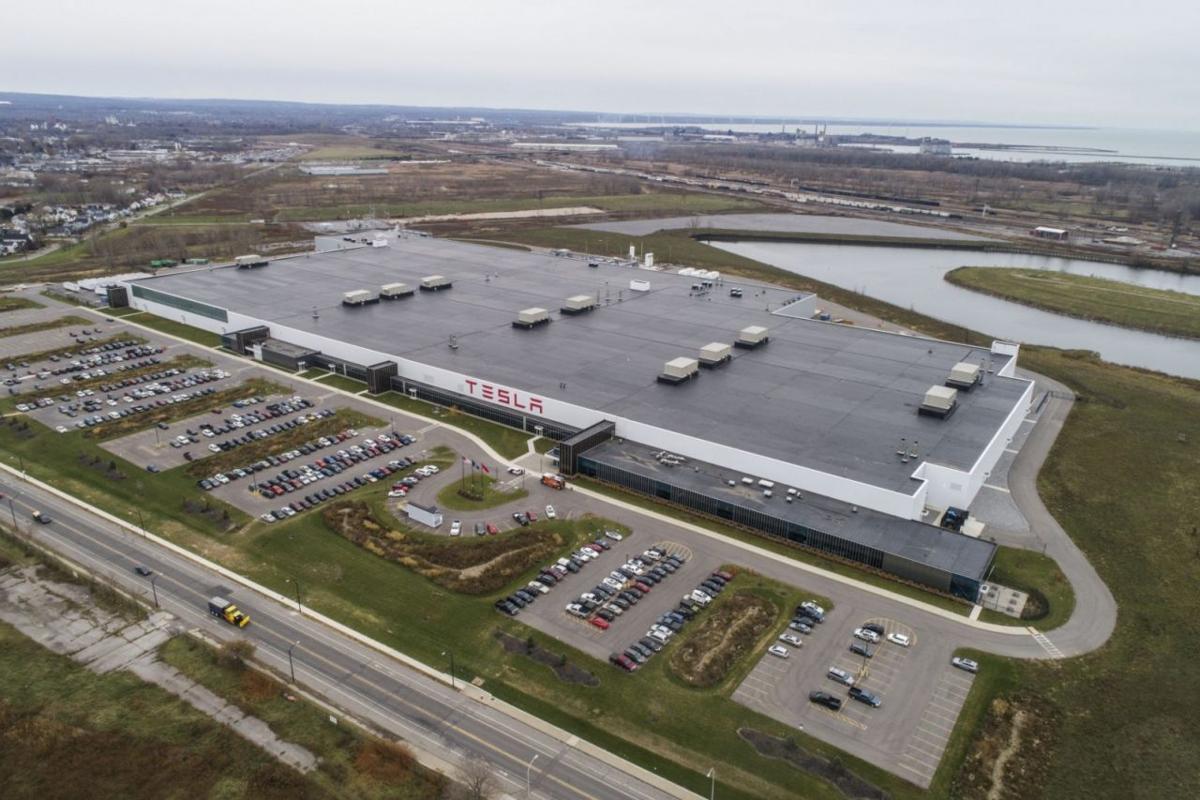 ALBANY – Desperate to get production back up and running after a Covid-forced shutdown, Elon Musk recently openly defied health officials' warnings not to reopen his California auto plant.
"If anyone is arrested, I ask that it only be me,'' Musk tweeted last week.
Three thousand miles away in Buffalo? It's unclear what Musk's company – Tesla Inc. – has in store for his signature solar panel factory.
The state on Tuesday began a soft opening of the Covid-ravaged economy in Western New York, permitting manufacturing companies like Tesla's operation at RiverBend to commence its solar panel work after two months of state-ordered suspension.
Tesla has not responded to questions about the facility and its plans to restart its solar work.
The uncertainty comes as state officials are considering delaying deadlines on job creation requirements that companies like Tesla received in return for various financial and tax incentives. In Tesla's case, the state taxpayers built and equipped the solar plant at RiverBend at a cost of nearly $1 billion.
The administration of Gov. Andrew Cuomo could not immediately say if Tesla has informed it of the company's intentions for the sprawling state-owned factory, the development of which had a checkered start several years ago when it was the focal point of a corruption scandal that eventually led to bid-rigging convictions of several business, academic and lobbying executives.
The Cuomo administration noted that Western New York's phase one reopening began Tuesday for manufacturers like Tesla, as long as they adhere to various social distancing and sanitary and other protocols. Manufacturers, as well as construction companies and others affected by the phase one reopening, create a document in which they "affirm" they understand the protocols and will abide by them.
State officials could not immediately say if they have received such a document from Tesla.
The RiverBend facility has not been completely closed since mid-March; it has been among businesses that do "essential" work. In Tesla's case, that included battery components and electric vehicle charging stations for its automotive business. It is uncertain how many employees were coming to work at the Tesla Buffalo plant the past couple months.
Another company that has been a Tesla partner began bringing workers back Wednesday morning: Panasonic.
While the Japan-headquartered company said it will soon have employment back to 100% of its pre-Covid shutdown level, officials would not say how many workers that entails.
Panasonic was already planning to halt production of its solar work at RiverBend by the end of May, at which time it was to go down to a smaller staff to work on winding down the company's presence at the factory by September.
"With the region reopening, we will begin a steady ramp-up of operations in full compliance with local and state regulations," Panasonic spokeswoman Dannea DeLisser said Tuesday evening.
Panasonic was bringing back employees in phases "until the facility is in full operation." She said the company submitted the plan to state officials and that the Panasonic area of the factory has Covid safety protocols stronger than the state's requirements.
Uncertain is how, or if, the Covid shutdown will affect Panasonic's timetable for departing RiverBend. Tesla, Panasonic's partner at the Buffalo plant — at least, for now — recently said Panasonic employed about 400 people at the factory.
Meanwhile, the state is still discussing with Tesla the company's employment promises made when it struck a lucrative state deal to locate in Buffalo.
The Buffalo News reported a few weeks ago that Tesla was seeking a one-year waiver on its promise to create 1,460 jobs at the solar plant.
That job level needed to be hit by the end of April. In February, Tesla said it had exceeded 1,500 jobs in Buffalo, but state officials had not yet verified that number when the solar facility work was shuttered by the pandemic.
Tesla faced a $41.2 million penalty if the job level was not reached on the state-owned site on South Park Avenue. The company last month made public its intention to seek a one-year waiver from New York State Empire State Development, the Cuomo administration's main economic development agency, in a filing with federal regulators.
The Cuomo administration has spent billions of dollars to lure companies to locales around the state. Incentives can take a range of forms, from tax breaks to grants. Officials say job creation benchmarks in such economic development contracts have been delayed before in New York State during times of crisis, such as after the 2001 terrorist attacks, the Great Recession and Superstorm Sandy.
Pamm Lent, an Empire State Development spokeswoman, said the state agency is considering a delay in job creation requirements to help mitigate the impacts of the pandemic and resulting shutdowns.
"This would allow companies an opportunity to resume their job creation targets established before the crisis struck. We are currently working with Tesla on this process," Lent said.
Lent said ideas being considered include letting companies opt into a one-year deferral on job creation and annual spending milestones; letting firms defer loan and some capital repayments due the state as part of their job creation contracts; postponing until Aug. 1 certain requirements on annual program applications and reporting deadlines for documents; and, "pursuing all other reasonable and administrative relief, including relief that may require statutory or regulatory changes.''
Statutory changes need approval by the Legislature; the state Senate is due to resume its 2020 session next week for the first time since early April when it considers whether to advance nearly than 100 bills pending that are related to the Covid pandemic – from new consumer rights to Covid diagnosis and testing requirements to changes that will affect everything from insurers to banks.