Michelle Jansen's school shopping is usually done by now, complete with eight outfits, two pairs of shoes, socks, underwear, a lunchbox and a fully stocked backpack ready to go.
But this year, with her son just weeks away from starting fifth grade in Lockport, she hasn't bought a thing.
"Not even a No. 2 pencil pack," she said.
And she won't buy anything until the day before the first day back, she said.
"Everything changes daily," Jansen said. "If he has to do remote learning, he can Zoom in a t-shirt and his underwear."
Stakes are high for back-to-school shopping this year. Retailers count on it as one of their most important sales seasons, second only to Christmas. But with uncertainty amid the coronavirus outbreak, parents aren't certain how much they should buy, if anything.
Uncertain about whether schools would reopen amid the Covid-19 pandemic and whether they might shut down again if infections rise, some parents have held off on school shopping, hoping for a clearer picture of what may happen.
Others, unsure how much of the school year will be spent in the classroom versus at home, are preparing for both possibilities.
Back-to-school spending is a planned expense, much like Christmas shopping, so parents are still expected to turn out, despite high jobless rates and intense financial insecurity.
But purchases this year are expected to shift away from the usual notebooks and binders to home learning supplies such as computers and desks.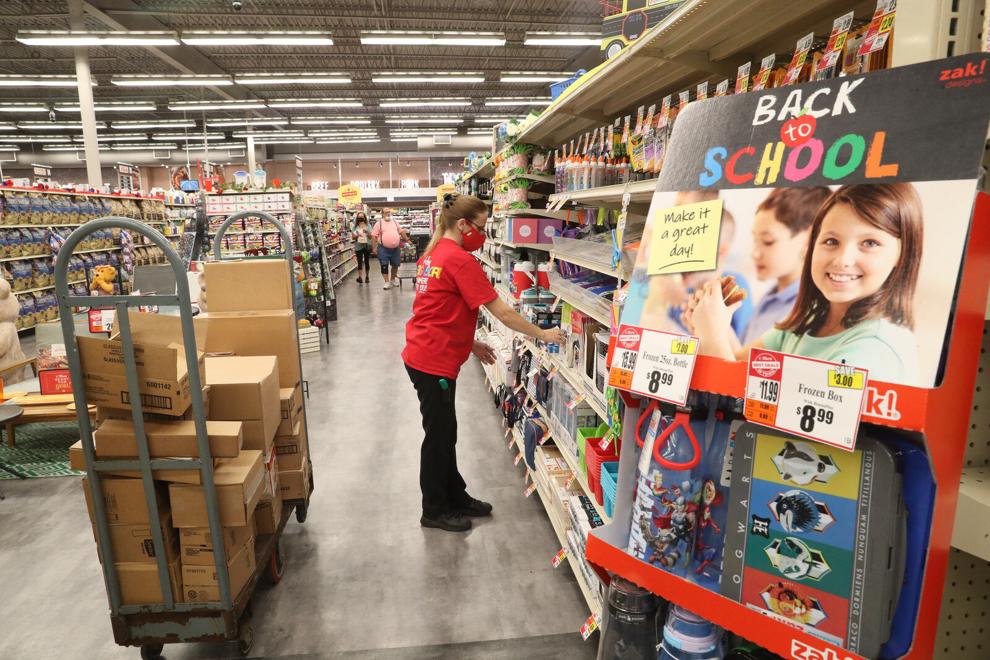 Traci Rhodes' daughter Maci will start middle school in the Town of Tonawanda this fall. Maci is already on edge about moving up to the new school, and the idea of being unprepared adds anxiety.
"She was worried about school supplies. She said if she didn't get them soon, the stores would run out of them," Traci said.
So, even though she hasn't received a list of supplies from the school district yet (it's usually sent out at the beginning of summer), she has started picking up some basics: pencils, pens, erasers, notebooks.
But she's more focused on setting Maci up with a quiet place for remote learning.
She and her husband are both essential workers, so when schools closed in March, Maci spent the days at her grandmother's house, doing work on her grandma's computer. Now, Traci is trying to pull together a workspace in Maci's playroom and upgrade her iPad to a laptop.
Clothing – now that's a tricky topic. Traci is holding off on clothing purchases as long as she can.
Normally, it would be one of her bigger back-to-school expenses, but it has fallen down on the list of priorities this year, she said. Still, it's not something she wants to overlook.
"She is also in middle school, so I feel the pressure already," she said. "I don't want her to look out of place and feel it."
Gov. Andrew M. Cuomo is expected to announce Friday whether schools can reopen. He said he will base his decision on the Covid-19 infection rate, which will have to be below 5% for schools to get the go-ahead. As of Sunday, Western New York's infection rate was 2.2%. If the infection rate rises above 9%, a school can be shut down, he said.
Families want to be more prepared for the remote learning experience than they were in March, when they had to jump into it with no time to prepare.
That means parents who might have borrowed a tablet from their school district may be investing in electronics of their own. Families whose children did lessons at the kitchen table are setting up real workspaces or home offices. Those kinds of supplies are more expensive than ballpoint pens and packets of loose-leaf paper.
Parents said they plan to spend an average of $92 more per family this year on children in elementary through high school, according to a survey by the National Retail Federation.
Families with children in elementary through high school said they plan to spend an average of $789 per family, compared to the $697 they said they would spend last year, according to the National Retail Federation.
That's good news for retailers, who rely on back-to-school spending for their second-biggest sales boost, behind the holiday shopping season.
Still, when it came to ordering inventory for the 2020 back-to-school season, retailers were in the dark as much as parents were.
They had to place orders months ago, when the supply chain was still reeling from shutdowns, not knowing what the effects of Covid-19 would be, and having no precedent for comparison. So there's no telling how closely supply and demand might match up.
Will shelves be empty? Will districts ease up on their usually rigid requirements of color-coded notebooks and binders? How much harder will it be to find hand sanitizer and wipes this year now that the whole world is looking for them? And how many masks will your student need, anyway?
Expenditure surveys differ in their findings. A survey by professional services firm Deloitte, for example, found respondents would spend about 5% less this year than last, totaling an average of $492 per family. But that total rises by 2%, for an average of $529 per family, once additional Covid-19 expenses – such as sanitizer and office furniture – are added to the mix. Those categories weren't included in the survey last year. And all estimates depend on what inventory is available.
One thing is certain: the last-minute back-to-school frenzy that happens at stores every year will be extra frenzied this year. More than 6 out of every 10 shoppers plans to begin shopping for school supplies during the first two weeks of this month, the Deloitte survey found.
There will be more parents shopping at once, and tensions will be higher.
"Parents are already confused and stressed," Jansen said. "Social distancing will definitely not be followed at the stores."