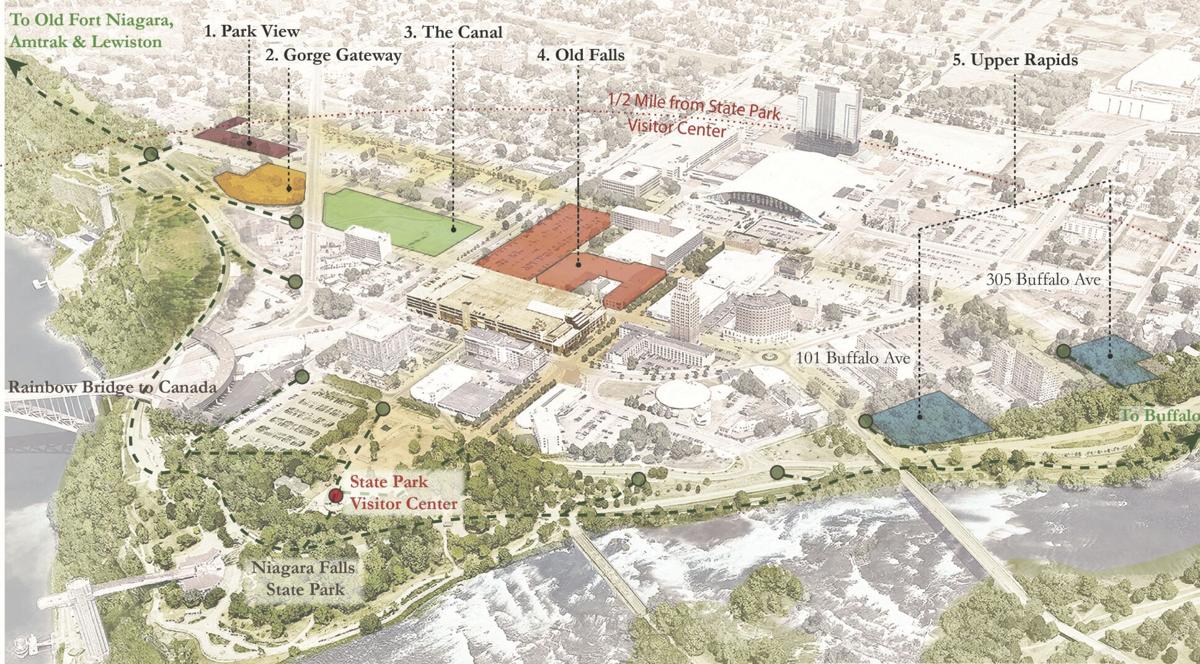 The redevelopment of downtown Niagara Falls should be driven by the private sector and should involve ways for visitors to engage with the city's history, state officials said Thursday.
In a webinar, leaders of USA Niagara Development Corp., the local affiliate of Empire State Development, unveiled a strategy for what to do with more than 8 acres it bought from Tuscarora Reservation businessman Joseph M. "Smokin' Joe" Anderson in 2019 for $15 million.
Although the state now owns more than 30 parcels, USA Niagara has decided to group them into five larger development areas and seek ideas from the private sector, beginning next month with a request for proposals for redevelopment around the corner of Old Falls and First streets.
A report from a New York City architecture and urban planning firm, the Practice for Architecture and Urbanism, or PAU, proposed the strategy and included suggestions for redeveloping each of the five areas, which run roughly in a north-south line.
The ideas included multi-use commercial development, hotels and other lodging, but USA Niagara President Anthony Vilardo emphasized those ideas are not final, and the private sector's ideas will be paramount.
"This is not a plan. This is a strategy," Vilardo said. "We don't want to hold onto these sites in perpetuity."
And although USA Niagara will issue requests for proposals over an undetermined period for each of the development areas, Vilardo said any developer who has an idea for a project at any location can call anytime.
"I know that often folks are impatient," Mayor Robert M. Restaino said. "But what's most important is, this is a well-thought-out plan, and I think that we as residents of the City of Niagara Falls see that there is a future for us here. We're going to be able to get these things pulled together, so I'm excited."

"We had a robust public outreach," said Paul Ray, USA Niagara senior project manager.
He said that from December 2019 to April 2020, the state and PAU heard from about 1,400 people, via email lists, online surveys and pop-up events at the Niagara Arts and Cultural Center and the Power City Eatery.
The "four pillars" of the PAU strategy are to make the city's history more "legible" for visitors; to connect the development sites with each other and Niagara Falls State Park; providing temporary attractions to provide "critical mass" on vacant sites until they are sold; and to fill in the sites with mixed-use development.
The state has a couple of its own ideas. One is a new observation deck amid the trees on the slope beside the newly opened staircase that leads from Buffalo Avenue to the strip of state parkland along the upper Niagara River rapids.
Such a deck would offer "spectacular" views of Goat Island without being a tower, Vilardo said.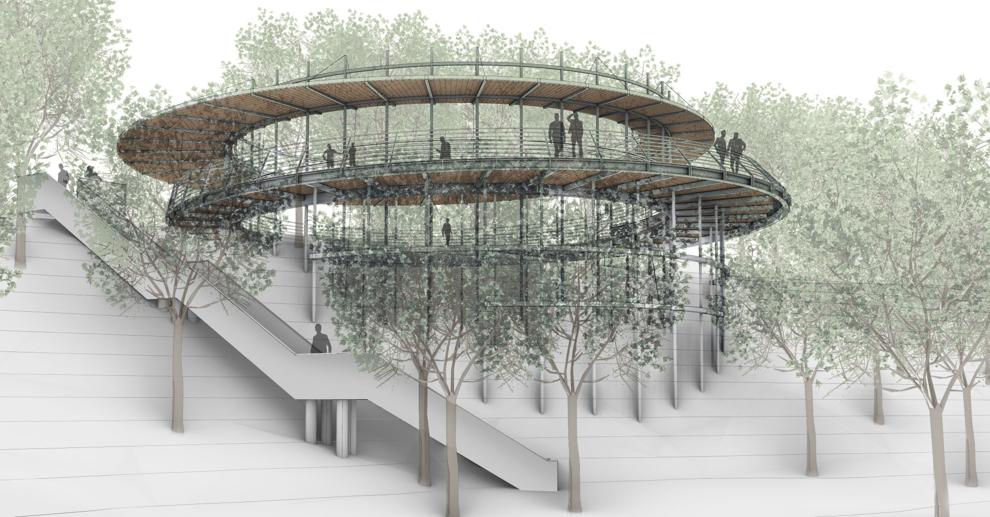 Another state project would be a park and interpretive site around the last remaining remnant of a hydraulic canal that used to take river water to plants located along the gorge. A railing about 40 feet long off Second Street between Main and Niagara streets marks the spot.
"It won't be an unearthing, like at Canalside," Ray said. Most of the canal was filled in after the collapse of the Schoellkopf Power Plant in 1956.
In addition to new construction, PAU envisions a 1.5-mile walking trail called the Heritage Path to connect the sites, or "checkpoints," each of which will feature explanatory signs, and to link to the state park.
"We think downtown Niagara Falls can be a very walkable neighborhood," said Vishaan Chakrabarti, founder and creative director of PAU.
"The near-term development of these three pieces – the Heritage Path, the Hydraulic Canal Park and the observation deck – will be the starting point of this large puzzle that, combined with the first request for proposals for the Old Falls and First street site, will advance the future of downtown Niagara Falls," Chakrabarti said.
The first RFP, to be issued in July, will seek ideas for what the state calls the Old Falls site, bounded by Old Falls, First, Third and Niagara streets. The northern half of that area is now a 400-space city-owned parking lot, but Vilardo said the initial RFP will focus only on the southern half.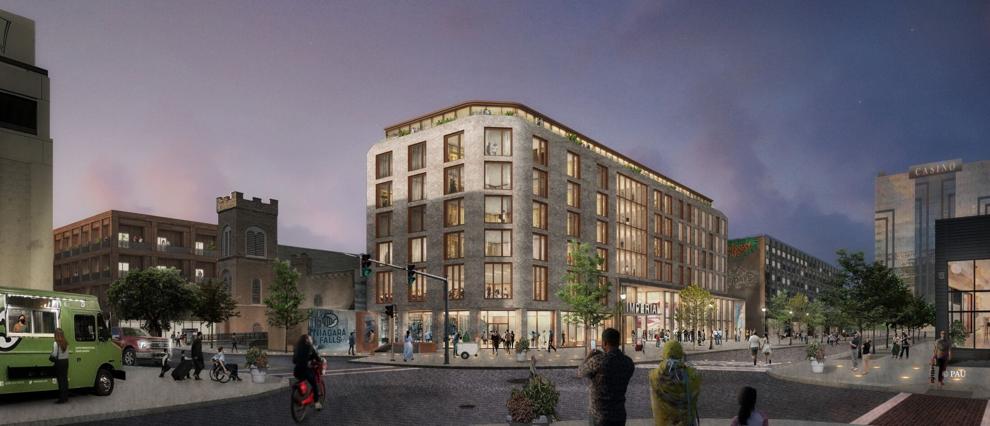 Part of Second Street used to run through this area, but was paved over years ago. Ray said a new Second Street, perhaps only a pedestrian street, could run through the redevelopment area.
Around the remains of the hydraulic canal, on 4.2 acres of what PAU calls the Canal Site, bounded by Main, Niagara and Second streets, the strategy envisions a hotel, residential and retail development and a public plaza.
Another development area is the Gorge Gateway site, centered on the former site of a Travelodge motel at Main and Second streets, which the state demolished in April 2020.
There, PAU suggested a "park lodge" with outdoor recreational space. This site is not within, but near, the boundary of Niagara Falls State Park. The notion of a lodge on Goat Island, suggested by Gov. Andrew M. Cuomo in 2017, was dropped after a public outcry.
The Park View site, at Walnut Avenue and Second Street, could be filled by residential town homes or a "nostalgic hotel," PAU suggested.
The final development area, the Upper Rapids site, pairs two lots USA Niagara bought at 101 and 305 Buffalo Ave.
The former is beside the vehicle bridge to Goat Island; the other is just east of the Parkway Condominiums and the site of a path leading to the new stairs to the park along the rapids. The state's proposed observation deck would be tucked in next to those stairs.
"We'll look for a special architectural design on the two sites," Vilardo said, noting both are located within the city's Heritage Zone.
PAU suggested a "heritage inn" for 101 Buffalo Ave. and a hotel, brewery and event space for 305 Buffalo Ave.
The notion of redeveloping the Anderson sites in groups already is underway.
TM Montante Development of Tonawanda took ownership of four former Anderson parcels along Third and Main streets in March. Last week, the company unveiled plans for redevelopment of buildings there, including an events center and a brewery.
The state's planned redevelopment of the vacant Rainbow Centre mall into small-scale retail with a pedestrian passage through the building, first proposed in December 2019, also is moving forward, Vilardo said.
The USA Niagara board is to award a final architectural contract Monday to Marvel Architects of New York City, Vilardo said.
The $42 million renovation of the vacant Hotel Niagara, assigned to Brine Wells Development of Syracuse, awaits the company's ability to obtain a construction loan, Vilardo said.
Since USA Niagara was formed in 2002, it has invested $122 million in Niagara Falls, Vilardo said, and $383 million worth of projects have been built downtown. Those figures include the cost of removing the Robert Moses Parkway along the gorge and the Hotel Niagara project.