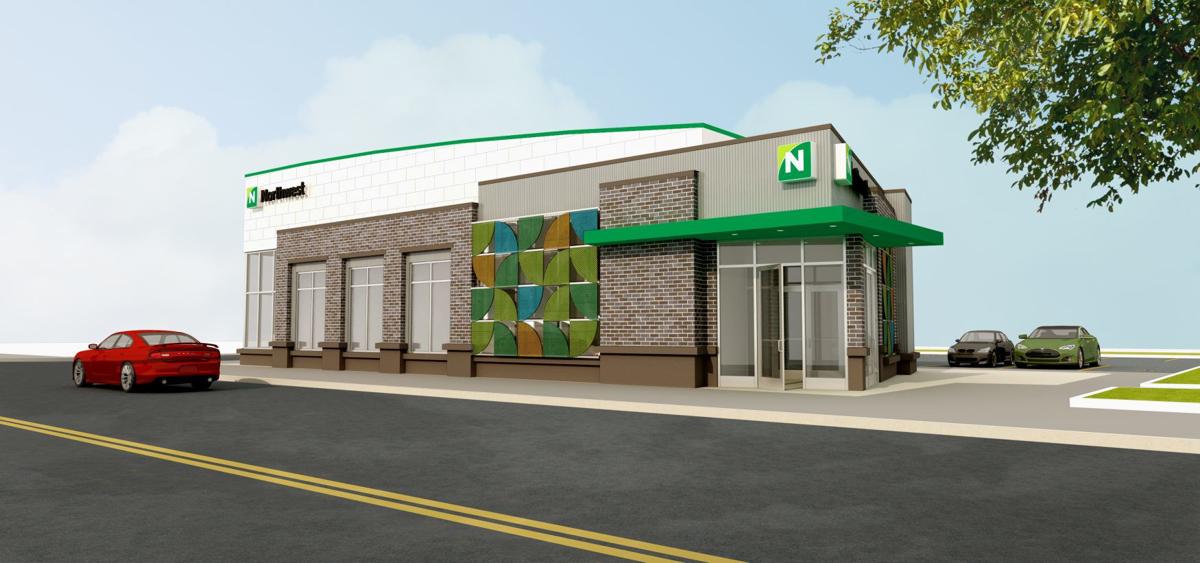 The redevelopment of Jefferson Avenue is heating up, as a proposed new bank branch is moving forward just north of a planned new residential housing complex, while the developers behind both projects now have a new office building on the drawing board.
Northwest Bancorp on Monday received an endorsement from the Buffalo Planning Board for its new East Side bank branch on Jefferson, as the panel backed its request for a special-use permit to permit a drive-thru facility in the planned new building.
The Warren, Pa.-based parent of Northwest Bank plans to demolish an existing building at 1228 Jefferson, combine the lot with 1242 Jefferson, and erect a new single-story, 3,000-square-foot standalone branch. Located between Eaton and Northampton streets, just south of a Tops Markets store, the site will include 15 off-street parking spaces, while the separate drive-thru in back has both a remote ATM and teller access.
The land is owned by developers David Pawlik of CSS Construction and Nick Sinatra of Sinatra & Co. Real Estate, who will lease the 0.45-acre site to the bank and construct the building. The branch will be screened from an adjacent home and street by a wood fence, plants and a low brick wall, according to the bank's application to the city.
The $1 million project will be privately funded by the bank. The Common Council's Legislative Committee will review the request on Tuesday at 2 p.m. If approved, officials hope to start about six weeks of demolition and finish construction by November.
The branch project continues a redevelopment initiative by Pawlik and Sinatra, who are seeking to transform a four-block area of Jefferson just north of the Johnnie B. Riley Amateur Athletic Sports Pavilion and Masten Park at Dodge Street.
The duo already received city approval to construct a new 84-unit mixed-income apartment project at 1162 Jefferson, with two separate buildings containing 66 one-bedroom units and 18 two-bedroom apartments. The $25 million project, in conjunction with nonprofit People Inc., is aimed at families with incomes ranging between 30 percent and 130 percent of the area median income.
The developers hope to break ground on the People Inc. project by May or June and finish after 16 months of construction. Funded by state, federal, private and foundation sources, the project will also include some commercial or retail space.
Additionally, the tandem are now planning a new three-story office complex with about 32,000 square feet of space just north of the People Inc. buildings. The formal proposal will be unveiled in the fall, but the multitenant building will include "three premier tenants," with one on each floor, Pawlik said.
The Northwest branch will be just north of the office building. The new full-service branch, which was announced by Buffalo Mayor Byron W. Brown during his State of the City address, is part of a commitment by Northwest to reinvest in the Buffalo community. That pledge followed its purchase of 18 First Niagara Financial Group branches, when KeyCorp bought First Niagara.
As part of the branch acquisition, Northwest unveiled a five-year "community benefits plan" that called for about $102 million in loans or investments to low- to moderate-income borrowers and communities in Western New York. Part of the plan included opening a new branch in a low- to moderate-income area, and bank officials chose Jefferson.
Northwest also will sponsor a nearby financial education center, operated in partnership with Belmont Housing Resources for Western New York, which will open in late 2019 in one of the People Inc. buildings.
Get local news delivered to your inbox!
Subscribe to our Daily Headlines newsletter.