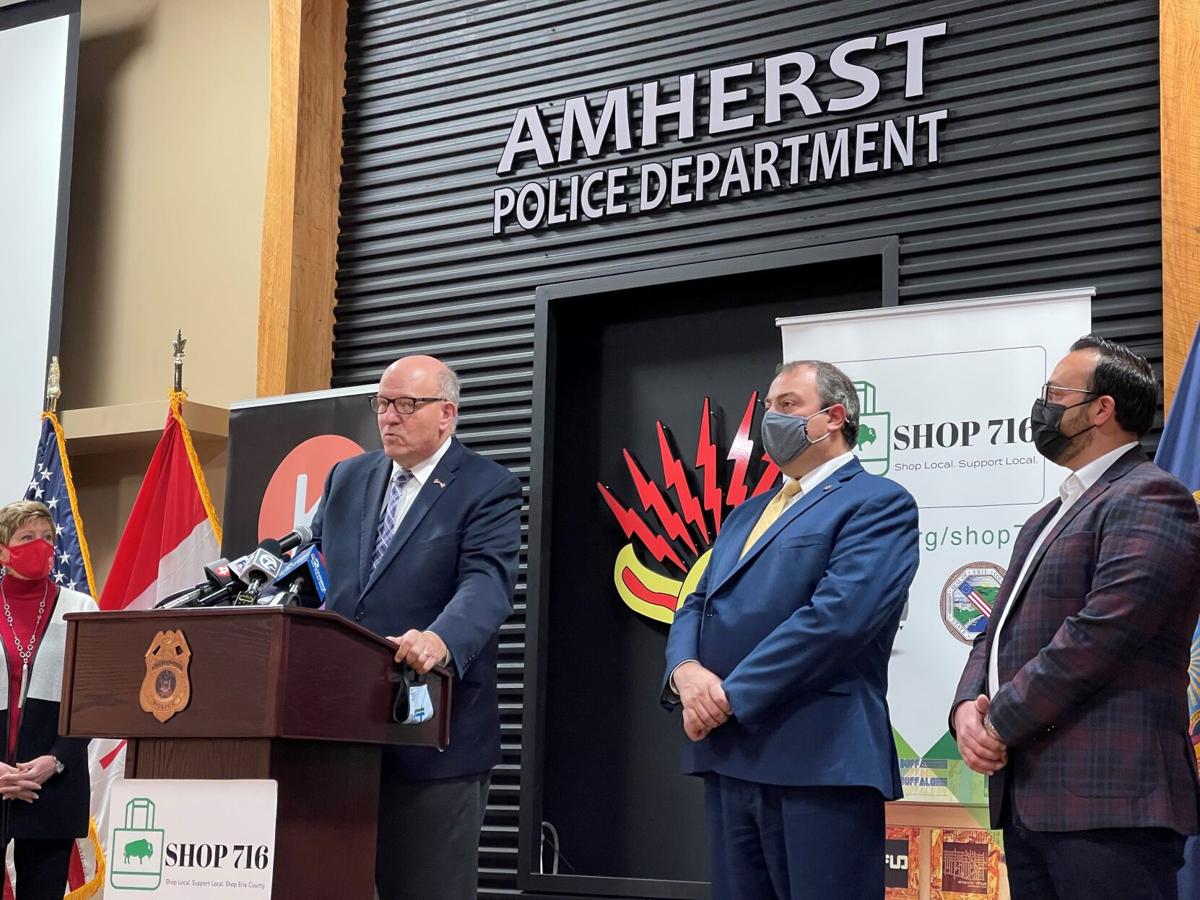 The polarizing politics of the pandemic were on stark display Friday in Erie County's northern suburbs.
At a late morning news conference, the Democratic town supervisors of Amherst and Tonawanda urged residents to comply with the county's mask mandate while patronizing local shops and restaurants that badly need their business.
None of the other counties in the region has imposed any mask mandate, or any other type of mandate, on businesses or the general public. 
Less than an hour after this event ended, Republican members of the Grand Island Town Board issued a statement saying they would vote to request that county and state health officials avoid enforcing Covid-19 mandates on the island.
As Covid-19 cases and hospitalizations surge across Western New York, Erie County leaders last week issued an order requiring mask wearing in many public spaces and warned further restrictions could be imposed if those numbers continue their recent spike.
No other surrounding county joined Erie in taking this step, a sign of how divided the public and government officials are in confronting this crisis.
"While I believe the vaccines are safe and effective, I believe every American should have the right to make this decision without fear of punishment or retaliation from those supposedly elected to serve them," the congressman said.
Leaders on Grand Island joined their peers in West Seneca, Marilla, Williamsville and elsewhere in criticizing the mask mandate as an example of government overreach.
"We believe our residents, businesses, employers and other institutions across our town should implement the safety protocols that make sense for their operations, and they should have the right and freedom to do so," Grand Island Town Board members Jennifer Baney and Mike Madigan said in an email Friday.
But Amherst and Tonawanda officials on Friday emphasized that wearing a face mask is a temporary, personal inconvenience that goes a long way to helping limit the spread of a dangerous virus within the wider community.
"It's the least we can do," said Tonawanda Supervisor Joe Emminger, who contracted a serious case of Covid-19 last year and still feels its effects.
Erie County Executive Mark Poloncarz announced he would require people to wear masks in restaurants, grocery stores, gyms and other places, effective Nov. 23, because of soaring Covid-19 hospitalizations in the county.
While Erie County leaders continued to alert residents about rising percentages of Covid-19 cases, data indicated the situation is much worse in the region's rural counties.
Poloncarz warned of further potential restrictions – including a vaccine requirement, capacity limits or business shutdowns – if the numbers didn't improve.
On Nov. 23, 301 people were hospitalized with Covid-19 in Erie County hospitals, and 53 of those patients were in the ICU. As of Wednesday, those totals had risen to 358 and 68, respectively.
Still, several leaders in the county's suburbs have blasted the new mandate over the past two weeks, including Marilla Supervisor Earl Gingerich Jr., West Seneca Supervisor Gary Dickson and Williamsville Mayor Deb Rogers.
Grand Island Supervisor John Whitney, a Republican, on Thursday added his voice to those who oppose the mandate, saying it is a particular problem on the island because business owners fear losing customers to establishments in neighboring Niagara County, which doesn't have such a mask rule in place.
"While I recognize that the Covid-19 pandemic virus has become a widespread global disease that will likely never be eradicated, I believe that managing it by declaring a state of emergency and declaring mandates every time a new variant and/or spike in cases arises is counterproductive," Whitney said in a statement.
"The town will defend our businesses' and residents' right to make their own decisions," Marilla Supervisor Earl Gingerich Jr. said.
Friday, Baney and Madigan went one step further, saying the Town Board would vote Monday on a resolution that asks employees from county and state health agencies to refrain from enforcing the mask mandate on the island.
It's not clear what legal effect, if any, this resolution would have. Peter Anderson, a spokesman for Poloncarz, said face masks are an important community response at a time of rising Covid-19 cases and hospitalizations.
"We are all in this together and need to look out for each other," Anderson said in an email.
That's the same message coming from leaders in Amherst and Tonawanda, two of the most populated suburbs in Erie County, who held a news conference Friday to urge people to shop at small businesses and go out to locally owned restaurants, all of which have faced their own challenges since spring 2020.
Emminger and Amherst Supervisor Brian J. Kulpa said they understand people are frustrated that Covid-19 is showing no signs of easing after 20 months of the pandemic.
Some bars are requiring proof of vaccination as the mask rule went into effect ahead of Thanksgiving Eve, traditionally one of the busiest nights for bars in Buffalo.
"We're all living this nightmare. And it is a nightmare," Emminger said at the news conference held in Amherst's emergency operations center. "But it's here and we can't close our eyes to it."
But instead of complaining about the inconvenience of having to wear a mask, they continued, people should spread a constructive message of what they're doing to fight the virus, such as getting vaccinated and boosted.
"If we want to beat a virus, if you want to overcome it, if you want to beat spikes like we did last year, you need to focus on positive change," Kulpa said. "So I'm sick of hearing people dwell on the negative. 'Oh no, we have to wear masks in Western New York.' Instead, I want to hear people say, 'This is what I'm doing in my community to help.' "