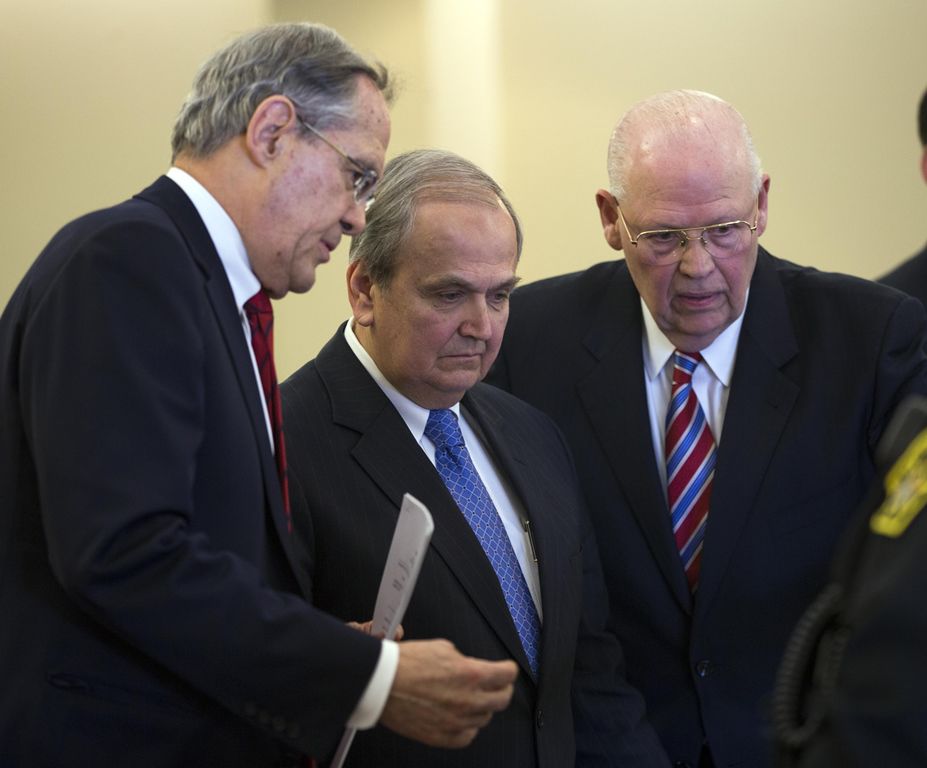 For the more than quarter-century that George D. Maziarz reigned supreme over Niagara County Republican politics, paying for elections never posed a problem for his brimming campaign treasury.
Indeed, during the two years now scrutinized by state Attorney General Eric T. Schneiderman, the former state senator from Newfane regularly checked in with around three-quarters of a million dollars.
But now, Schneiderman says Maziarz and the Niagara County Republican Committee under his control bankrolled far more than just elections. They essentially acted as pass-through accounts for no-show jobs, Schneiderman said Thursday as his office announced multicount felony indictments against the former state senator and his Albany successor, Sen. Robert G. Ortt.
The attorney general said Thursday his efforts will revolve around "no-show jobs and secret payments" that he called "the lifeblood of public corruption." The payments allegedly went to a former Niagara County legislator and Maziarz campaign associate, as well as to Ortt's wife, neither of whom did any work to earn the money, according to the indictments.
"New Yorkers deserve full and honest disclosures by their elected officials — not the graft and shadowy payments uncovered by our investigation," he said. "These allegations represent a shameful breach of the public trust – and we will hold those responsible to account."
Federal law enforcement, which sources say was heavily involved in the case's detective work, also weighed in.
"As we have seen too often in Western New York, this case presents another instance when public officials served their own interests instead of those to whom they were positioned to serve," said Adam S. Cohen, special agent in charge of the FBI's Buffalo office.
And one source familiar with the case emphasized that the charges filed Thursday against a power broker like Maziarz seemed inevitable.
"This isn't about politics," the source said. "It happens when you have concentrated power that can lead to a sense of invulnerability and people have a sense of entitlement."
Some of upstate New York's best known criminal defense lawyers now connected to the case take issue with Schneiderman's accusations. And Ortt, during his Thursday appearance before Judge Peter A. Lynch in Albany County Court, launched a claim of political persecution against the Democratic attorney general that is expected to dominate his defense.
"I am saddened and sickened by the ridiculous and baseless charges that have been put against me by AG Eric Schneiderman," Ortt told reporters outside the court. "I have no doubt the only reason I am involved in this case, I was a part of this investigation, is to make it more politically appealing and further Eric Schneiderman's partisan agenda, which has been well documented.
"The constituents, my constituents in the 62nd District, know me, they know what kind of person I am and they know what kind of public servant I have been," he added. "I am guilty of nothing. I will fight these charges and I believe I will prevail."
Maziarz attorney Joseph M. LaTona of Buffalo said only that his client will be vindicated. The former senator has also hired noted criminal defense attorney E. Stewart Jones of Troy.
But Schneiderman's court papers paint an ominous picture. His case will revolve around evidence presented in the testimony of at least five grand jury witnesses on March 9, who were all granted immunity in exchange for testifying.
The attorney general's court filings, for example, now implicitly point to former Niagara County Legislator Glen S. Aronow, who appeared before the grand jury.
Aronow was connected to the Maziarz campaign, but after his involvement in a sexual harassment case, prosecutors say the name of "Person #1" could no longer appear as receiving compensation in finance reports. So, prosecutors say, the campaign came up with a scheme.
"Maziarz and his advisors agreed to create a 'pass through' payment system whereby the Campaign to Elect Maziarz State Senate and the Niagara County Republican Committee would make payments to a public relations firm, which would in turn pay Person #1," the court papers say, adding that "Person #1" performed no services in exchange for approximately $49,000 in 2012 and $46,000 in 2013 and 2014.
Following the March 9 grand jury testimony of Ortt's wife, Meghan, Schneiderman lodged charges on Thursday outlining another payment scheme. The attorney general contends that Ortt was earning $5,000 less than in his city clerk/treasurer post following his election as mayor of North Tonawanda in 2009. His wife – a graphic designer – was then promised $5,000 annually by the Niagara County GOP, the attorney general contends.
"Though these services were described in Board of Elections filings as graphic design work," court filings said, "Mrs. Ortt in fact performed no services in exchange for these payments."
They contend Ortt's wife received about $21,000 from 2010 to 2014 as part of the scheme.
Schneiderman's efforts have also snared Henry F. Wojtaszek, the former Niagara County Republican chairman and one-time Maziarz confidant who now heads Western Regional Off Track Betting. After facing felony charges, Wojtaszek pleaded guilty on Wednesday to a misdemeanor election law violation.
Wojtaszek admitted failing to file a reporting form during the 2012-13 period that has come under Schneiderman's scrutiny. Wojtaszek was no longer party chairman by then, but his attorney conceded that because he was still active in party affairs, he could be deemed an "agent" of  campaign officials in the eyes of prosecutors and therefore required to file.
As part of the plea deal, it is now expected Wojtaszek will cooperate with authorities. He is the husband of Niagara County District Attorney Caroline A. Wojtaszek, who has recused herself from the case.
Impetus for ethics reform
Senate Majority Leader John J. Flanagan Jr., a Long Island Republican, on Thursday expressed his confidence and faith in Ortt.
But within an hour of Ortt's court appearance, Senate Democrats were calling for long-stalled changes to state ethics and campaign finance laws. Prior to Wednesday's indictments, there had been growing indications that any ethics-related matters would be jettisoned from state budget talks and held for end-of-session talks in June.
"Once again it highlights the need for real ethics reforms, something the Senate Democrats have been calling on for years and really shows the absurdity that there has been no talk in this budget process of cleaning up Albany and passing these strong ethics reforms," Mike Murphy, a spokesman for the mainline Senate Democratic conference, said after Ortt's arraignment.
Ortt is due back in court May 8. His Albany attorney, Stephen R. Coffey, denied his client had anything to do with the document at the center of the case.
Ortt, who received the Bronze Star as an Army lieutenant in Afghanistan and who attended Wednesday's Senate session in the Capitol, has also hired the Mercury public relations firm to fight the charges.
He was elected to the Senate in 2014 following Maziarz's surprise decision earlier in the year to not seek re-election after 19 years in Albany.
Soon after Maziarz's announcement, it was revealed that federal prosecutors were probing how $151,000 in campaign funds was spent. That separate case is now in the hands of Erie County District Attorney John J. Flynn Jr. to prevent any conflicts of interest among Niagara County officials.
News Reporter Dan Clark contributed to this report.
Get local news delivered to your inbox!
Subscribe to our Daily Headlines newsletter.