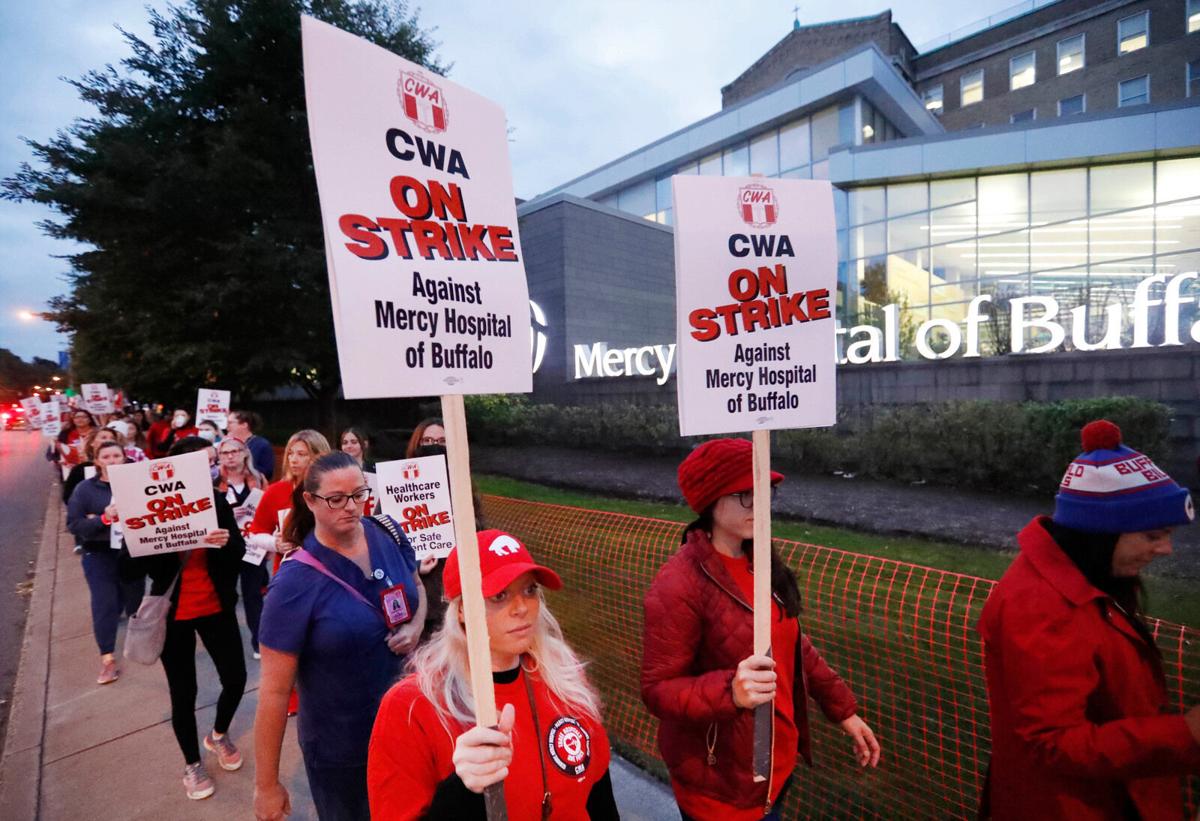 No new bargaining sessions are scheduled between Catholic Health and the union representing 2,500 of its nurses, clerical and technical workers as a strike at Mercy Hospital in South Buffalo continued Saturday.
Neither the hospital system nor the Communications Workers of America would say when talks would resume. The parties are negotiating six labor contracts covering workers at Mercy Hospital of Buffalo, Kenmore Mercy Hospital and Sisters of Charity Hospital, St. Joseph Campus. Under a previous deal, only workers at Mercy Hospital may strike.
"We need to do a better job working together with the CWA, and they need to do a better job working together with us to bring this to resolution," said Mark Sullivan, Catholic Health's CEO.
About 2,000 workers walked off the job at 6 a.m. Friday after months of negotiations stretching into the early morning hours that day failed to produce an agreement. The sides have not struck a deal on issues such as wages and staffing levels at the hospitals.
Catholic Health has contracted with a staffing agency in Michigan, at a cost of millions of dollars, to provide replacement workers for Mercy Hospital, which remains open with reduced services.
The CWA on Saturday afternoon held a rally outside the hospital with speakers, including Erie County Executive Mark Poloncarz. It began with nurses on the picket line chanting.
Mercy has suspended inpatient elective surgeries, and is diverting ambulances from the hospital and Mercy Ambulatory Care Center.
Catholic Health, meanwhile, said Saturday that CWA Locals 1133 and 1168 had not yet responded to the company's last full economic proposal.
"We are certainly willing to resume negotiations," Catholic Health spokesperson JoAnn Cavanaugh said in a written statement. "We presented a full package on Thursday, and CWA must do the same."
Debora Hayes, the area director for the Communications Workers of America, said Friday that the union did not have enough time to consider Catholic Health's staffing proposal because it came just hours before the strike.
"You cannot come in the night before a strike starts and make your first serious proposal on staffing, and expect we're going to be able to digest all kinds of information, all kinds of data, and then intelligently write a proposal that will deal with their work conditions," Hayes said.
Catholic Health provided its most recent offer to the union before the strike, a pitch that included a minimum average wage raise of 3% in the first year, with some jobs getting bigger increases, followed by 2% raises in the second and third years and 2.75% in the fourth.
About 2,000 nurses, technical and clerical employees at Mercy Hospital in South Buffalo went on strike this morning after Catholic Health Syst…
In that proposal, Catholic Health officials stated that the company would "invest" $20 million to improve staffing and would use "targeted staffing ratios to build corresponding staffing grids."
While Catholic Health's proposal appeared to make progress on wage increases, it did not alleviate the union's concerns over staffing levels.