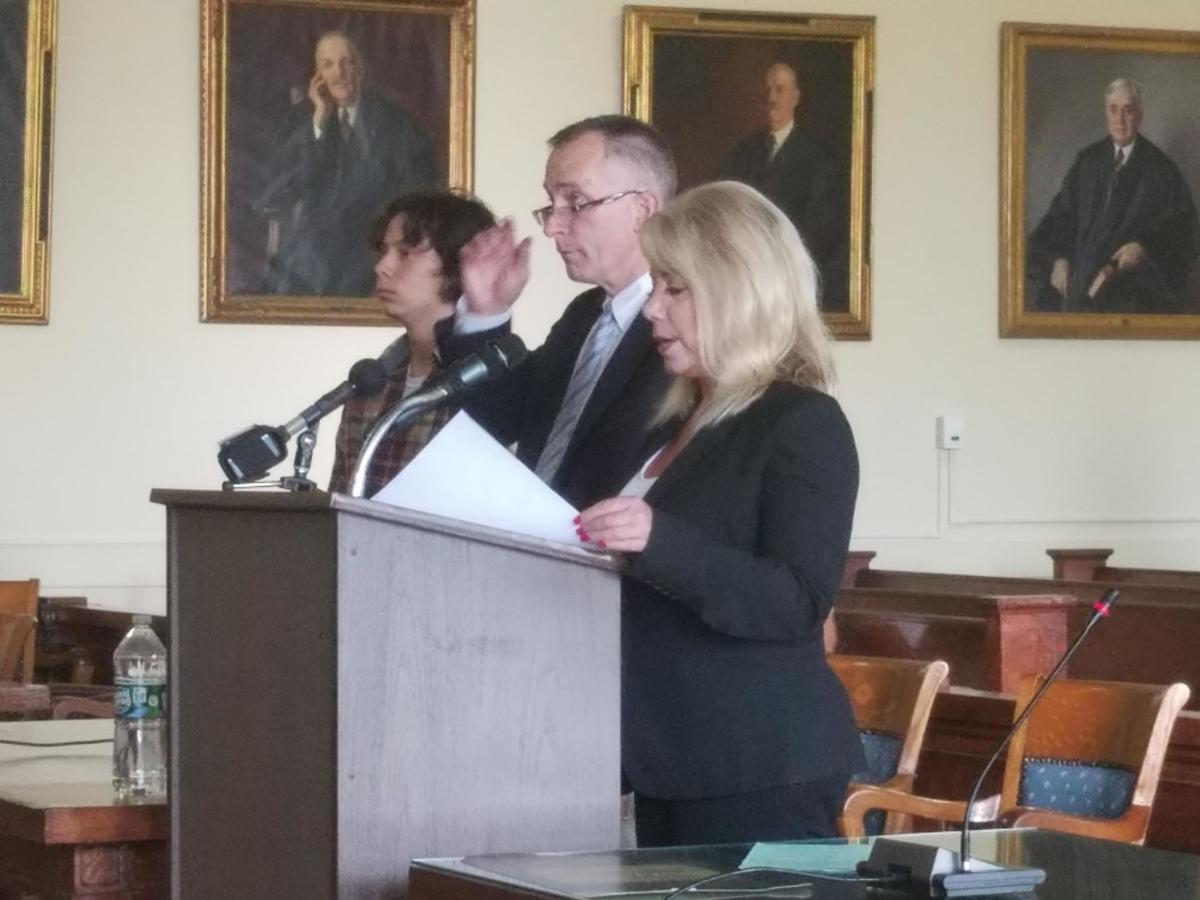 The Niagara Wheatfield School District has a history of ignoring sexual assault, harassment, discrimination and gender-based bullying of students, according to a state lawsuit against the district that contended there have been more than 30 such incidents in recent years.
"We deserve our rights. We deserve to have been treated better in the situation, and we need our respect," said a former Niagara Wheatfield student who was raped by a classmate three years ago.
The lawsuit, filed Wednesday in U.S. District Court by state Attorney General Letitia James, represents the first time the state has sued a school district for allegedly violating federal and state laws requiring schools to provide a safe environment for students.
The suit specifically mentioned the 2018 rape victim, who had a court order of protection against the attacker, Elias Q. Dowdy. But she found herself facing him at school almost daily during the 2018-19 school year, until Dowdy pleaded guilty to third-degree rape and was expelled.
"This was all avoidable," said Barry N. Covert, the girl's attorney, who said he and colleague Cheryl Meyers Buth will soon file a suit against the district, seeking damages for the rape victim.
"They should have come up with a plan to protect her safety," Covert said. "Instead, she had to undergo 10 months, roughly, of abuse, daily trauma, either seeing him or there's a potential of seeing her attacker."
The state's lawsuit also cites two other girls who said they were victimized at Niagara Wheatfield.
One said she was bullied by football players and their female friends during the spring of 2020. At a pep rally, sophomores performed a chant ridiculing her. Five girls displayed a poster saying "We don't want you," and after the rally the five girls beat her up, striking her in the head 11 times, according to the suit.
The lawsuit contends that the attackers weren't punished. It says the girl's parents eventually enrolled her in a private school.
Another girl said she was bullied, starting in seventh grade, for dressing in an unfeminine way by students who called her "fat" and "ugly." The girl at first did her class work in a counselor's office to hide from the harassers, but eventually the counselor told her to go back to class.
By December 2019, the girl stopped going to school and sought to transfer to Niagara Falls, but Niagara Wheatfield wouldn't let her, so she dropped out.
"It is unconscionable that an institution tasked with educating and protecting its students turned a blind eye to the abuse, harassment and bullying happening right in its school halls," James said in a news release.
The issue came to public attention when Dowdy pleaded guilty in Niagara County Court May 23, 2019, to raping the girl in his Town of Niagara home May 28, 2018. He was arrested two months after the rape.
After the plea, the girl's mother blasted the school in a Facebook post that said the victim had been attending school with Dowdy all through the 2018-19 academic year.
For 9 months, a rape victim went to school with her alleged attacker. Then he pleaded
The lawsuit says the girl's mother met with then-high school principal Michael Mann before school started in September 2018, bringing with her the order of protection and texts from Dowdy to her daughter, apologizing for what he had done.
"Mr. Mann responded that the criminal charges were not yet proven, so (Dowdy) would not be punished. He promised the mother that (the girl) would not have contact with him but provided no concrete plan about how the school would keep her daughter away from her rapist," the suit says. "That fall, (Dowdy) went out of his way to encounter her multiple times a week. Although their lockers were not near each other, (Dowdy) would frequently stand outside her classroom and wait for her to walk out of the room and then glare at her."
Dowdy played on the school's lacrosse team during 2018-19 and was planning to attend the senior prom and the graduation ceremony, students told The Buffalo News at the time.
On May 31, 2019, after The News broke the story, about 100 students walked out of classes at the high school to protest the district's inaction.
Mann suspended several of the students, but that same day, the district expelled Dowdy and barred him from activities.
Superintendent Daniel G. Ljiljanich said at the time that the district had not taken action against Dowdy sooner because the district hadn't been informed of his guilty plea.
"The district will respond to any allegations through the court proceeding and will not provide additional comment due to this pending litigation," Ljiljanich said Wednesday.
About 100 Niagara-Wheatfield High School students walked out of school Friday to protest the district's handling of a rape suspect who was allowed to attend school all year with the
The victim said that during the week between the plea and Dowdy's expulsion, she was sent to the in-school suspension room to keep her away from Dowdy.
James said the district's "inaction demonstrates that it did not have adequate systems in place to protect its students – particularly young women – when they needed it most. This indifference to student suffering has caused physical, mental and emotional trauma, and jeopardized students' education."
Niagara Wheatfield High School's principal is on leave, pending the findings of an outside, independent
Following a parents' protest at a Board of Education meeting the week after the walkout, Mann was placed on administrative leave. He resigned four months later.
A judge granted youthful offender status to Elias Q. Dowdy, now 20, and placed him on probation for 10 years for raping a fellow student two years ago. 
The crime occurred four days before Dowdy's 18th birthday, which meant he was eligible for youthful offender status. After staying out of trouble during 15 months on interim probation, Dowdy was granted youthful offender status Dec. 1, 2020, and was sentenced to 10 years' probation by County Judge Matthew J. Murphy III.