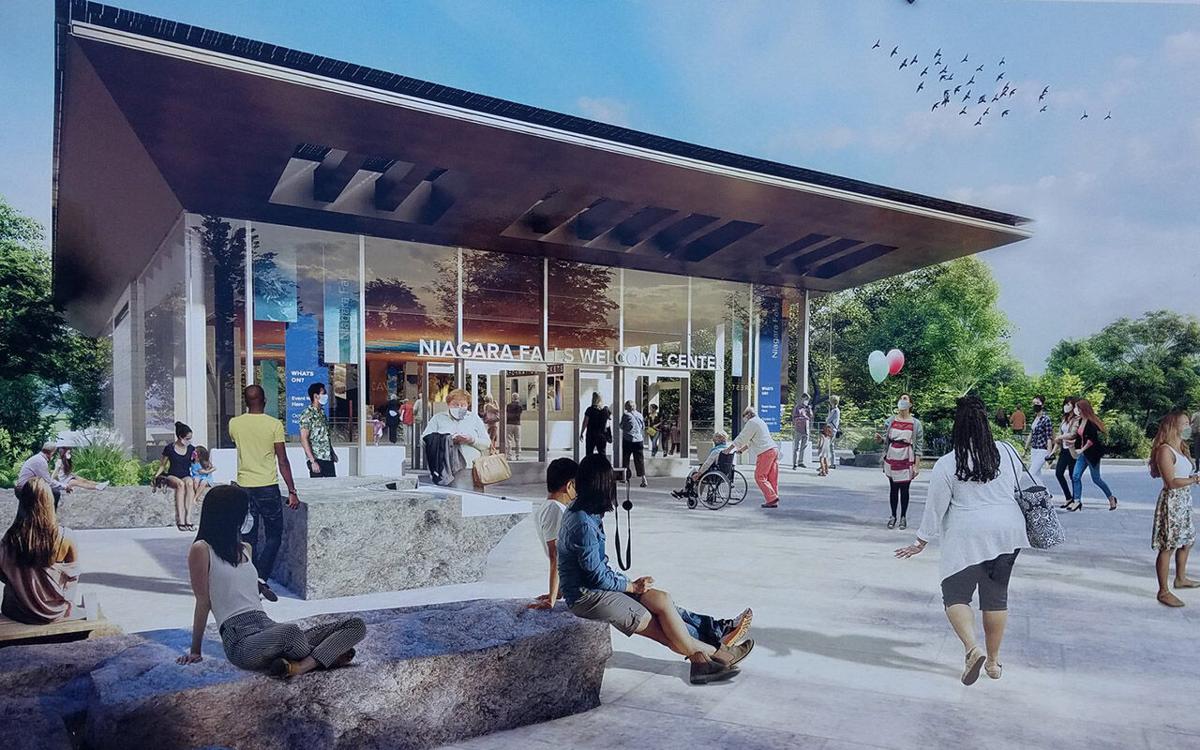 For the past few years, State Parks officials have been thinking about a makeover for the visitor center at Niagara Falls State Park.
Now, they've decided on a do-over instead.
The 36-year-old building will be demolished and replaced with a larger building on the same site, officials announced Friday.
Groundbreaking for the $46 million project is slated for October, and the new visitor center is targeted for completion by Memorial Day 2023, said Mark V. Mistretta, regional director of Western New York State Parks.
The state has invested $150 million in Niagara Falls State Park in the past decade, State Parks Commissioner Erik Kulleseid said.
"But there are still some pieces we need to address," Kulleseid said while standing in front of the Orin Lehman Visitor Center, named after one of his predecessors.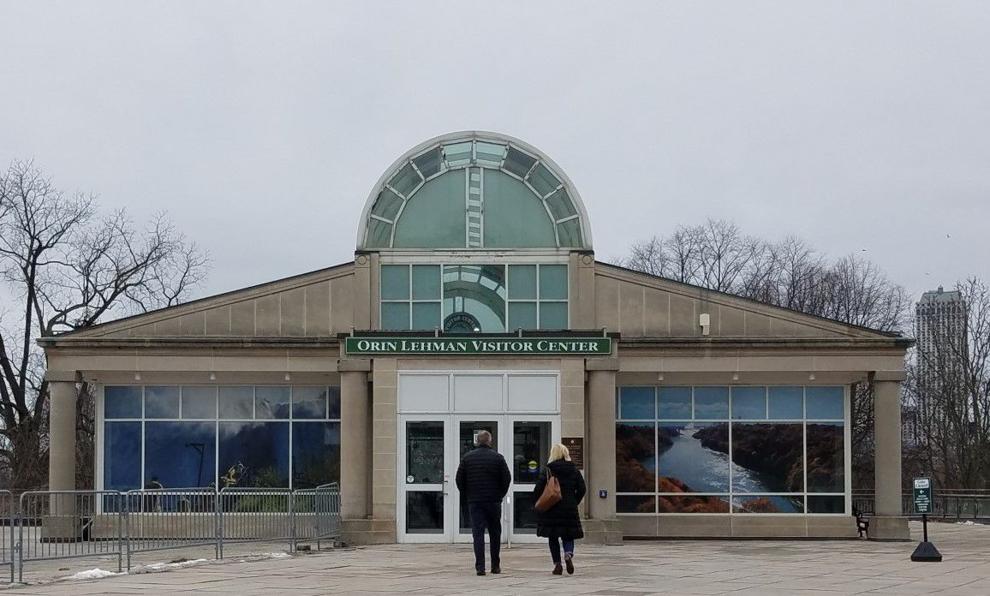 "You look at it now and it's a little hard to believe that at its start, it was state of the art," Kulleseid said. "It has limited entries, cramped corridors and stairways, claustrophobic gathering places. There's more colorful language I'd use to describe it, but I'll just leave it today that it's inadequate."
"It's not just underwhelming, but frankly, it's an embarrassment right now," Mistretta said.
State Parks estimates that 9 million people a year came to the park in pre-pandemic times.
"I think debuting this new welcome center will perfectly be timed as we approach a post-Covid era and what I believe will be a post-Covid renaissance era," said John H. Percy Jr., president and CEO of Destination Niagara USA, Niagara County's official tourism promotion agency.
Kulleseid said the current visitor center "impedes the visitor experience in this park."
"Travelers have expectations when they visit a destination, especially a destination as iconic as Niagara Falls State Park," Kulleseid said. "We want people to experience a sense of arrival, a sense of majesty when they arrive at this park."
The Ralph C. Wilson Jr. Foundation will contribute $8 million toward the state's project.
"We're proud to join them today in supporting this much-needed transformation of this destination point into this state-of-the-art world-class welcome center," said J.J. Tighe, the director of the foundation's parks and trails initiative. He said the falls will be more visible from the new building.
While construction goes on during the 2022 tourism season, the ticketing and information desk and other visitor center offerings will be housed in trailers and other temporary facilities in the main parking lot, Mistretta said.
"We have that figured out. It's going to be that way for the summer of '22," Mistretta said. "We're really down only one full tourist season."
Besides the new, 28,000-square-foot building, about one-third larger than the existing one, the plan calls for moving the Western Region State Parks administrative office out of Niagara Falls State Park.
The offices will move to an existing building in DeVeaux Woods State Park, overlooking the Niagara River Gorge, while the current 7,000-square-foot administration building, which is connected to the visitor center by a tunnel, will be opened to the public, hosting historical exhibits about Niagara Falls.
"That's prime real estate," Mistretta said. "As long as the admin has been there, it's been nice, but we can go anywhere."
The visitor center, however, can't go just anywhere. State Parks believes it needs to be fairly close to the falls, while remaining a short walk from the main pedestrian entrance off Prospect Street.
"They absolutely got the location right in 1985. This is the best spot," Mistretta said.
Architecturally, the visitor center will remain cut into the side of a knoll. Like the current building, it will appear to be a one-story building when seen from the east and two stories when seen from the west.
But the condition and layout of the existing building, which is open year-round, were rejected by the design team the state hired. That made renovation a non-starter.
"By the time we really analyzed it – we had a crackerjack team of architects and engineers who took a hard look at it – when you start to look at the phasing, what's salvageable and what's not, it didn't make sense," Mistretta said. "We really needed a rebuild."
The new building's interior will feature a more open layout.
"The difference is going to be not only a few extra square feet, but it's going to be much better arranged in terms of circulation and how it functions," Mistretta said.
The state plans to seek proposals for a contract of at least 10 years, beginning in 2022, for a company to operate food, beverage, retail and recreational concessions in the park, including 7,300 square feet in the new visitor center.
Kulleseid said the new building will devote space to telling the stories of the Native Americans and Blacks who lived in Niagara Falls.
"I can't wait to get it started," Kulleseid said.
GWWO Architects of Baltimore is the lead designer for the new building. Haley Sharpe Design, a British company, will provide the interior and exterior exhibits; San Francisco-based T.Y. Lin International, which has a Buffalo office, is the engineer of record; and Trowbridge Wolf Michaels of Ithaca is the landscape architect.