Ever since Covid-19 vaccines became available in December, statistics have shown that most of the shots have gone to whites, especially affluent whites who can handle themselves online.
Efforts to make it easier for Blacks to obtain shots have yielded spotty results at best, and Niagara Falls is an example of that.
As of Thursday, only 3.6% of the Niagara County residents who have received at lease one dose of the vaccine are Black, according to the state Health Department's vaccine tracker.
"It's a very low number. I can't believe how low the number is," said Ezra P. Scott Jr., a former Niagara Falls councilman and a member of the Niagara Falls Health Equity Task Force. "It's terrible."
It is even worse than Erie County, where only 6.6% of those who have been vaccinated at least once are Black, even though Blacks constitute more than 13% of the county's population over age 15. In Niagara County, the 15-and-up population is 6.8% Black.
"There is going to be hesitancy. I think the more we orient and teach people the benefits of the vaccine, then we're going to get through the obstacles," said Dr. Raul Vazquez of Urban Family Practice.
Public education doesn't seem to be doing the trick, so a coalition of community leaders in the Falls decided on direct action.
Thursday, a team of volunteers went door-to-door in inner-city Niagara Falls, signing up residents, mostly Black, for vaccinations. The effort resulted in 76 people signing up for vaccine appointments. 
The shots are to be administered Wednesday in True Bethel Baptist Church on South Avenue. Rite Aid provided 300 doses of vaccine for the clinic.
"We're not putting them on a wait list," said Rolanda L. Ward, a Niagara University social worker who leads the task force. "We're actually registering them for appointments."
"I think the equity task force, that's their role, to make sure they come up with ideas and implement ideas about how vaccination is open to everyone," Niagara County Public Health Director Daniel J. Stapleton said.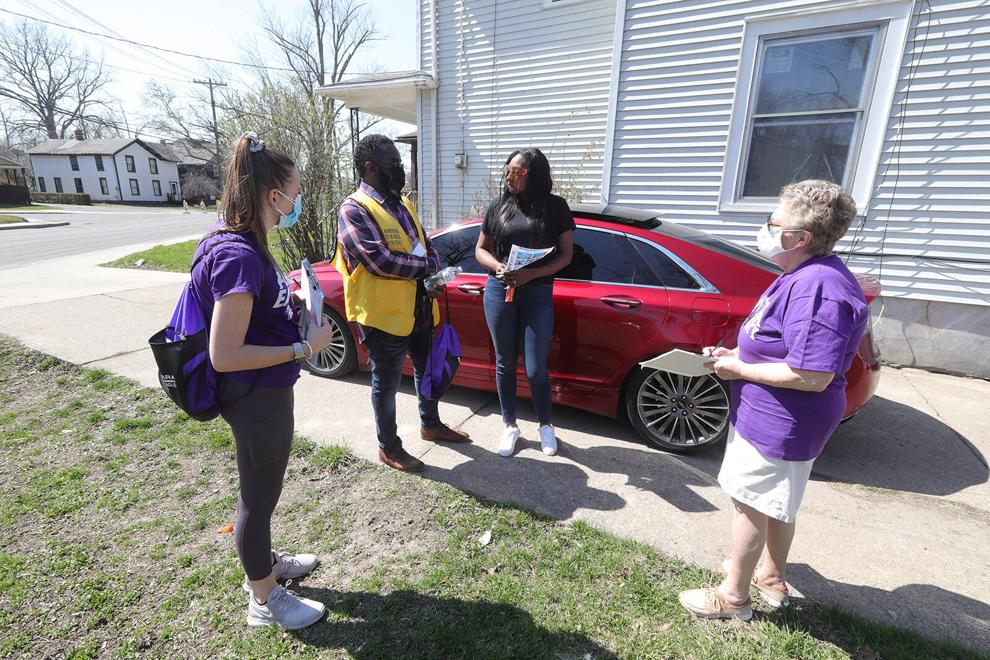 Originally open only to residents of 10 ZIP codes in Buffalo and Cheektowaga, the site will soon book Covid-19 vaccinations appointments for all eligible Erie County residents.
Although they found some takers, the volunteers also encountered resistance.
Ward said she encountered several people who thought the vaccine was a government plot to inject microchips into their bodies. She called that "an urban legend."
"What you heard, I'm going to be honest with you, it's garbage," Ward told a chip believer on a Cleveland Avenue front porch.
"I feel like if I'm wearing my mask and doing the right procedures and quarantining, I feel like I should be OK. I would not take the vaccine," said Marque Haris, 19.
Helen Coleman accepted an appointment but said she hadn't decided whether to go.
She said she prayed about it before an earlier clinic that was canceled, and she had a dream in which God told her the vaccination was "the mark of the beast," a reference to a passage about Satan in the Book of Revelation.
"What if the mark of the beast is all the misinformation?" Ward asked her. "I'll see you next Wednesday."
Willie Coleman, Helen's husband, signed up for a shot. "I know how to protect myself. I'm taking the shot on account of her," he said. "I don't feel like I need it."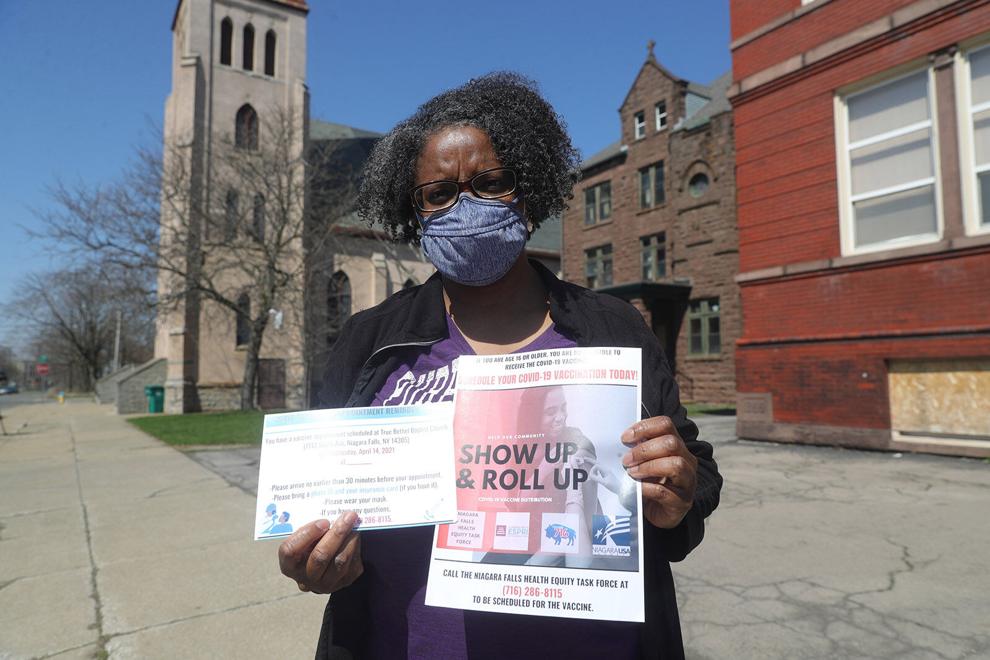 Vaccines within walking distance
Scott and Ward have been campaigning for more vaccine sites reserved for people who live near them.
Even though the state set up a mass vaccination site at the Conference Center Niagara Falls, its appointments are made available only on the state website and phone line. Appointments there disappear fast and nearby residents have no better chance of snagging them than anyone else with a computer.
"Our need is to provide clinics in spaces where people only have to just walk to that location," Ward said. "In that way, it removes the barrier around transportation, it removes the barrier around 'how do I navigate a computer system that I don't know how to navigate?' "
"I've continued to tell people my fight right now is for the ubiquitous presence of vaccination sites throughout Western New York," True Bethel pastor Craig Pridgen said.
"The reason for me opening my doors is that there would be a site within walking distance for people that do not have transportation or do not have the means to get a vaccination site in other places," Pridgen said. "We're working boots to the ground."
The task force worked with the state and Niagara Falls Memorial Medical Center to hold a successful pop-up site earlier this year at a community center.
Ward said they have asked the state and Catholic Health, which is the regional vaccine hub, to set up more pop-ups in inner-city Niagara Falls.
"We need consistent ongoing commitment from the state to address this very visible disparity that exists right now in Niagara Falls," Ward said.
ZIP codes can be deceiving
Vaccination figures often are tabulated by ZIP codes, but as Ward pointed out, "ZIP codes are not equivalent to neighborhoods."
True Bethel Church is located in ZIP code 14305, which includes not only inner-city Niagara Falls but also the pricey DeVeaux neighborhood along the Niagara River Gorge.
The state Health Department says 22.3% of those in 14305 have received at least one dose of vaccine, which is the third-worst among Niagara County ZIP codes. The two ZIP codes ranking below it are 14301 and 14303, two east-west swaths of Niagara Falls immediately south of 14305. Both have vaccination rates under 17%.
But Niagara Falls' fourth ZIP code, 14304, which includes the LaSalle area, most of the Town of Niagara and western Wheatfield, has a 31.6% vaccination rate, a hair better than the county average.
Politicians all the way up to President Biden and Gov. Andrew M. Cuomo have spoken about the theme of vaccine hesitancy among Blacks, which allegedly stems from a history of harmful medical experiments carried out on Blacks by the federal government during the 20th century.
Ward, however, said that viewpoint "blames the people who are not represented in the vaccine numbers, and I don't think that's right. I don't think we need to be blaming them for not showing up. I think the systems have to look at, 'What do I need to do in order for people to show up?' We need to flip this conversation."
She thinks the problem really derives from a lack of access.
"Access has multiple layers to it," Ward said. "It includes education. It includes that we have people that are already outside of the health care system. It includes that we're not putting the vaccine clinics specifically in neighborhoods and saying 'this clinic is for this neighborhood,' meaning that it's not a competition with other people outside of the neighborhood."
Transportation also is an access issue, Ward said. That's demonstrated by the vaccine clinics run by the Niagara County Health Department.
Through March 26, 12,388 people had been vaccinated at county-run sites in Lockport. Only 207 of those shots went to Blacks.
The county has never has held its own clinic in Niagara Falls.
"We do it wherever we can do the most people at the time," Stapleton said. "We also knew that state-run site was coming, so we knew that was going to help us a lot. It's getting three times the doses we are. We know it's not going to be one particular or one single site that's going to meet all of our needs."