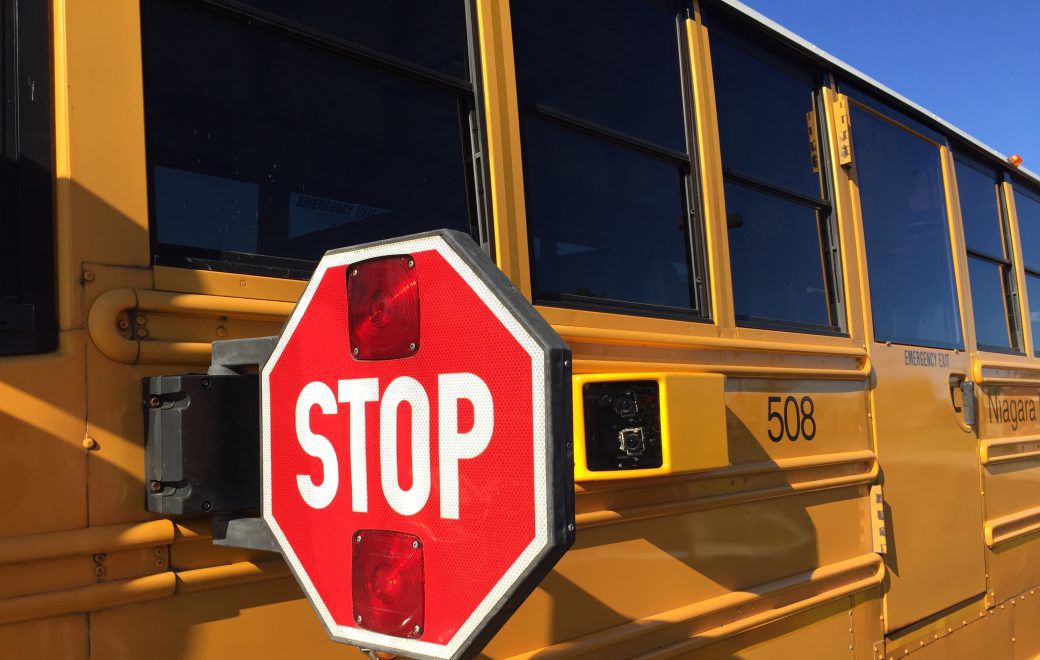 Niagara County plans to offer cameras to all of its school districts to record vehicles that break the law by passing stopped school buses.
The equipment would be provided by a company the county hired, which sought 59% of the resulting fines as its payment for the gear.
"If nobody passes a stopped school bus in Niagara County, then obviously it would be difficult to fund the program," County Manager Richard E. Updegrove said this week.
Based on the experience in Niagara Falls, which has a pilot program in operation on two buses, that won't be a problem.
"It's more than you would think. It shocked me," Superintendent Mark R. Laurrie said. "It's mostly in the morning, mostly in the beginning of the week. I'm talking about 30 a day, just on two buses. I was blown away."
The Niagara County Legislature will hold a public hearing April 20 on a law setting up a countywide bus camera program.
Schools will not be required to take part, and those that do would have to obtain their bus operator's approval to have the cameras installed.
Laurrie said the Falls district plans to expand its program this fall to all 80 daily Niagara Falls Coach Lines bus runs.
"The district gets no financial reward for this," Laurrie said.
Last July, the Niagara Falls City Council approved a five-year contract with BusPatrol America to supply cameras that are activated when the bus stops and the safety barrier and stop sign are deployed.
The company receives 60% of the fines, which are set by state law at $250 for a first offense, $275 for a second offense and $300 for a third.
The Erie County Legislature is considering a contract with BusPatrol America, but there was substantial opposition at a session last month to letting the company cash in on the fines. Opponents also said few drivers passed stopped buses.
Niagara Falls' pilot program began in October 2019. It was halted when the Covid-19 pandemic hit in March 2020, but it resumed in September.
"Because of Covid and other things, we haven't done the full implementation of it, but we have all the pieces in order," Laurrie said.
The Falls district was canny in selecting the buses for the pilot program.
"We picked a couple of very high-traffic areas, Ferry Avenue and Niagara Falls Boulevard," Laurrie said. "The volume could be connected to the high-traffic streets, but Ferry Avenue was bad. We didn't even touch Buffalo Avenue or any of the LaSalle places."
"We haven't done a pilot on these yet so we don't know how many we're going to have. We do get complaints on it here and there. We do have patrols out that witness it," Niagara County Sheriff Michael J. Filicetti said. "Obviously, I can't have patrol cars behind every bus in the county, so this is a good way to enforce that."
"Assuming the local law passes, then we'll begin reaching out to the school districts," Updegrove said. "Under this program, the equipment is purchased, installed, provided and maintained by the vendor, which is American Traffic Solutions, doing business as Verra Mobility."
The County Legislature approved that contractor Jan. 19. Its response to the county's request for proposals asked for 59% of the fine revenue, although no final contract has been signed.
Updegrove said that after Verra takes its cut, the county would keep 90% of the remaining fine money, and the municipality where the violation occurred would receive 10%.
Kristen Cavalleri, Niagara Falls' public information officer, said no fines have been levied there yet, because it's still a pilot program.
But Updegrove said money isn't the point.
"The priority in this program is to get people to stop passing school buses that are stopped," Updegrove said.
"If it saves one life, one kid, it's obviously worth doing," Laurrie said.