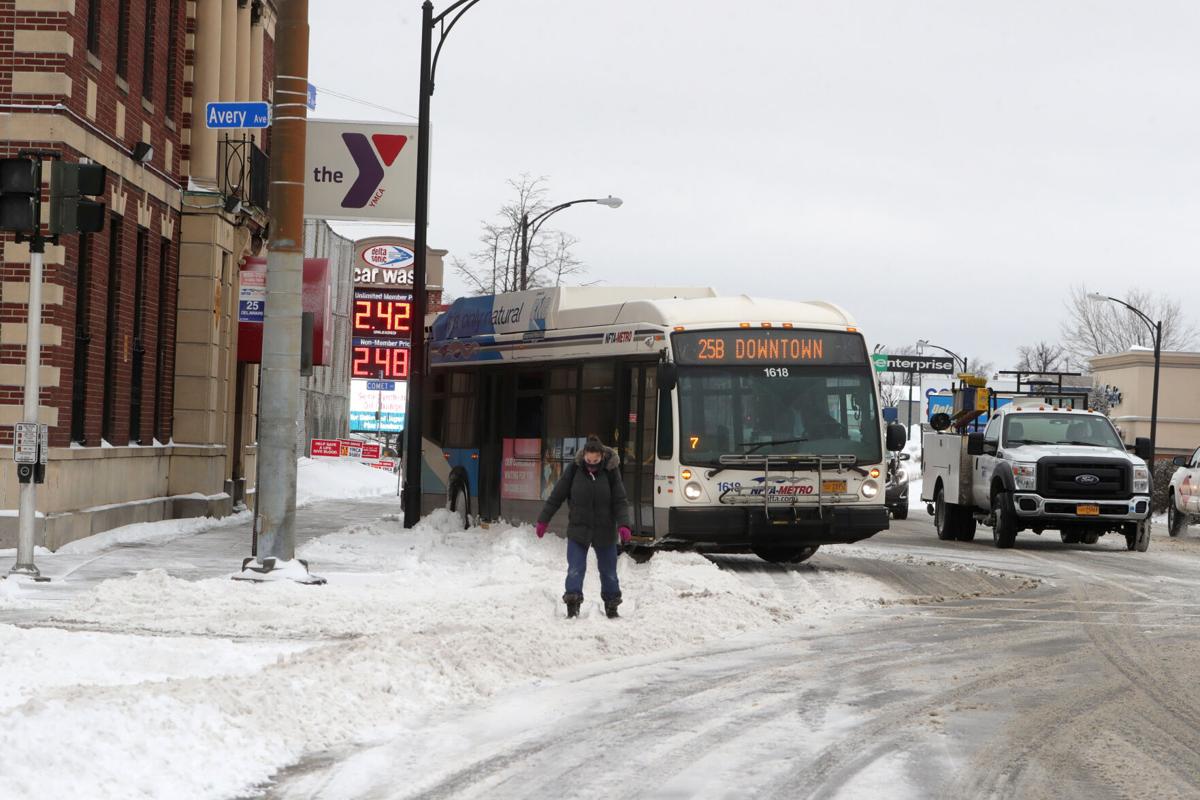 Metro Bus is about to ask its riders a critical question: Would you give up several little-used stops on your route if it made the ride shorter?
The Niagara Frontier Transportation Authority will soon pose the query as part of a comprehensive review of its more than 5,000 bus stops to determine which could be eliminated and which could be enhanced. If all goes as anticipated, the study could mean eliminating those lonely stops marked by only a sign and a few users. It could also mean shaving significant time off some routes in a commuting world that often assigns top priority to getting there faster.
"There's a 'legacy' of bus stops in our system for many different reasons," said Thomas George, the NFTA's director of public transit. "This is an opportunity to take a look at those.
"We want to make sure the service we are providing is as efficient and effective as possible," he added.
Metro Bus planners recognize that service demands evolve with a city's demographic and business changes, noting current bus routes mostly follow the same paths as the streetcars of a century ago. Several buses per hour might have served the Bethlehem Steel Co. complex 40 years ago, they note, when fewer are needed today. Ditto for plunking down stops every two blocks in areas where the population has shifted elsewhere.
Developments the study will consider include:
• Nationally, buses spend an average of 20% of their time at stops.
• Relocating and reducing bus stops can speed up trips for riders and improve on-time performance.
• The average stop spacing of similar transit systems is 50% greater at roughly 1,350 feet between stops, compared to 900 feet for the NFTA.
• As an example, planners point to two stops 200 ft. apart on Elmwood Avenue near Tupper Street, a one-minute walk between them. The pair of stops, they say, slows the trip for everyone.
"If you reduce the time a bus sits there idling you essentially generate more service," George said.
NFTA officials already know that even the suggestion of eliminating some stops will prove less than popular.
"I know I will receive many calls," NFTA Executive Director Kimberley A. Minkel noted a few days ago when the plan was unveiled to authority commissioners.
And George acknowledged that to many riders, bus stops become "personal" – part of everyday routines.
"It will have an impact on some," he said.
George assured riders that public input will prove a major component of the planned study. The authority will conduct surveys, seek input on its website, post signs at stops considered for elimination, and consult the NFTA's Citizen Advisory Committee.
But he also noted cutting inefficiencies will mean a smoother ride devoid of so many stops and starts – maybe even allowing more trips along a route because buses will have more time to begin again. Some routes may shorten runs by 10% to 15%, George said. And the plan calls for upgrading many stops with shelters and benches to attract new riders and retain those already using buses.
"It's a lot easier to replace two stops with one if we say: 'By the way, we're going to make it a much more attractive stop that is also more comfortable,' " George said.
The NFTA will also study the experiences of similar systems such as Cincinnati Metro run by the Southeast Ohio Regional Transit Authority. Brandy L. Jones, Cincinnati Metro's vice president for external affairs, said the system studied its 4,000 stops for more than two years beginning in 2018. The overwhelming desire, she said, was shortening trip time.
"The thing that slowed the trip was too many stops that were too close together," she said. "And if a stop wasn't being used, it caused us to say: 'Let's combine some.' "
Cincinnati Metro tested walk times to stops from key points, while taking care to preserve stops at senior centers, hospitals, or facilities used by the disabled. Decisions resulted from public meetings, surveys, and website input that Jones said contributed to the final plan. Some of the revisions occurred for the first time in 50 years, she added.
"We saw time savings of five to 15 minutes over the length of an entire route, and that's a significant difference," Jones said.
George explained that NFTA staff will conduct the study with its own staff beginning in September, when the authority expects that passenger levels will begin returning to pre-pandemic levels.