After years of debate, it's now back to the drawing board for the Scajaquada Expressway.
Only this time, nothing's off the table. 
The ideas include reimagining the corridor without Route 198, restoring Scajaquada Creek and bringing back a tree-lined section of Humboldt Parkway like it was over a half century ago.  
The Greater Buffalo-Niagara Regional Transportation Council, a regional transportation organization, now leads the planning process, and it expects to begin meeting with the public in June and develop a final plan by March 2022. The planning will also look at where Route 198 enters the East Side. A previous study stopped at the Parkside neighborhood.
"We are working on a more comprehensive approach, and it's outside the realm of just traffic," said Hal Morse, the council's executive director. 
The state provided $350,000 to help cover the costs, including hiring consultants to explore changes for the corridor that could affect residents and motorists for decades.
That shift in approach is welcomed by the Scajaquada Corridor Coalition, which includes Buffalo Olmsted Parks Conservancy, Buffalo Niagara Waterkeeper, Vision Niagara, Restore Our Community Coalition, SUNY Buffalo State, GObike Buffalo, Grant Amherst Business Association and Black Rock Riverside Alliance.
"We think the previous engagement of this community was always about how to make the road better, and we want it to be how to make the place better – Scajaquada Creek, Delaware Park, the cultural institutions, the neighborhoods," said Brian Dold, chairman of the Scajaquada Corridor Coalition.
'Rip out entire expressway'
The coalition was dissatisfied with the state Department of Transportation's most recent plan, withdrawn by Gov. Andrew M. Cuomo in January 2018 after public criticism. The turnabout encourages him. 
Dold, who is also Buffalo Olmsted Parks Conservatory's director of planning and advocacy, said the coalition's renderings show what's possible along the corridor while leaving the details for the consultants to work on.
Rep. Brian Higgins, an advocate of tearing down the Skyway, agrees with the coalition's vision.
In a letter to Morse, Higgins said he favored a solution that would "rip out the entire expressway, end-to-end, root-and-branch."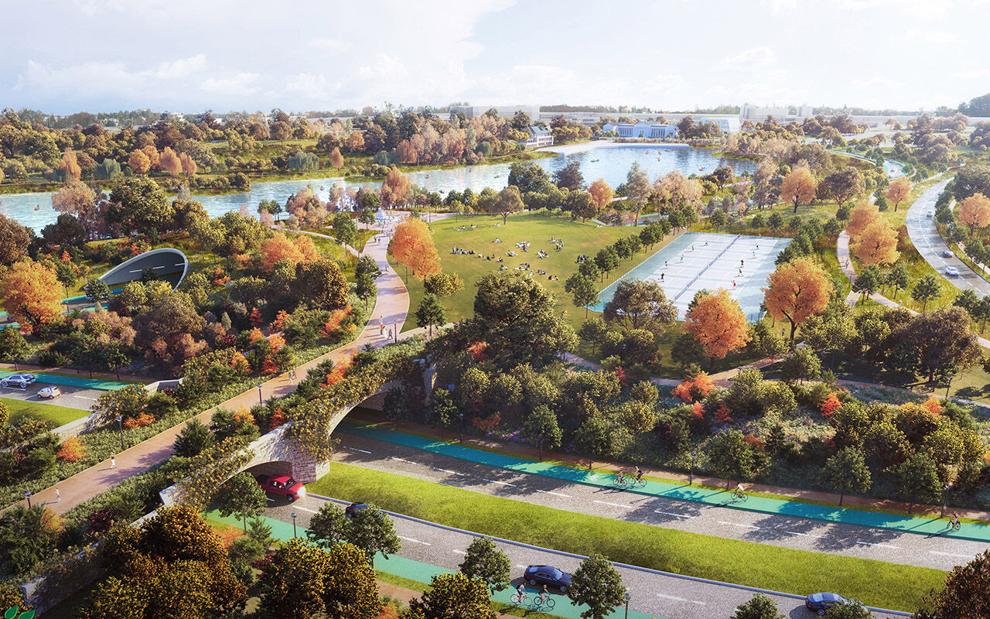 The Scajaquada Expressway was planned in the 1950s and built in the mid-1960s.
But like many urban renewal projects of that time, building the expressway came with a steep price: segmented neighborhoods, a ravaged creek shoreline and disconnected parkland.
After more than 15 years of trying to address safety concerns and other issues with the road, the state DOT turned in 2019 to the Greater Buffalo-Niagara Regional Transportation Council to come up with a new plan.   
Because Route 198 is a state roadway, the state DOT will ultimately make the final decision on what will happen.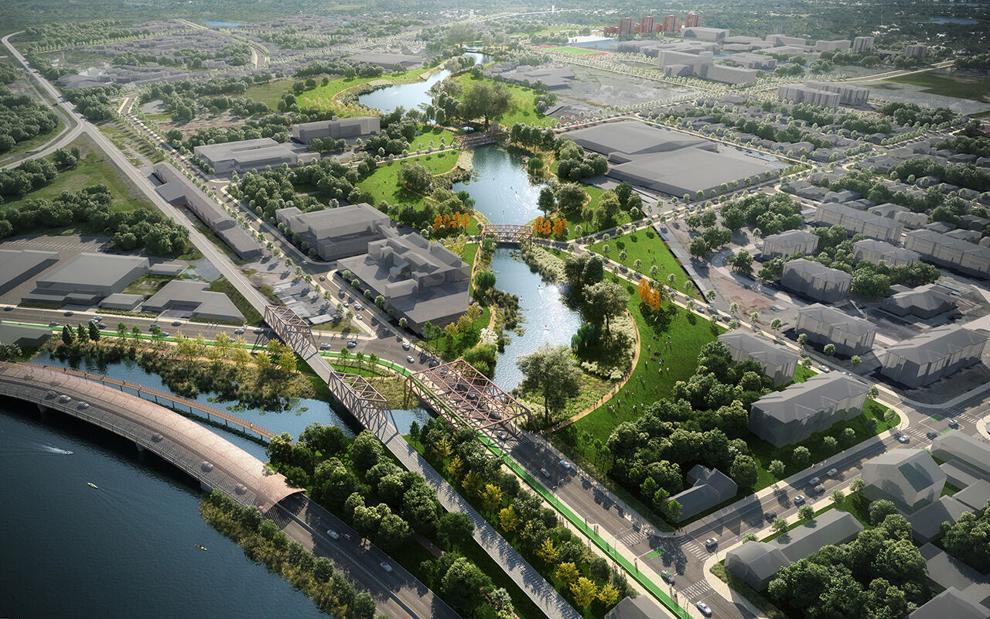 State Sen. Sean Ryan said a comprehensive approach to the corridor is long overdue.
"We all know there have been a series of stops and starts," Ryan said. "Hopefully, we will now be able to develop a plan that doesn't look exclusively at how to move a car from Point A to Point B. We're hopeful we can get it right this time and there will be wide public acceptance so we can move forward with this project."
Federal infrastructure dollars are anticipated for the project, along with a prior allocation of state funds. President Biden has indicated funds will be available to remove highways that split communities.
Morse said it's important that the project move expeditiously in order to capitalize on the federal funds if and when they become available. 
"This is more than a transportation project," said Jill Jedlicka, executive director of Buffalo Niagara Waterkeeper.
She said the corridor's redesign is "our last best chance" to restore Scajaquada Creek by reclaiming its natural water course and flood plain.
"It's been so manipulated and buried and channelized and disrupted, for literally 100 years, and we can only do so much with patchwork fixes here and there," Jedlicka said.
"But if we have a clear vision for five, 10, even all 13 miles of this creek, we can design our communities and our transportation systems around what Mother Nature intended," she said.
The Buffalo Olmsted Parks Conservancy wants Delaware Park made whole. Route 198 divides the park's meadow from Hoyt Lake, as well as the lake from itself farther west.
"Frederick Law Olmsted's vision was for a fully connected landscape from the meadow to the lake, but for the last 70 years the meadow has been severed from the lake," Dold said.
Dold said the park user's experience and ability to enjoy the "complete 365-acre park experience" is affected both by the road's physical intrusion and traffic noise.
The coalition is also imagining the return of a tree-lined Humboldt Parkway re-established from Delaware Park to Delevan Avenue.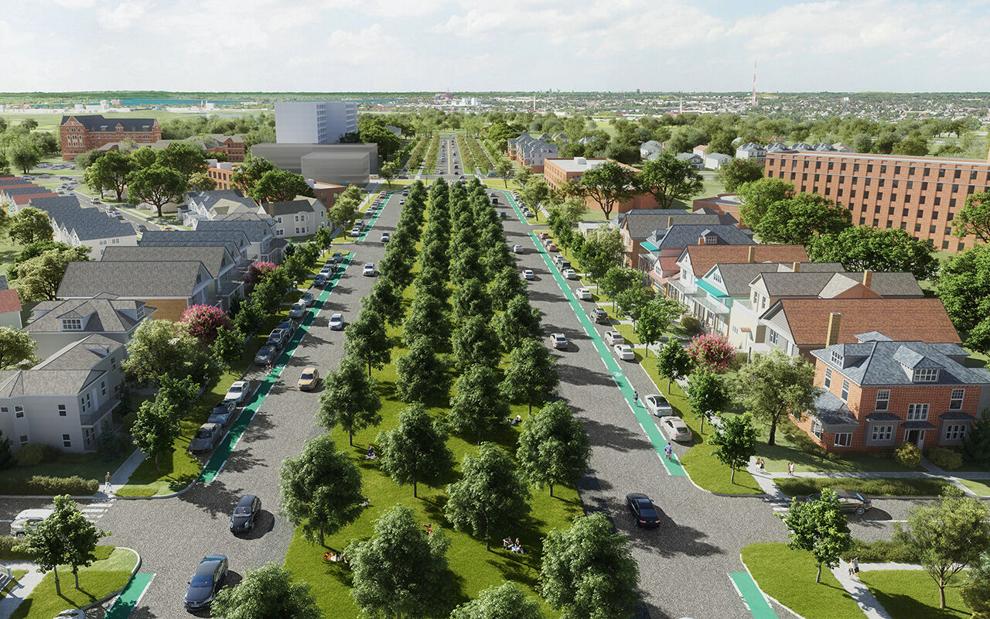 Along with bringing back the beauty and splendor that was once there, Bradley Bethel of Restore Our Community Coalition said the parkway could also replenish lost property values and help bring back mom and pop stores.  
The Scajaquada Corridor Coalition's vision includes restitching neighborhoods cut off from one another because of the expressway, and better connecting SUNY Buffalo State and nearby cultural institutions. 
Dold said other cities have shown highways can be removed, ushering in a transformation of the surrounding communities.
"These highways are not as essential as they seem," Dold said. "The lessons learned from other cities is really the main thing that's given us inspiration that these things can happen."