The shoring up of the crumbling seawall at Ralph C. Wilson Jr. Centennial Park was celebrated Monday by the Buffalo District U.S. Army Corps of Engineers and the City of Buffalo.
The $10.6 million project included repairs to over 1,300 feet of seawall that protects not only one of Buffalo's most popular waterfront recreational spaces – Centennial Park – but the Col. Francis G. Ward Pumping Station, one of the city's most critical pieces of infrastructure, as well.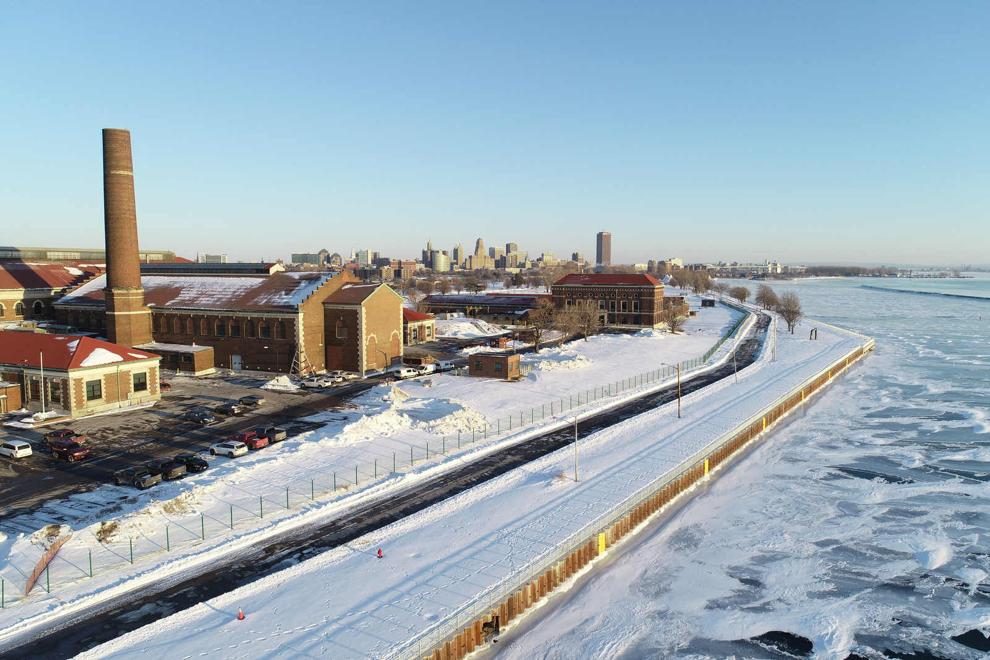 "This long-planned project provides protection to the city's Col. Ward Pumping Station, while also providing an essential infrastructure component to secure what will be a world-class waterfront destination for generations to come," Buffalo Mayor Byron W Brown said in a statement released Monday.
Emergency supplemental funding for the repairs was secured in 2019, ensuring the project would be 100% federally funded, after Brown and Sen. Charles Schumer called for shoring up the seawall, which had begun deteriorating over time as a result of Lake Erie ice and wave action.
If the repairs had not been made soon, the seawall might have collapsed, and that would have flooded the park and compromised the structural integrity of the pumping station that has provided the city with fresh water for more than 100 years, said officials who attended a celebration Monday at the pumping station before conducting a tour along the newly repaired seawall.
"What that does is enable the resilience of the community (and) the resilience of the infrastructure we have here, so that we're not worried about the forces of nature reclaiming this great infrastructure we have," U.S. Army Corps. of Engineers Lt. Col. Eli Adams said.
Adams added that, with the protection that the repaired seawall now provides to the park and pumping station, that creates incentive for other nearby development to occur.
The estimated amount to remake LaSalle Park is now $140 million and counting.
Centennial Park, formerly Lasalle Park, is about to begin receiving a massive overhaul thanks to millions invested by the Ralph C. Wilson Jr. Foundation and the city. 
U.S. Army Corps of Engineers Buffalo District Project Manager Gabriel Schimdbauer noted that a number of storms threatened to delay the completion of the seawall project, which, ironically, underscored the need to address the problem of the crumbling seawall quickly.
"We successfully finished the project on schedule and under budget, even though we had a number of storms during the construction season, which kind of showed the purpose of the project because we were building with these massive storms. We built a really solid wall that's going to last a long time," Schimdbauer said.
Meanwhile, the Col. Ward Pumping Station supplies water for more 250,000 residents in the City of Buffalo, as well as hundreds of businesses in the city, U.S. Army Corps of Engineers spokesman Avery Schneider said.