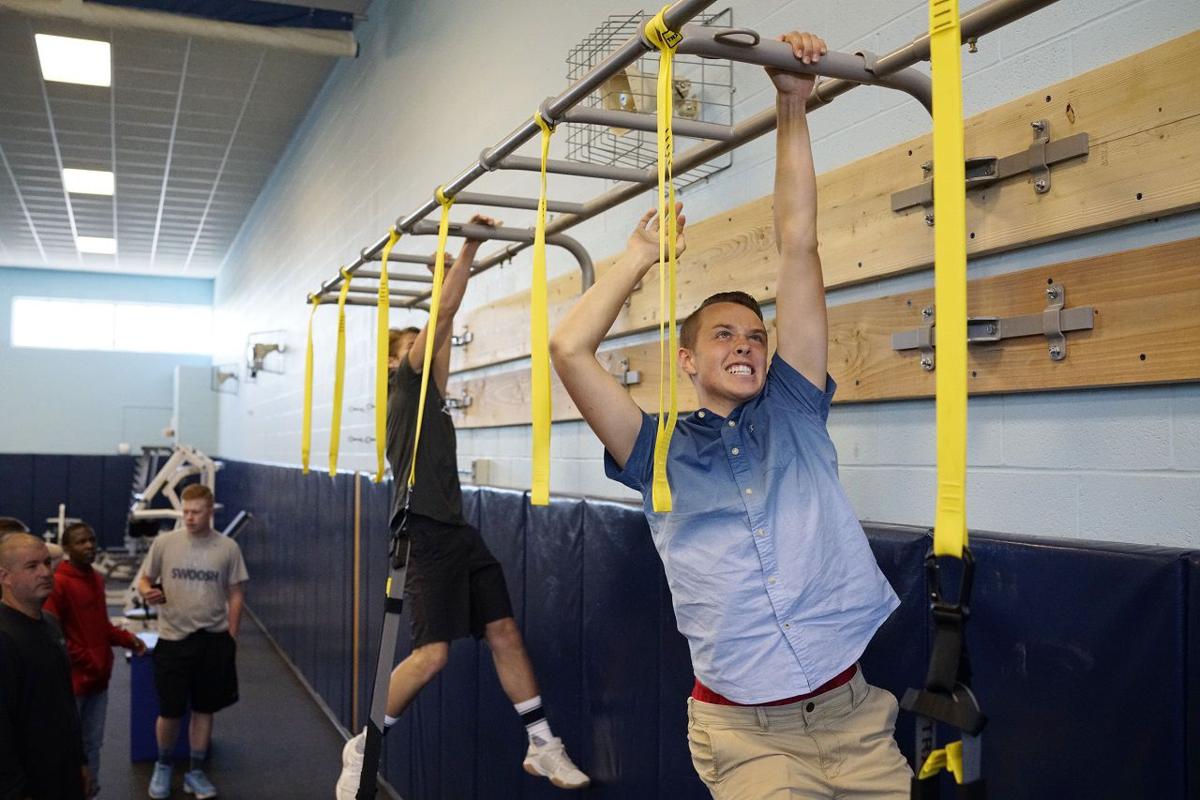 Youth sports and recreation programs across New York will take a share of the betting proceeds when mobile sports wagering starts statewide later this year, thanks to a Buffalo-area lawmaker who pushed the idea during state budget negotiations.
Assemblymember Monica Wallace, D-Lancaster, did not get the 5% take of tax revenues she sought, but the deal will establish a grant fund that steers 1% toward youth sports and recreation during the first year and $5 million annually after that. 
Included in the chamber's version of the state budget plan is Assemblywoman Monica Wallace's proposal to boost access to youth sports and recreation with funds from mobile sports betting – if it becomes legal in New York State
The Office of Children & Family Services will administer the fund and focus on programs for underserved children, including teens.
"I was less invested in the whole mobile sports betting piece of it, but really wanted to make sure that if we were doing this, it could be really transformational for youth," Wallace said.
Mobile sports betting – like legalized recreational marijuana use – has been a proposal kicked around for years during annual budget talks in Albany. Both measures passed as part of a $212 billion budget plan lawmakers passed last week.
The New York State Gaming Commission will soon ask for requests for proposals from mobile sports betting providers returnable by July 1. It will approve one of them to run the system with state-registered casinos. The ability to wager on in-state sports will be limited. Related state revenues also will be used for education and other purposes.
Youth sports organizations hailed the set-aside as a new revenue model other states should consider.
"New York is the first state to legalize sports betting with dedicated support for youth sports programs," said Tom Farrey, executive director of the Sports & Society Program at the Aspen Institute. "It's a game-changing idea, and hopefully, a model for other states. Taking from the treetops of sports to fund community-based play just makes sense."
Internet betting on any range of sports contests – allowing people to bet on their laptops from home or the office or on their phones while in the stadium watching a Buffalo Bills game – should be operating by year's end.
Wallace hopes the new funding stream will help fuel programs sorely needed after a pandemic created greater disparities on a youth sports playing field already tilted toward wealthier families and communities.
Children and teens with in low-income households are half as likely to play sports as their peers from upper-income homes, Farrey said.
New York children on average have spent 6.5 hours less each week on sports than a more typical year. Those in households where the annual family income surpassed $100,000 spent two hours more on sports every week than those in households making less than $50,000, the Aspen Institute reported in its "State of Play 2020" survey. 
"Many kids today are suffering, mentally and physically," he said. "Our national surveys show they are less active than they were before the pandemic. We're also seeing a growing divide between sport haves and have nots. Kids from low-income homes are much more reliant on community-based programs, like park and recs and YMCAs, which have had a harder time continuing operations than the club teams and other private recreation providers."
The plan could be helpful in Western New York, which national health rankings have long portrayed as the least healthy region in the state.
Wallace thanked Assembly Majority Leader Crystal Peoples-Stokes and state Sens. Sean Ryan and Tim Kennedy, who also serve the region, for lobbying passage of her budget resolution, and Gov. Andrew M. Cuomo for his approval.
The new betting proceeds should be used most wisely helping to build communities from the ground up, she said.
"Youth sports needs to be very local and easily accessible," she said. "We're not talking about travel sports. We're talking about local teams playing local teams, having access to nearby parks and facilities and potentially using some of this money at some point to help offset the costs of infrastructure investments for sports facilities." 
Wallace knows much work remains to give youth sports its appropriate due.
"There are so many needs," she said. "This was the first step. I think it was a huge step but I also think that there is more work to be done in terms of making sure that the money goes where it's supposed to go."