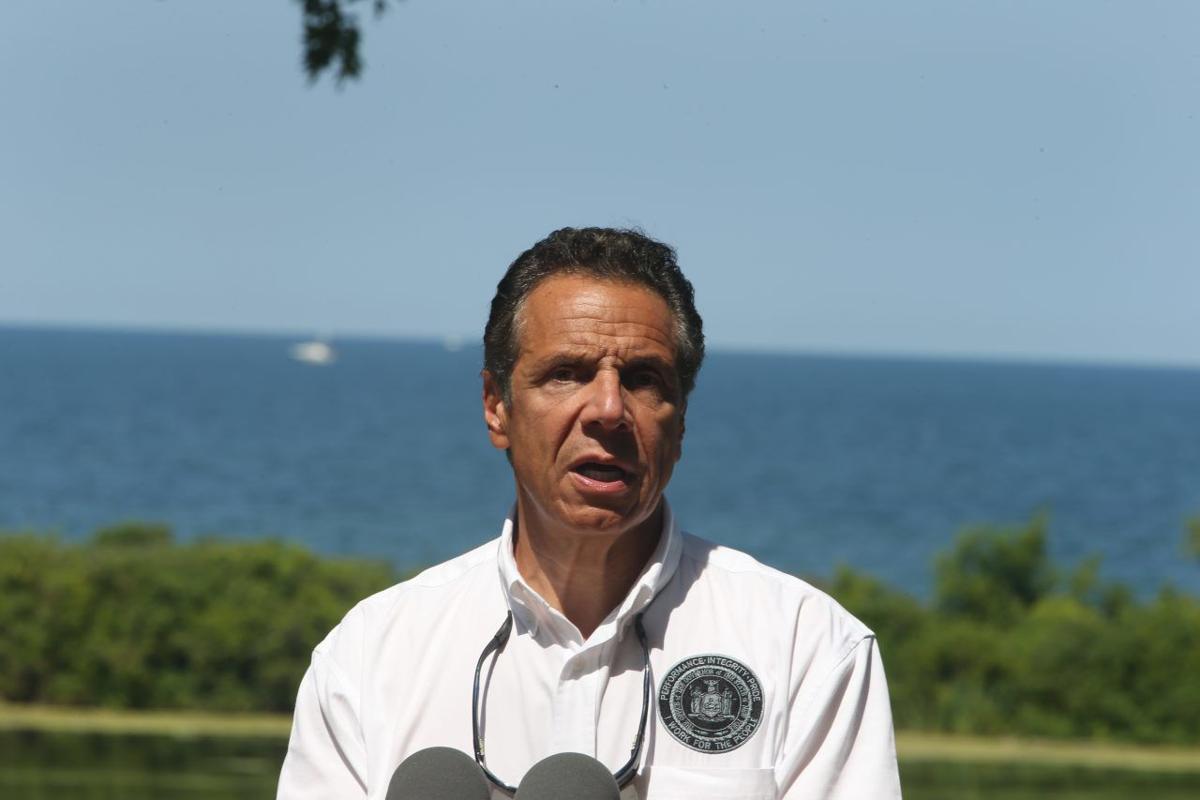 New York State will sue the International Joint Commission over Lake Ontario flood damage that Gov. Andrew M. Cuomo and other critics blame on the binational agency's water level management policy.
"They have failed to manage the lake level — period. End of story. It was their job. They failed," Cuomo said as he made the announcement Wednesday during an appearance at a lakeshore restaurant in Irondequoit.
"We will not shoulder the burden of the destruction that is a direct result of the IJC's gross mismanagement of Lake Ontario water levels, and the IJC needs to compensate New York for the severe damage to the homes and businesses along the shoreline. That's what this lawsuit is all about," Cuomo said in a news release.
The IJC considers itself exempt from lawsuits over its actions, based on a 1945 federal law and a 1948 executive order by then-President Harry Truman.
"The lawsuit is a hard case," Cuomo said, according to a transcript of his Irondequoit appearance released by his office.
"This is an international entity and it is going to be a difficult case for us to make, but it is our last resort. We have tried everything else," Cuomo said. "It is a cry for help from the State of New York and our expression of frustration that they have done absolutely nothing to help New Yorkers deal with this situation. And it is unfair that we should be shouldered with over $1 billion in costs when the IJC has done absolutely nothing to reduce the damage to the State of New York."
"We are aware of the governor's announcement, but have not received formal notice of any action that may have been taken," IJC spokesman Frank Bevacqua said. He declined to comment further.
The IJC's current Lake Ontario management policy, called Plan 2014 even though it was adopted in December 2016, predicted an average lake level increase of 2.4 inches. The document said that would extend the commercial shipping season and make lakeshore conditions better for wildlife.
But in 2017 and again in 2019, record-high water levels resulted in heavy flooding and erosion along the New York and Ontario shorelines.
Lake Ontario peaked in June at 3 inches above its all-time record high and 32 inches above its long-term average for that month.
The IJC has blamed rainy weather for the flooding, noting that it can't regulate water flowing into the lake.
But it also adjusted its policies this year, allowing record-high outflows past the dam at Massena into the St. Lawrence River in an effort to lower the lake.
The International Lake Ontario-St. Lawrence River Board, the IJC subsidiary that manages lake outflows, abandoned Plan 2014 outflow limits in June, a week after the swearing-in of President Trump's new slate of appointees, including Jane L. Corwin of Clarence.
The commission's six members are chosen equally by Trump and Canadian Prime Minister Justin Trudeau.
Local legislators cheered Cuomo's decision. State Sen. Robert G. Ortt, R-North Tonawanda, a frequent Cuomo critic, called it "long overdue."
"These businesses, localities, and residents have been forced to live with dangerous flooding that has caused immense financial strain due to the implementation of Plan 2014," Ortt said. "New York State cannot continue to be the sole provider of emergency relief funding for residents impacted by Lake Ontario's flooding, and it is time for the federal government to take responsibility for the damage it has caused."
"Thank you, Gov. Cuomo, for your continued attention to the devastation the Niagara River and Lake Ontario shorelines have experienced as a direct result of the failed policy of the IJC," said Assemblyman Angelo J. Morinello, R-Niagara Falls. "The governor's actions will hold the IJC accountable."
Cuomo said the state committed $170 million in 2017 to repair damage to public infrastructure and reimburse lakefront property owners for costs they incurred to repair and protect their properties.
This year, the state allocated $300 million for the same purposes, including $20 million to reimburse homeowners.
Cuomo also appointed a commission, the Resiliency and Economic Development Initiative, to make long-term plans for preventing future damage from high water. It allocated $15 million to each of the eight counties along the lake and the St. Lawrence for such infrastructure projects.
Last week, the panel slightly altered the rules for the use of the money. It allocated $30 million to assist lakefront businesses with protection projects. The state would pay 50% of the cost of such projects, with a cap of $200,000 per project and a local matching share of 5% of the state's contribution.
The commission also ruled that the state would assist owners of second homes along the lake with any money left after all the primary home projects are reimbursed. Until last week, second homes were not eligible for aid.
The Buffalo News: Good Morning, Buffalo
The smart way to start your day. We sift through all the news to give you a concise, informative look at the top headlines and must-read stories every weekday.