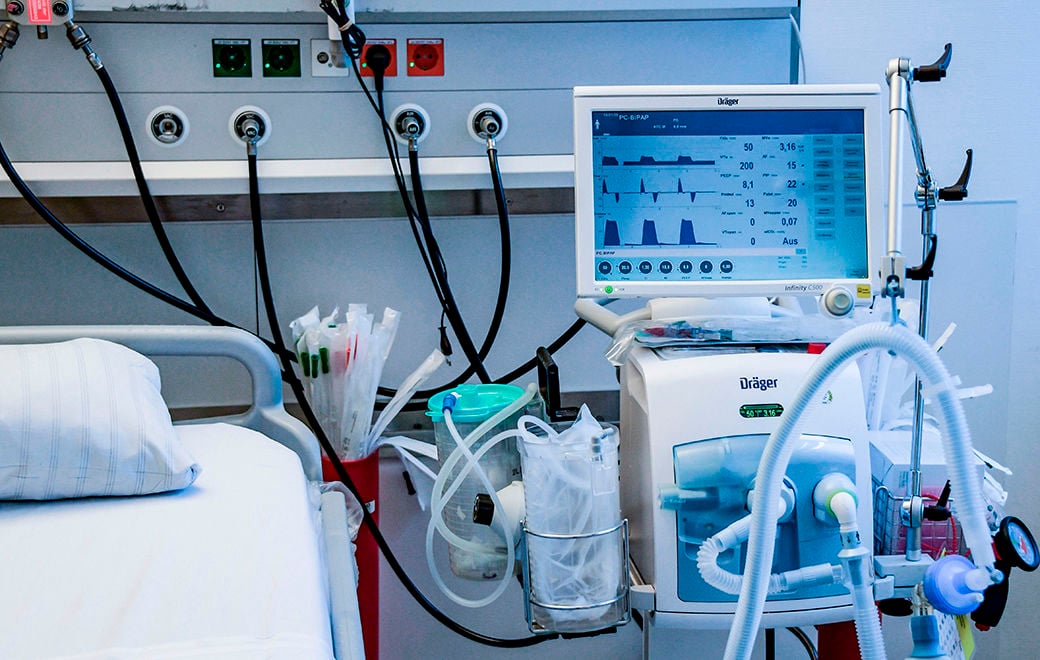 In the fight to save the lives of the sickest Covid-19 patients, some of the most important pieces of equipment doctors need are ventilators.
They are in short supply across the nation – and every community is trying to get their hands on as many as possible as hospitalizations are expected to surge.
"Ventilators, ventilators, ventilators," Gov. Andrew M. Cuomo said Wednesday at a daily news briefing in Albany.
The governor said New York State is expected to need as many as 30,000 ventilators.
"Normally, we have 4,000. We have purchased 7,000. The federal gov has sent 4,000," Cuomo said. That's half the anticipated number needed.
Doctors are exploring the possibility of doubling up patients on a ventilator, a tactic that was used in Italy as they experienced a surge in critically sick patients, Cuomo said.
The governor is also floating the idea of a "rolling deployment" of ventilators – he wants other states to send New York their ventilators.
"New York has the greatest need in terms of numbers," he said. "New York also has the most critical need in terms of timing."
Local supply of ventilators
There are at least 360 ventilators in the Buffalo-Niagara region. All intensive care unit beds in hospitals are equipped with ventilators and hospitals also have additional ventilators on hand.
Current supplies include:
* Erie County Medical Center has 36 ICU beds and a total of 71 ventilators, ECMC spokesman Peter Cutler said.
* Catholic Health hospitals had 81 ICU beds systemwide, all with ventilators before the coronavirus crisis, Catholic Health officials said. Catholic Health is now turning its St. Joseph Campus of Sisters Hospital into a Covid-only patient hospital. The facility is expected to have 55 to 60 critical care beds and 100 to 120 beds in all for Covid-19 patients.
* Kaleida hospitals have 185 ventilators. As they expand their capacity, they plan to have 340, Kaleida officials said.
* Eastern Niagara Hospital has 8 ICU beds with vents and 11 vents total. Niagara Falls Memorial Medical Center has 15 ventilators and 12 ICU beds.
Based on the projections for infection in other parts of the state, Erie County health officials expect a need for more ventilators.
Cuomo: 'Send us the equipment we need'
New projections show that hospitalizations in the state could peak in as little as two to three weeks, with as many as 140,000 patients statewide.
There aren't enough ventilators to supply every community in the country at once, Cuomo said.
His idea: send them to New York now where it's most likely be needed first. Then, once the peak subsides, the ventilators would be sent to the community that experiences the next surge.
"Send us the equipment that we need," he said. "As soon as we get past our critical moment we will redeploy that equipment and personnel to the next hot spot. I will personally guarantee it."
What is a ventilator?
Ventilators are essentially pumps, explained Dr. Sanjay Sethi, MD, professor and chief, Division of Pulmonary, Critical Care and Sleep Medicine in the Jacobs School of Medicine and Biomedical Sciences at the University at Buffalo.
"They assist the lungs to get air in and out," Sethi said. "You can control the volume of air, what rate it goes in, how much oxygen you add to it."
Normally, when we breathe, the chest wall, muscles and diaphragm work together to pull air in and then push air out.
Covid-19 can cause inflammation and damage to the lungs, and in severe cases that can make it difficult to breathe, Sethi said. The body can also become exhausted from fighting the infection.
"That's when you need a ventilator to take over that aspect of breathing," Sethi said.
About 5% of people who are infected with the Covid-19 virus are expected to need to be on ventilators, health experts have said.
"Even in a healthy person, the lungs can get so inflamed and damaged that you end up requiring a ventilator," Sethi said. "But it's more likely to happen if there's underlying disease, a bad heart, things like that. That's why age is such a factor. Along with age, you develop chronic health conditions."
Medical researchers are exploring other options for ventilators, including anesthesia machines and non-invasive devices such as BiPAP machines, he said.
The FDA has lifted some restrictions on ventilator usage, which is allowing medical staff to experiment with what they have, Sethi said.
There have been calls for factories to mass produce ventilators, but it would likely take weeks, if not months, to get them off the factory floor, Sethi added.
"These are complex machines," he said.