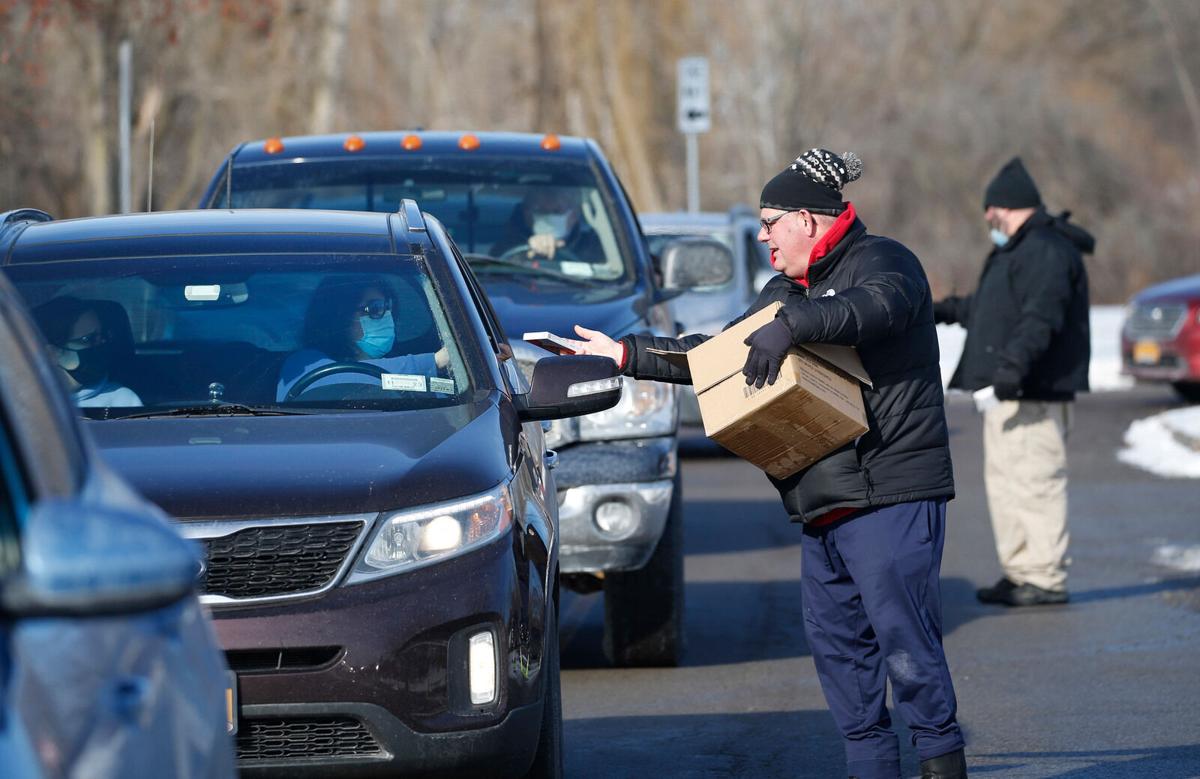 ALBANY – New York's health commissioner on Tuesday said overwhelmed county health departments will no longer have to do contact tracing of people who test positive for Covid, a once vital tool that many other areas of the world are already retreating from in the Omicron variant era.
Localities can continue doing the work if they so choose, but Albany will no longer require it.
Dr. Mary Bassett, the state health commissioner, said the Omicron variant – which accounts for more than 90% of cases upstate – has a much shorter incubation period than, for instance, the Delta variant. That, in turn, means that when it comes to contact tracing, there is a "very short window for intervention to disrupt transmission,'' she said.
Additionally, counties can use the resources and staff they now deploy for contact tracing on other Covid response efforts, such as vaccinations and testing.
"The big change for New Yorkers is that if you test positive you should no longer expect a call from your health department," Bassett said in her remote appearance from Buffalo Tuesday morning during a Covid briefing with Gov. Kathy Hochul.
Instead, the health department Wednesday will issue specific guidance about isolation and quarantine for people who test positive "to protect yourself, to avoid transmitting to others and to stay healthy."
Contact tracing has meant a person testing positive for Covid would get a call from a county or state health representative, who would interview them to find out possible other people with whom they have been in contact. Those people would then be contacted to get tested and quarantine.
But as the Omicron variant has spread and the number of people testing positive for Covid-19 has skyrocketed, local governments have found it difficult or impossible to keep up.
The Erie County Health Department announced earlier this month that it would no longer try to contact every person who had tested positive. Case investigators are instead focusing their efforts on children and people in larger group living situations. And last week, the Niagara County Health Department followed suit, instructing those who test positive to self-isolate for five days and tell their family members and close contacts about the test result.
"The shortened isolation and quarantine periods, unprecedented number of positive cases and limited contact tracing resources required a transition to a more realistic, efficient process," Public Health Director Daniel J. Stapleton said at the time.
During a Senate hearing Tuesday, Dr. Anthony S. Fauci, President Biden's chief medical adviser, called the wave of Omicron cases a "massive, unprecedented surge."
County health officials praised Hochul's announcement to give localities the flexibility to prioritize their existing resources with Covid response efforts.
"With the escalating number of cases of the Omicron variant in the state, we really want to focus our effort where we can make the most meaningful impact, for example vaccinating, providing boosters, focusing on congregate and high-risk settings, working with community partners/providers, schools, businesses and providing community education,'' said Sarah Ravenhall, executive director of the New York State Association of County Health Officials.
She said contact tracing has been effective since the pandemic first appeared in 2020, but that Covid transmission "has evolved to a point where it is not as effective as it once was."
More than 735,000 infections are being reported in the United States each day, according to a New York Times database. Modeling scenarios cited in an internal government document obtained by The Times, dated Jan. 5, predict more than a million daily confirmed infections by the end of this month. But health experts believe even those record numbers are an undercount; some estimates put the actual number of people testing positive at five times that number or more.
Yet in the face of that, Hochul said Tuesday there may be a "glimmer of hope" in data the past several days showing a decline in the Covid positivity rates statewide.
Hochul, at her Manhattan office, said the numbers suggest the Covid peak of cases may be plateauing. She cautioned, however, that the numbers are still high – 18.6%, or 48,686 people, tested positive Monday, not including at-home testing results.
"We're not at the end,'' Hochul said.
Hochul sought to highlight the declining positivity rates, though her optimism comes at a time when the state over the weekend halted non-emergency procedures across all of the Finger Lakes, Central New York and the Mohawk Valley because of high Covid levels and declining hospital bed capacity.
"There is an end in sight," she proclaimed. The state's daily Covid numbers have shown declines each day since last Wednesday, when the rate was at 22.48%.
Still, hospitalization numbers are of concern. On Monday, 12,540 were hospitalized with Covid, up 518 from the day before and the highest since the end of April 2020. In New York hospitals and nursing homes, the Covid death count was 160 yesterday.
Hochul said downstate hospitalization rates are showing improvement, and that upstate hospitalization levels appear to be about two weeks behind those of downstate. Upstate regions have lower vaccination levels.
The state began a new campaign Tuesday to get young children vaccinated. Hochul noted that 91% of children between 5 and 11 years old in hospitals with Covid are unvaccinated.
"This is why parents should look at their children when they come home from school and say, 'Do I really want to visit my most precious person in my entire life … in the hospital today, tomorrow or in the future?' That is the risk that these children are exposed to if they're not vaccinated," she said.
As of Monday, 32.2% of 5- to 11-year-olds have gotten their first vaccine dose, while 73.4% of those age 12 to 17 have gotten at least one vaccine dose, the state health department said.