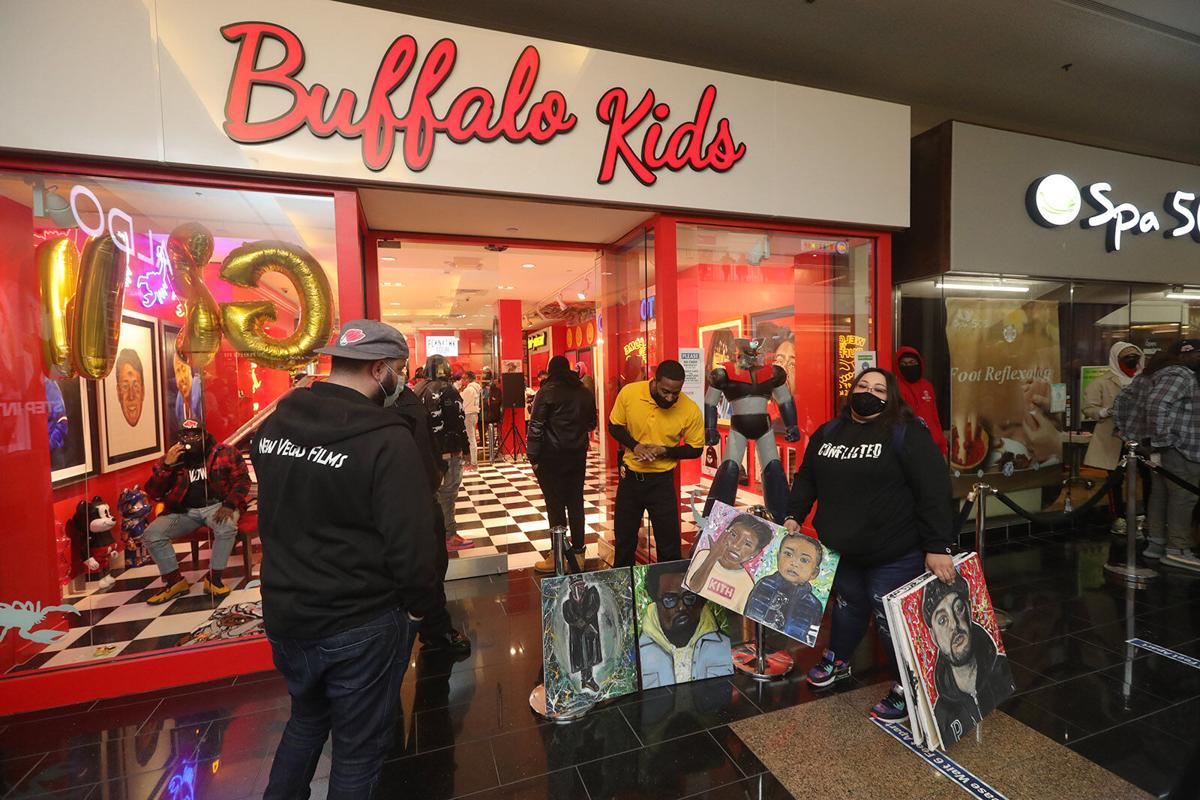 Alex Tolbert got to the Walden Galleria at about 6:30 a.m. Saturday for the opening of Buffalo Kids, the store from local rapper Westside Gunn combining his uncommon artistic taste and fashion sense.
Five hours later, Tolbert was still waiting in line with hundreds of other shoppers. He and other fans weren't surprised so many came out to buy merchandise such as sneakers, baseball caps, sweatshirts and shorts – all featuring Gunn's pop cultural, wrestling, football and style influences.
"He's a marketing genius," Tolbert said, comparing Gunn's savviness as a self-promoter to that of pro-wrestling impresario Vince McMahon. "Everything he does is grander and grander and bigger and bigger."
It was the kind of crowd rarely seen these days at malls, which were struggling to attract shoppers even before the Covid-19 pandemic struck.
Some Buffalo Kids shoppers had come from as far away as downstate New York, New Jersey and even Florida for the opening and to meet Gunn, who is media shy but happily posed for pictures with fans inside his store.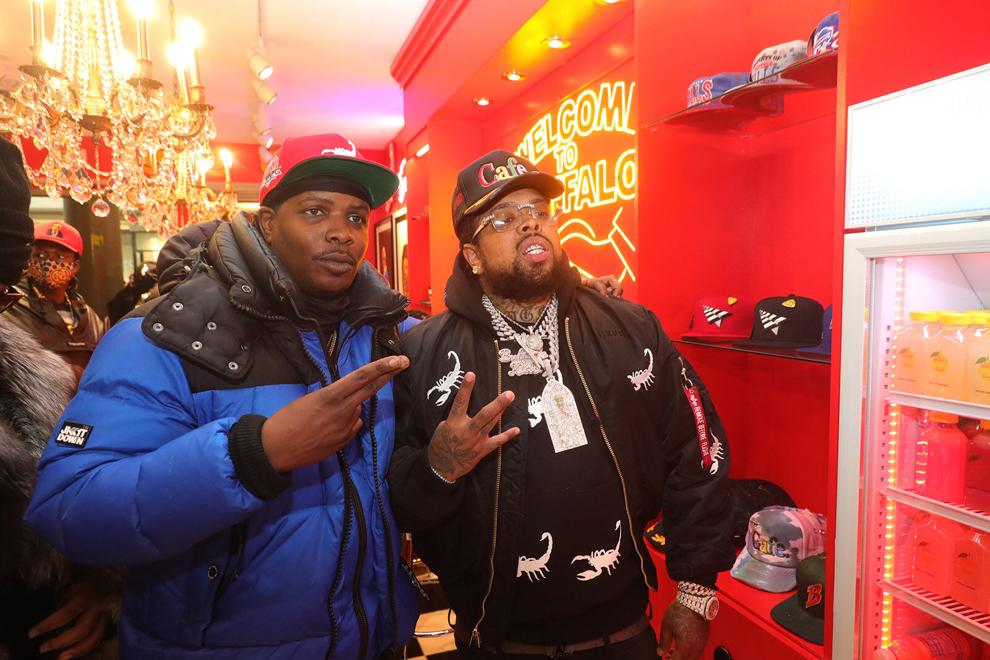 "He has a cult following, you know," said "Vegas" Johnson, who traveled from Long Island to document the scene and to snag a pair of Gunn's "FLYGOD" sneakers, Nike Air Force 1s customized in rainbow colors. Johnson paid $430 for the sneakers, which can resell online for $800 or more.
Johnson showed off the box but wouldn't take out the sneakers because he wanted to keep them in mint condition. "It's art," he said.
Buffalo-born Gunn; his brother, known as Conway the Machine; and their first cousin, Benny the Butcher, are the main artists behind Griselda Records, a hybrid label and hip-hop collective founded in 2014.
Griselda Records gained national notice in 2017 after signing with Eminem's Shady Records and reached a higher stratosphere in 2019 after partnering with Jay-Z's Roc Nation.
Art and fashion are longstanding interests for Gunn, said Derrick "D-Jack" Jackson, who handles strategic marketing and communications for Griselda.
Gunn has sold clothing and other apparel online and through the occasional pop-up promotion, but Buffalo Kids is his first traditional store.
It features clothing from his Fashion Rebels, established in 2014 as the style complement to his music label, and Fourth Rope, a wrestling-inspired brand tying together art, fashion and music launched in 2019.
"He's pushing the culture," said Randy DiNatale, an artist from Buffalo. "He's a Mount Rushmore type, for the culture. Especially for Buffalo, putting the whole city on the map."
Jackson said people close to Gunn weren't sold on opening the store in the Cheektowaga shopping mall, but Gunn liked its core appeal to visitors to the area.
"He saw something we didn't see," Jackson said.
The store, located on the lower level near the mall's Starbucks stand, opened at 9 a.m. Saturday, but fans started lining up hours before that. At 11 a.m., the line stretched from the store all the way past Dick's Sporting Goods and out to Sephora.
"I just wanted to grab some merch, meet the man himself, show some support," said Kevin Peters, who came in from New Jersey for the opening.
Inside, Buffalo Kids has the feel of a hip, bright art gallery.
Vivid prints, neon versions of the company's scorpion logo and racks of clothing line the store's red walls. A pool table and colorfully painted piano rest on the black-and-white tiled floor.
The artwork includes images of Bills greats such as Jim Kelly, with an off-kilter smiley-face emoji replacing his head, and Thurman Thomas and Marv Levy with an extra eye on their foreheads.
Popular items for sale included sweatshirts with refashioned images of former Bills quarterback Doug Flutie and the guy who now holds that position, Josh Allen.
In one sign of Gunn's efforts to boost Buffalo, the store sells bottles of Libby's Lemonade from the local company founded in 2015 by Olivia Brooks when she was 5 years old.
Shoppers on Saturday morning were allowed into Buffalo Kids in groups of 10 for just eight minutes of shopping.
The store in recent days had posted images on Instagram of many of the items for sale to help people figure out ahead of time what they wanted to buy, said Jackson, who noted the crowd's diversity.
"That kind of melting pot is what he represents," Jackson said of Gunn.
Galleria shoppers occasionally wandered by to ask what all the fuss was about. East Side resident Valentino Shine enthusiastically tried to explain Gunn's appeal to one woman surprised by the crowd.
Shine later told The Buffalo News that, as a young Black man himself, he appreciates everything Gunn is doing for the community. And Gunn has changed the narrative for outsiders who thought of this area as an entertainment wasteland.
"Now, they think about Buffalo, they think about Westside Gunn, hip-hop, art, fashion and culture," Shine said.