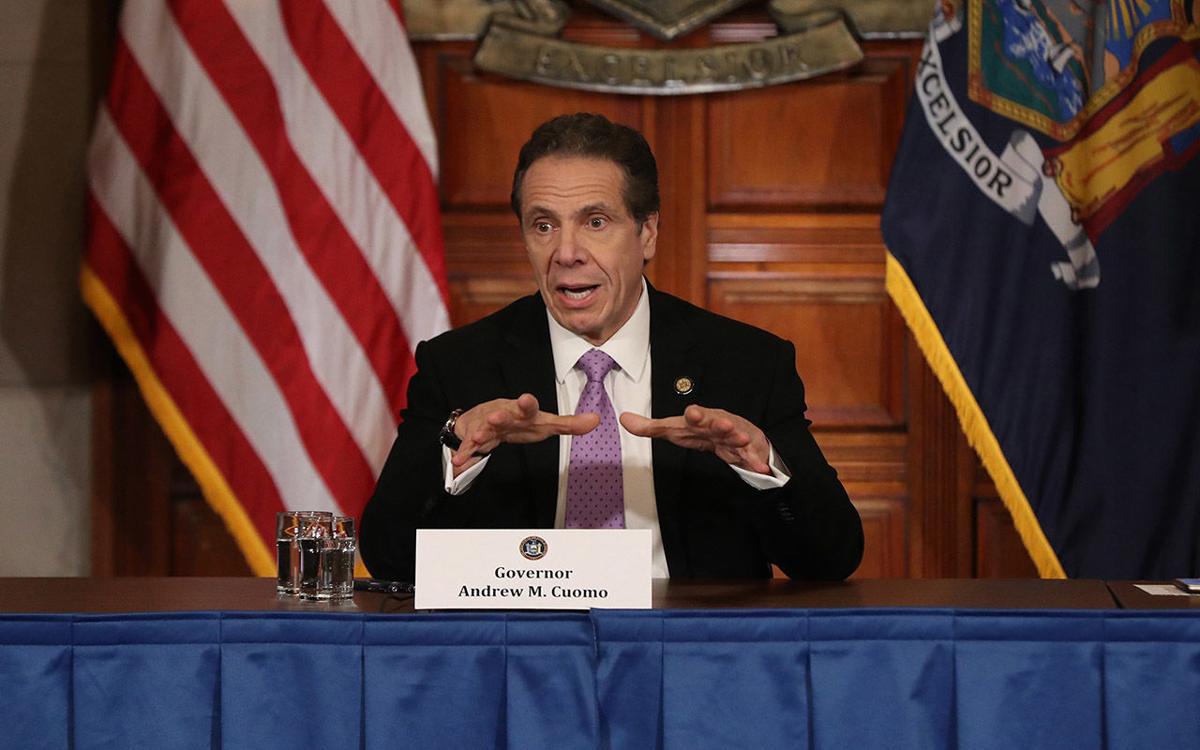 ALBANY – With the state's finances continuing to sink amid the coronavirus spread, the Cuomo administration is looking to enact a temporary, "initial" budget with spending adjustments made throughout the coming fiscal year depending on the flow of tax revenues to Albany.
The approach, if accepted by the Legislature, could have a dramatic impact on entities that rely on state funding for their operations – including 700 public school districts, local governments, health care providers, nonprofit agencies, as well as state agencies involved in everything from paving roadways to regulating banks, farmers and utility companies.
Officials representing counties across the state voiced deep concern with the proposal that could change their flow of state aid -- especially after months after their own fiscal years have begun and now with limited means to raise new revenues.
"Everyone is going to have to deal with the reality," Gov. Andrew M. Cuomo said Thursday of a new, floating kind of approach to spending for the coming fiscal year that begins next week on April 1.
Later, on a public radio interview, Cuomo added: "You're going to see education cuts across this state.''
"New York State is basically bankrupt,'' he added, sharply criticizing a new congressional stimulus measure as inadequate to help the state and localities beyond direct costs associated with the coronavirus response.
The idea is a dramatic reflection on just how uncertain anyone is in Albany over the true hit on the economy by the rising unemployment and business closings. The administration's fiscal advisers estimate that revenues to Albany could end up $10 billion to $15 billion lower than what was projected when Cuomo unveiled his original budget plan in January.
The notion of a shifting approach to spending over a 12-month period could be a double whammy to entities that heavily rely on state funding, such as the Buffalo school district or direct care nonprofit agencies that provide mental health, health and an array of other services on behalf of the state.
The state has faced other extraordinary fiscal hits, such as after the 2001 terrorist attacks and the 2008 financial industry meltdown. In some of those sharply hit years, lawmakers and governors took different approaches, such as approving an initial "bare-bones" budget and then a return by lawmakers later in the year to reduce spending levels.
But, this time Cuomo wants his own budget office, not the Legislature, to have the final say in how the budget in 2020 might be adjusted on a quarterly basis if revenues do not come in as predicted when the governor and lawmakers agree on a state budget deal in the days ahead.
The Legislature, over which Cuomo has shown great dominance in recent years, is likely to go along with what Cuomo called an "initial" budget followed by spending adjustments – likely cuts – during the year. One reason: it's an election year for all state lawmakers and there would be little political benefit for them if they had to return in the months ahead to cut popular programs like aid to public schools.
A spokesman for Senate Majority Leader Andrea Stewart-Cousins, a Westchester County Democrat, did not flatly rule out the governor's idea, which was unveiled during a daily update on the coronavirus situation.
A half-hour before Cuomo publicly promoted the unusual spending approach, Stewart-Cousins said in a radio interview that lawmakers understand the need for "nimbleness" in how the budget stays in balance through the year.
"But I would never be in favor of giving wide latitude without involvement from the Legislature in most of these decisions," she told WCNY's "The Capitol Pressroom."
The key term in the senator's remark was "involvement." That could be as simple as an agreement that Cuomo would have to advise legislative leaders in advance of cutting spending later in the year. The Legislature already gave Cuomo in the state's current budget an ability to cut $1 billion in spending at his discretion; the only direct involvement for lawmakers in that is a clause that says they could come back and reject the cuts.
Robert Mujica, Cuomo's budget director, said the plan involves some level of fiscal sunshine for entities that rely on state aid so that they might better plan their own budgets and cash flow. It would mean the budget would be set at a certain spending level with cuts that might be made later outlined in some fashion if certain revenue benchmarks are not met.
"The goal is to be transparent upfront," Mujica said Thursday.
Assembly Speaker Carl Heastie, a Bronx Democrat, said: "The state is faced with an unprecedented public health and economic crisis that will require leadership and tough decision making. We are exploring ways to give the Governor the flexibility he may need without sacrificing transparency and legislative authority."
The idea was panned by the New York State Association of Counties. "The vast majority of expenses incurred by county governments, which is local government, are the services mandated by the state to be delivered locally. These, primarily, are state health and social welfare programs—areas being called upon now at extremely high levels,'' said the group's president, Jack Marren, who is the head of the Ontario County board of supervisors. "The vast majority of expenses incurred by county governments, which is local government, are the services mandated by the state to be delivered locally. These, primarily, are state health and social welfare programs—areas being called upon now at extremely high levels."
The group said it is "highly concerned" about Cuomo's plan that could further erode the ability of localities to have "the resources on the front lines to manage the current crisis." The state has a cap on property tax hikes, a main driver of county tax revenues, and county officials say they cannot enact new revenue hikes after the start of their own fiscal years at a time also when existing revenue streams are plummeting.
Stewart-Cousins said none of the big issues – including the two biggest spending areas, education and health care – have been resolved in budget talks this week.
Lawmakers, whose ranks have been hit by coronavirus cases and self-quarantines, are also looking to change the rules so that remote voting can take place. Lawmakers privately raised serious concerns about holding session, even with density levels reduced in the two Capitol legislative chambers, at the same time when the public is being told to avoid contact with others and to work from home.
Cuomo also floated the notion that the 2020 session – due to go until early June – could end when the budget is adopted in the week ahead. That's why, he said, he wants to include a host of nonfiscal items in the budget, something that happens every year anyway.
The specifics of those items? They won't be flushed out until, in some cases, moments before lawmakers vote on them.