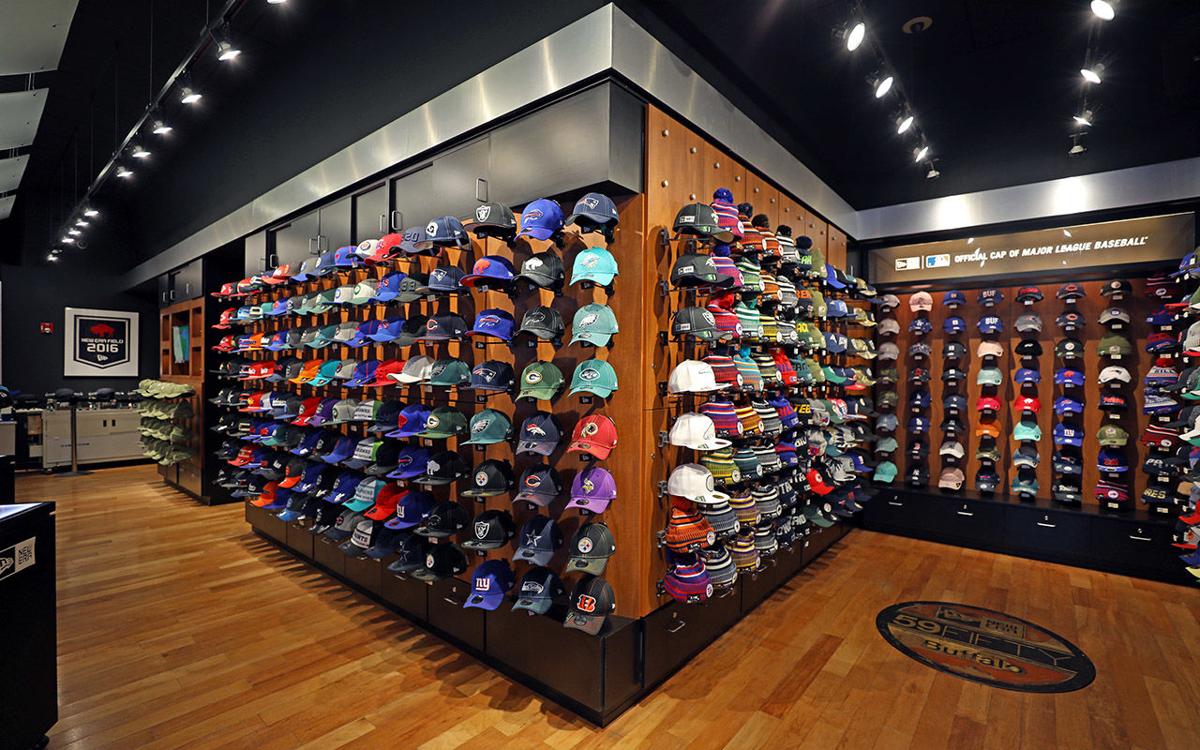 New Era Cap is laying off one-third of its Western New York workforce and bringing the rest of its U.S. staff back from furlough.
An executive from New Era confirmed to The News that the company is laying off 187 employees, 117 of whom worked at its Buffalo headquarters. New Era formerly had 350 employees in Buffalo and 600 across the United States, where it also has offices in New York City, Miami and Irvine, Calif. At the beginning of 2020, the company had 1,230 employees around the world.
The layoffs follow a furlough period that began March 27 – at the front end of the coronavirus pandemic – and was originally planned for 60 days. That furlough affected about 70% of the company's U.S. employees and was extended into summer.
Jim Patterson, New Era's executive vice president and chief operating officer, told The News in an email that the company plans to bring "the majority of our employees across North America back from furlough" by mid to late August.
News of both the layoffs and the return from furlough came the same week that the U.S. Small Business Administration released data on its Paycheck Protection Program, which revealed that New Era received a loan of between $5 million and $10 million and was able to retain 488 jobs.
New Era, a family-owned company founded 100 years ago, holds licenses with brands such as Marvel and DC Comics and exclusive deals with sports entities including Major League Baseball, the National Football League and National Basketball Association. The closure in March of professional and college sports leagues and the plunge in consumer spending as brick-and-mortar retail was shuttered was a walloping blow to New Era.
The company, with revenues reported in late 2018 of about $750 million, saw "the most significant impact" in North America, Patterson said.
New Era has 19 offices around the world.
"North America business was down significantly in the early stages of the pandemic from March to May," Patterson said. "We have seen some bright spots, but it's difficult for us to project how quickly things will return given the current uncertainty around how the reopening is going in various states, etc. We will continue to watch this closely."
While New Era is best known in other regions – especially Asia – as a lifestyle brand that sells apparel and accessories, its North American sales are largely driven by headwear associated with sports leagues that shut down during the pandemic. Now that sports and stores are slowly moving toward reopening, New Era's customers – which include teams, major chains and boutique fashion stores – are "beginning to place orders," Patterson said.
"There is still much uncertainty around the overall opening of retail in various states, as well as the resumption of pro sports," he wrote. "That said, we are in close touch with all of our customers, and plan to regularly review the size of our workforce to ensure we're addressing their needs and overall industry demand."
This is New Era's second large layoff in less than two years. In early 2019, the company had closed its longtime manufacturing facility in Derby, where more than 200 workers made up to 4.5 million caps annually. In a regular year without a pandemic, New Era would sell about 75 million pieces of headwear.
In a late 2019 interview, on the cusp of the company's 100th anniversary, New Era CEO Chris Koch told The News that closing the Derby plant "was an excruciatingly hard decision for me." Three months later, when announcing the furloughs in the wake of the coronavirus, he said in a statement, "In my 40 years at New Era, I have never experienced a series of events that have so quickly and adversely impacted our business."