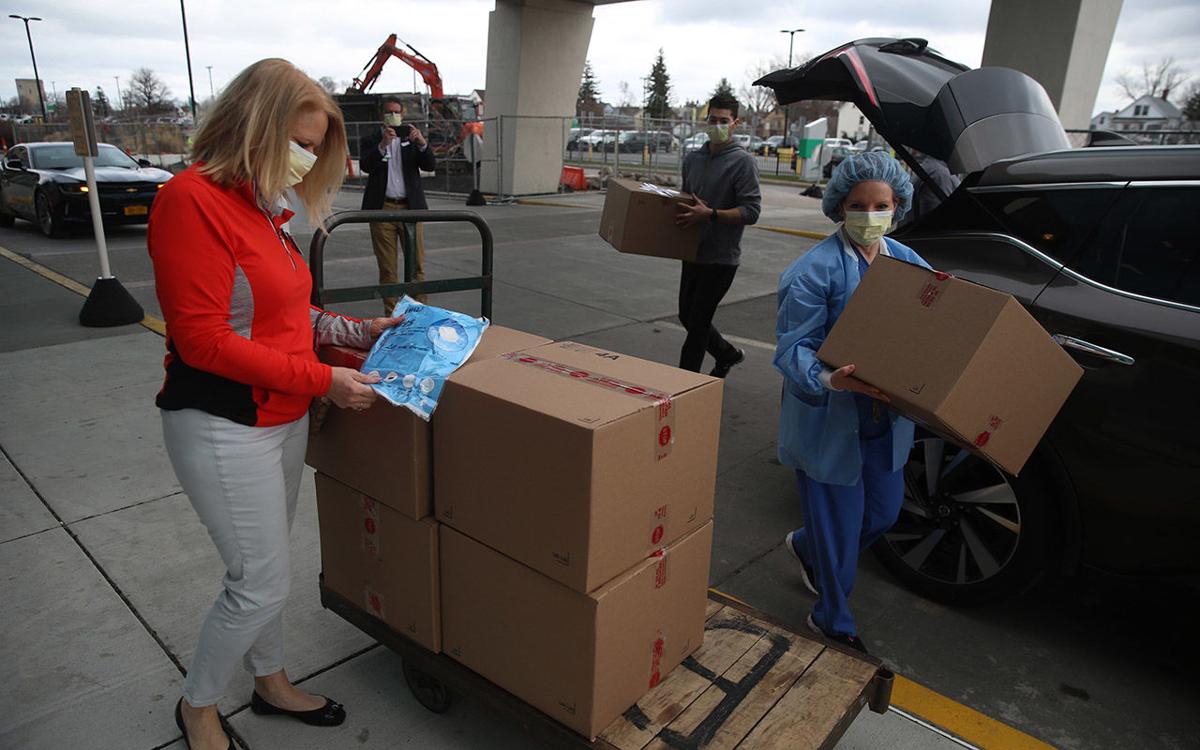 Tom Quatroche Jr.'s staff at Erie County Medical Center is working around the clock to find and buy N95 medical masks.
"We are hoping we're going to be getting a shipment soon," said Quatroche, who is president and CEO of ECMC. "But many of these shipments are coming from other countries and other places, and obviously everybody is looking for these masks. So until they pull up to our loading dock, I don't count on them or plan for it."
Late Friday morning, about 5,000 of them pulled up to his front door, delivered by Andy Cianflone, New Era's senior director of human resources for North America.
New Era Cap Co., the Buffalo-based headwear and apparel company, secured an order of about 10,000 medical-grade masks and donated half of them to ECMC, and the other half to Oishei Children's Hospital.
ECMC has been using about 700 N95-style masks a day, Quatroche said, on its Covid-19 floors and in intensive care units, the emergency department and operating rooms. The hospital has a three-week stock of masks already on hand. The New Era donation extends the ECMC's supply to four weeks.
"We would love to get to the point where anybody who wants an N95 mask can have one," Quatroche said, "because we know the spread of the virus is not just in those units, but could be anywhere."
New Era, which has 19 offices around the world and sells about 75 million caps each year, tapped into its Chinese supply chain to find the KN95 masks. KN95s are designed to meet Chinese government specifications and were approved earlier this month by the Food and Drug Administration as an alternative to N95s, which are made to U.S. standards.
During the Covid-19 pandemic, hospitals around the world have struggled to purchase an adequate supply of personal protective equipment, including N95 masks and the equivalent.
"When our supply chain partner offered to help us secure medical-grade KN95 masks, we immediately started to work to facilitate their shipment to the Buffalo area," said Jim Patterson, New Era vice president and chief operating officer, in an email interview with The News.
Patterson said New Era had been working on the donation for "a few weeks."
"New Era obtained the masks from its suppliers' partners in China," he said, "Understandably, we had to navigate import requirements and manage delays with our partner in order to secure them and get them shipped to the U.S. This took a few weeks of concentrated effort."
Two weeks ago, New Era furloughed about 70% of its 600 employees in the United States. The company cited the economic downturn caused by the pandemic, and specifically the cancellation of sporting events around the world. New Era is a licensee of several sports leagues, including the National Basketball Association, National Football League, and Major League Baseball.
Days before the furloughs, The News asked New Era CEO Chris Koch if the company was able to make masks at its plant in Miami or have them made at the factories in Asia where the company contracts out the manufacturing of its caps. Koch responded that New Era's Miami facility couldn't make masks, and that New Era "checked with our suppliers and they can't make them, either. And even if they could, the Chinese government is not allowing the export of masks right now. They say there's a shortage in China, too."
New Era's ability to secure masks in the weeks since is a benefit to hospital organizations that are less accustomed to navigating global supply chains – especially ones as fluid as the market for medical equipment.
ECMC officials confirmed that N95 masks were formerly selling for about 59 cents apiece, and now average around $4.
"We're working with purchasing organizations, other people in the community who may have experience with those supply chains," Quatroche said. "As you can imagine, everybody has come out of the woodwork to try to broker some of these transactions, and we have to be very careful with the companies that we're dealing with, because these are individuals that we haven't dealt with in the past. So we're being very careful, and so far we've been successful. But having a reputable company like New Era accessing KN-95 masks for us is very important."