With stage productions shut down because of the pandemic, something else happened at the Kavinoky Theatre.
Renovations improved the 250-seat theater.
New seats. New carpeting. Improved lighting and sound. Better sightlines. 
All of this along with new plaster and paint created a spanking-new look for a 1907 space that hadn't been redone in 40 years.
"When our patrons walk in here, they will be walking into this beautiful, glamorous space that they deserved, because they have hung with us," said Loraine O'Donnell, Kavinoky's executive artistic director.
The renovations cost $300,000, half of it from a matching grant from the New York State Council on the Arts. 
"You only get one of these shots every 40 or 50 years," O'Donnell said.
Renovations were planned for 2020, but Covid-19 sped up the timetable after theater productions were canceled. The earlier-than-expected start took away the pressure of having to finish by September, when the 2020-2021 theater season was to begin.
An educational exemption – Kavinoky is housed at D'Youville College – allowed construction that began in April to continue after a brief interruption even as the state's pandemic rules shut down other construction projects.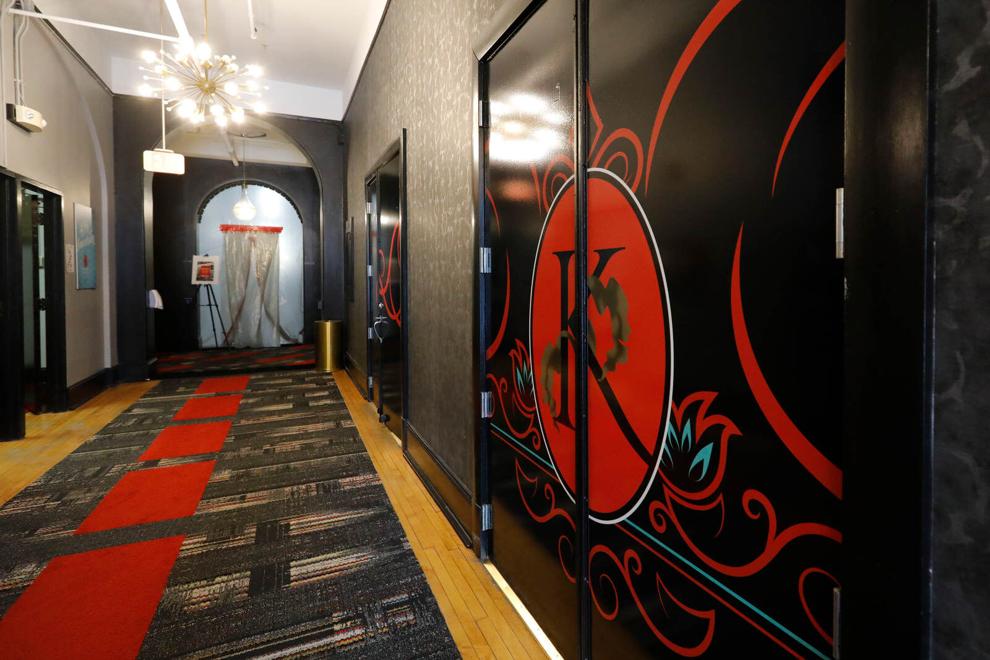 Planning and much of the work was done by Brian McNamara, director of design and construction, painter Jason Kruszka and craftsman Frank Ferrelli.
They came up with the color palette of lipstick and barolo reds, military tan, light khaki, glitzy gold and a color – regent blue – not generally used in theaters.  
"We spent many a night going back and forth on the colors because we didn't want to replicate what 90% of the theaters use," McNamara said. "We wanted to step out of the box and do something different."
O'Donnell said adding the dark blue color to the walls did just that.
"People aren't going to walk in and say, 'It's a little Shea's,' " O'Donnell said. "No, it's not. It's the Kavinoky. I've been in theaters all over the country, and I've never seen this color scheme in any theater."
Missing theater details were added, such as wall trim and door insets, never done when the space was renovated in 1980.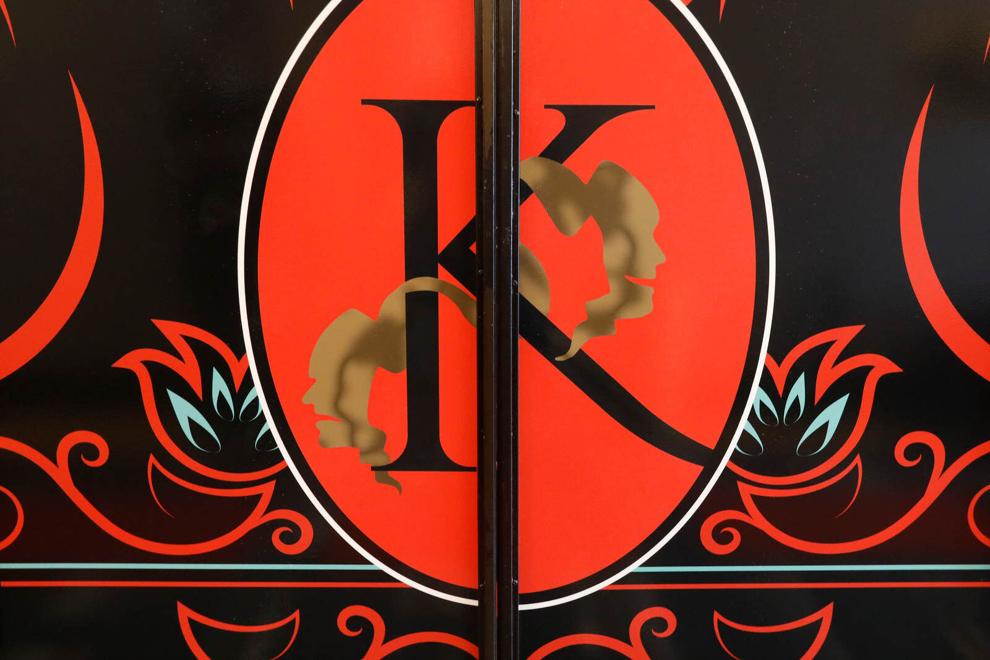 McNamara said the changes to the theater are part of the overall renovations taking place on the D'Youville campus.
"We're not only bringing back and revitalizing the glory of what these spaces were and what they can be," McNamara said. "We're also making them spaces that not only our students can get the benefit from, but also the community."
D'Youville College President Lorrie Clemo said the addition of a motorized screen and projector that allows for film, video and PowerPoint presentations will make the theater an ideal space to host visiting students and their families before touring the campus.   
"This is going to be part of our front-door experience for our students," Clemo said.
The theater will also be used for speakers and other nontheatrical gatherings. 
"It's a really good-sized environment to hold important dialogues, especially around the social issues we're facing today," Clemo said.
The theater is now home to two chandeliers that had been headed to storage after they were removed from the remodeled president's office.
"They're just beautiful," O'Donnell said. "It's like they were meant to be in here."    
Each chandelier contains over 700 crystals, and were refurbished by O'Donnell, McNamara and his wife. They were a gift years ago from Shea's Performing Arts Center.
Other renovations in the theater include an upgraded air filtration system, light sconces on the floor and in the balcony, and a repainted proscenium arch, including the return of a large "K" for Kavinoky. Stage lights were upgraded a couple years ago.
The new seats are larger and have more legroom between rows. The cushions can pop out if necessary, so the chairs won't have to be replaced when the cushions eventually wear down.  
Eight aisle seats, including several toward the front of the theater, are handicapped-accessible. Decorative endcaps that tie into the many medallions and scrolls seen around the theater open with the press of a button, allowing people to transfer to their seat from their wheelchair.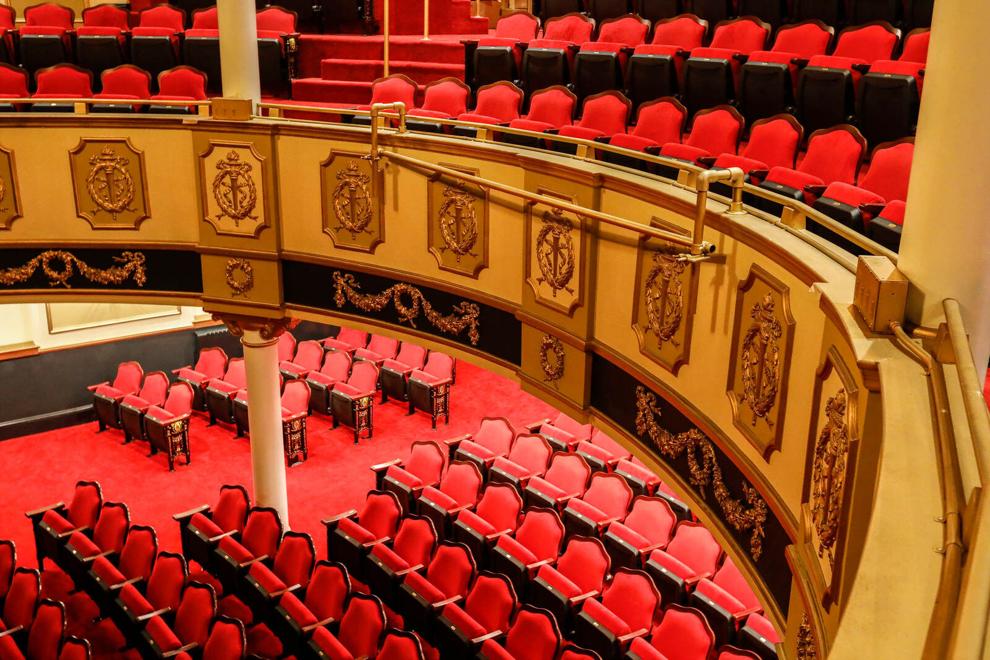 The renovation project also returned the upper theater box seats for viewing. They had been used for the theater musicians, but improvements to the sound system will now allow them to perform from the basement.
Outside, a Broadway-style awning with the theater's name will be displayed on Prospect Street in 2022.
It's been 10 months since the last stage production, and the wait for the next one will last many months more. O'Donnell is already looking forward to welcoming patrons back to the Kavinoky.
"I don't know how I'm going to get through that without crying because it totally will be a new beginning for the theater," O'Donnell said. "It's going to be incredible."
Mark Sommer covers preservation, development, the waterfront, culture and more. He's also a former arts editor at The News.