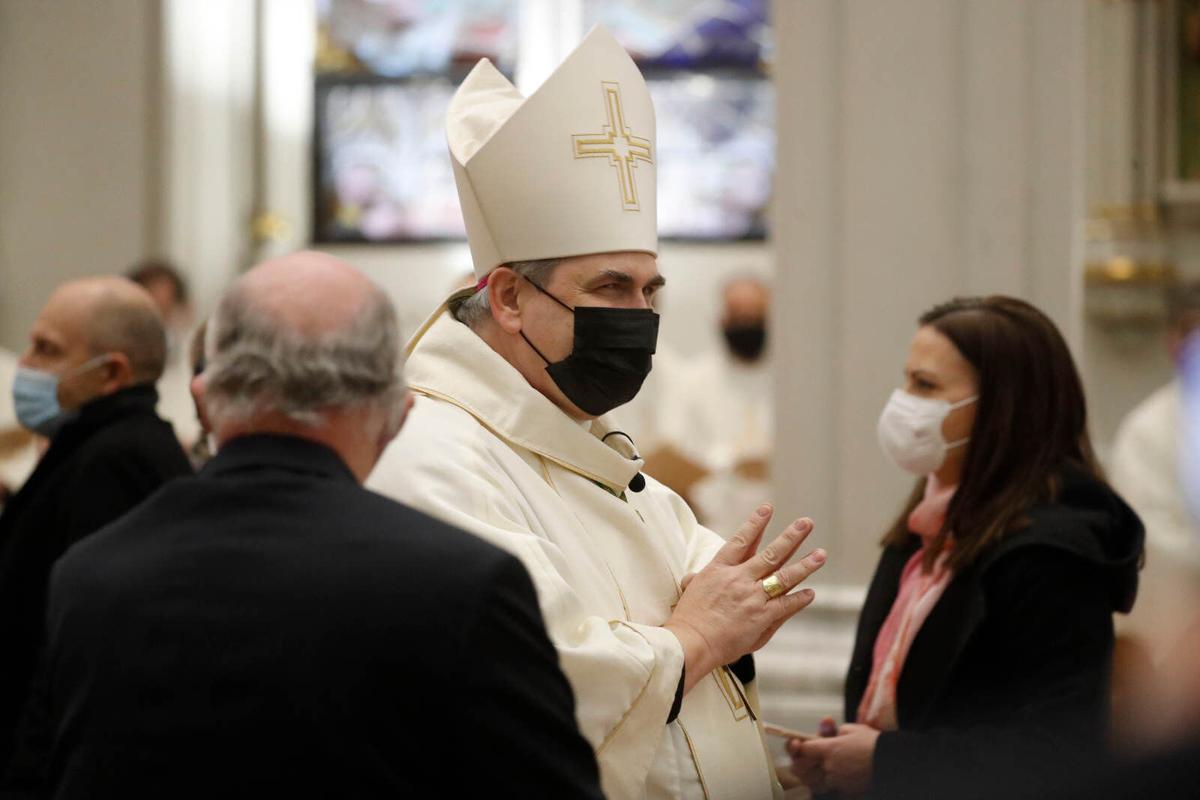 Bishop Michael W. Fisher, installed Friday to lead the Buffalo Diocese, pledged to help survivors of sexual abuse heal and emphasized the importance of the diocese's commitment to Catholic education as it seeks to rebuild from years of scandal and an ongoing bankruptcy process.
"In this work of renewal that together must be our constant preoccupation, we must be ever mindful of those who have turned away, not because of any failure on their part, but because they have been deeply harmed by the sin and failings of those who they trusted most," Fisher said in his homily. "Those who suffered abuse, whose voices have not been sufficiently heard and whose path has not been eased. These brothers and sisters we must find a way to lead or simply to invite back to the church that has failed them."
"I pledge to listen, to comfort, however I can, to understand, as best as I am able, and to exert every effort within my capacity to be an instrument of your healing, if you will allow me," he added.
Fisher, 62, officially became the 15th bishop of the Buffalo Diocese upon sitting in the bishop's chair next to the altar inside St. Joseph Cathedral and taking a crosier handed to him by Cardinal Timothy M. Dolan, the leader of the Archdiocese of New York City who presided at the ceremony.
"God be with you. St. Joseph watch over you," Dolan said, as Fisher took his seat.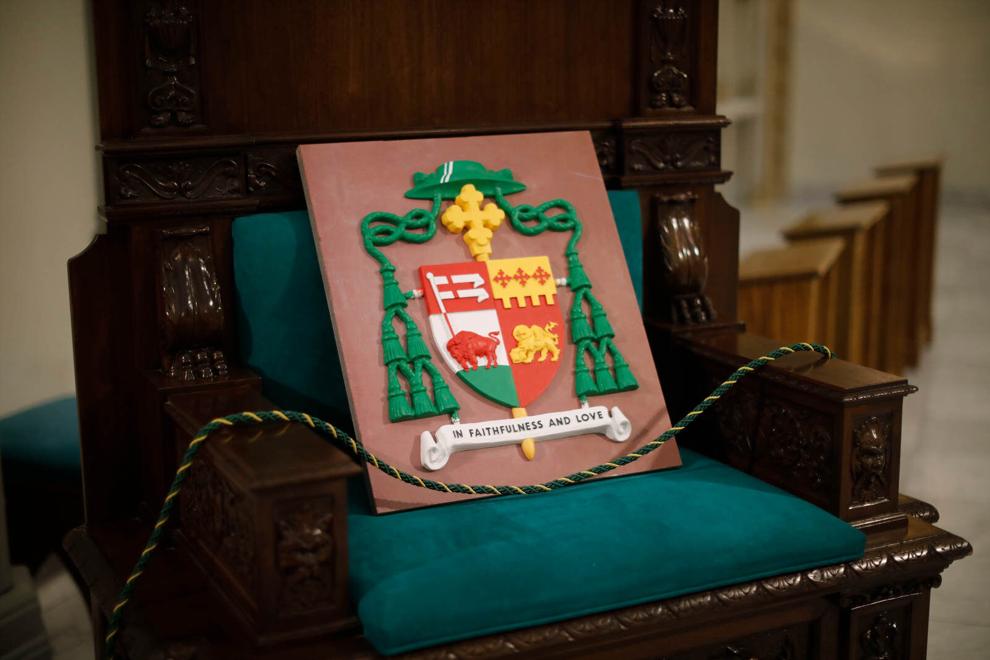 The ceremony featured rituals that have been repeated for centuries within the Catholic Church, beginning with a procession of bishops and priests and Fisher's knocking at the front door of the cathedral, where he was greeted by Dolan and then led up the center aisle.
But the installation Mass was unlike others before it in Buffalo, due to limitations and adjustments prompted by the Covid-19 pandemic. The cathedral, which under normal circumstances would have been overflowing with congregants, was restricted to a third of its capacity.
A native of Baltimore, Fisher came to Buffalo from the Archdiocese of Washington, where he was an auxiliary bishop since 2018 and a priest since 1990. Friends and family of Fisher did not make the trip, nor did Cardinal Wilton D. Gregory, leader of the Washington Archdiocese and Archbishop Christophe Pierre, the U.S. papal nuncio. Both were originally scheduled to be part of the installation.
"The precautions necessitated by an ongoing Covid threat have made their attendance not practical," Fisher said.
Nonetheless, about a dozen bishops, mostly from New York State, joined in welcoming a newcomer into their ranks.
Among them were Bishop Richard J. Malone, the former head of the Buffalo Diocese who resigned under intense criticism over his handling of clergy sexual abuse claims, and Auxiliary Bishop Edward M. Grosz, who had served for many years as a high-ranking diocese official and retired in 2020. Albany Diocese Bishop Edward B. Scharfenberger had been leading the Buffalo Diocese as apostolic administrator since Malone stepped down in December 2019.
Both Malone and Grosz were accused in a lawsuit by the state Attorney General's Office of protecting abusive clergy and covering up sex abuse cases, and their presence at the ceremony outraged a handful of childhood abuse survivors and their advocates who gathered outside the cathedral prior to the Mass.
"This is extremely offensive to survivors," said Kevin Brun, who sued the diocese under the Child Victims Act alleging abuse by a priest 40 years ago and serves on a creditors committee on behalf of abuse victims in the diocese's bankruptcy proceedings. "Their presence here today is not appropriate in any way, shape or form."
Brun also watched as the priest he accused of abuse, the Rev. Arthur J. Smith, walked into the cathedral to participate in the ceremony. Attendance at the installation Mass was by invite only.
"It was reprehensible that Malone and Grosz stood on that altar and that Art Smith was in attendance at that installation today. I don't have the words to describe it," he said.
Brun said Fisher's words sounded like something an incoming bishop should say, but he was "deeply skeptical" that Fisher would follow through on them.