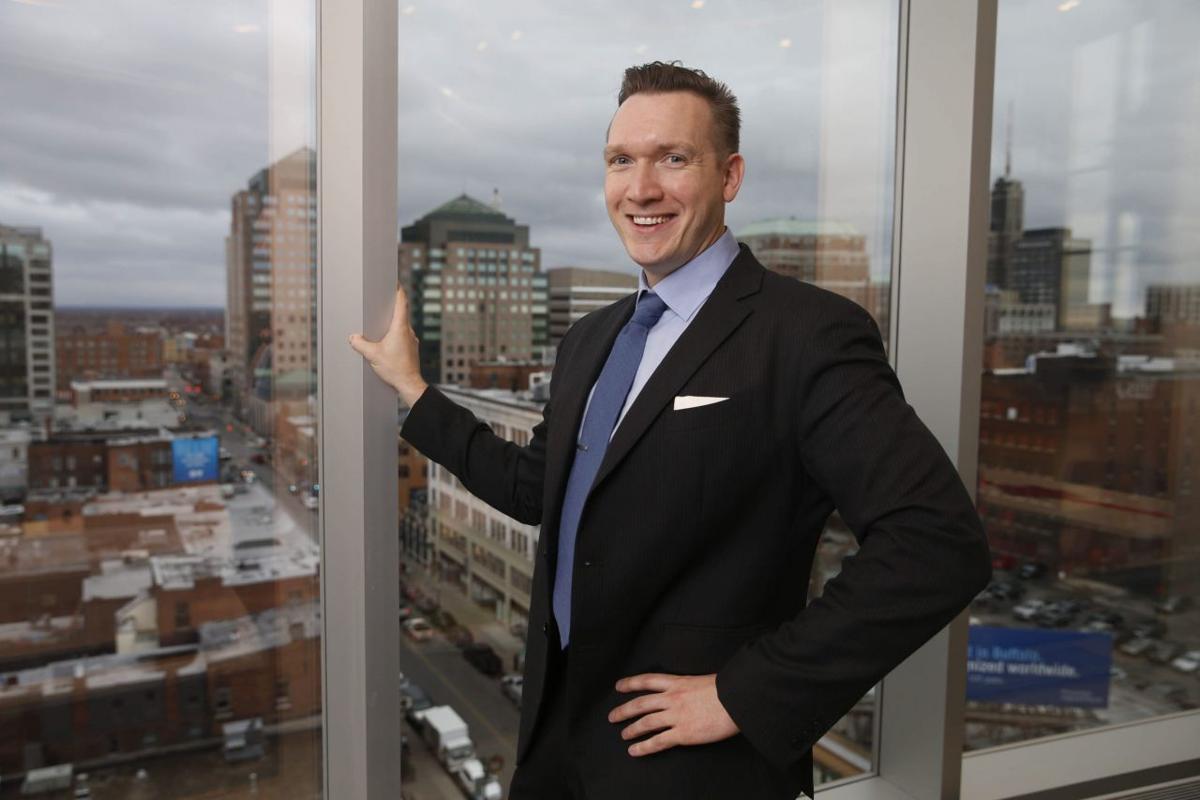 Democratic congressional candidate Nate McMurray on Tuesday sued Delaware North Cos., charging that his former employer pressured him not to run for Congress against the man he lost to in a June special election and will face again in November: Republican Rep. Chris Jacobs of Orchard Park, the nephew of the company's chairman.
Formerly vice president of business development at Delaware North, "McMurray was discriminated against because of his political activities," the lawsuit alleges. "McMurray was placed on unpaid leave because he ran a political campaign against a member of the Jacobs family."
McMurray's lawyers argue that by putting McMurray on leave in February and eliminating his job in September, Delaware North violated a provision in state labor law that says: "It shall be unlawful for any employer … to discharge from employment or otherwise discriminate against an individual in compensation, promotion or terms, conditions or privileges of employment because of … an individual's political activities."
The civil suit calls for McMurray to receive an unspecified amount in compensatory and punitive damages from the Buffalo-based concessions and gaming company, as well as reimbursement for legal fees.
Delaware North did not immediately respond to a request for comment. The Jacobs congressional campaign declined to comment.
The legal complaint, filed in state court in Buffalo, turbocharges McMurray's ongoing assault on his former employer, which he previously waged largely in the media and on Twitter.
Moreover, the lawsuit – filed two weeks before Election Day – offers rich new details about McMurray's longstanding charge that Delaware North worked hard to get him out of the congressional race in New York's 27th District and to get Jacobs elected.
Chris Jacobs has no ownership interest in Delaware North and has never worked there. But his uncle, Jeremy M. Jacobs, is the company's chairman. And Rep. Jacobs acknowledged earlier this month that a cousin, Delaware North co-CEO Louis Jacobs, urged him to run for Congress.
McMurray alleges that Delaware North encouraged him during his 2014 campaign for Grand Island supervisor and also in his 2018 congressional race against then-Rep. Chris Collins, which the Democrat narrowly lost.
All that changed, the lawsuit alleges, soon after that election. The lawsuit repeats McMurray's earlier description of a late 2018 meeting in which former Rep. Thomas M. Reynolds – a Delaware North lobbyist – and a company executive tried to push him out of another congressional race. Instead, Reynolds and Jack O'Neill, senior vice president for governmental and external affairs, urged McMurray to run for the State Senate seat that Jacobs held at the time.
That was just the start of what McMurray sees as a concerted Delaware North effort to pressure him out of running for Congress again – and to retaliate against him once he made clear he was running.
In October 2019, shortly after Collins resigned while pleading guilty to insider trading charges, "Delaware North human resources employee Eileen Morgan held a meeting with McMurray regarding his involvement in politics and how it may 'clash' with the involvement of Chris Jacobs in the race," the lawsuit alleges. "The meeting with Morgan ended tensely and with no resolution."
That same month, Delaware North Executive Vice President and Chief Development Officer Maureen Sweeny summoned McMurray to a meeting to discuss his "political disruptions."
"Sweeny conceded McMurray's performance had remained excellent but this was 'how the game was played' or words to that effect," the lawsuit alleges.
Then on Dec. 5, 2019, McMurray met with a Delaware North security official who is not named in the lawsuit.
That official "mockingly called McMurray 'congressman' and mockingly questioned whether McMurray really had a chance to win the election," the lawsuit charges.
That security official urged McMurray to "lay off Trump" and said McMurray "looked like a traitor," the court filing added.
Two months later, after two more meetings with company officials where they discussed McMurray's congressional race, he received an email from a Delaware North human resources official saying he had been placed on unpaid leave.
Then, on Sept. 15 of this year, that same official informed McMurray that his job at Delaware North was being eliminated. He left the company, the lawsuit said, without receiving the full 2020 bonus he was owed.
All the while the company was pressuring McMurray against another race for Congress, Delaware North was working behind the scenes to elect Jacobs, the lawsuit charges.
In June 2019, for example, Shannon Patch – the company's director of governmental affairs – sent McMurray a memo outlining how he should go about running for Jacobs' seat in the State Senate.
In addition, "Shannon Patch was responsible for early fundraising strategy for Chris Jacobs," the lawsuit alleges.
Patch, a former aid to Senate Minority Leader Charles E. Schumer and a Democratic Town Board member in the Town of Tonawanda, did not immediately respond to a request for comment.
Delaware North's political action committee donated $5,000 to Jacobs a month after he entered the congressional race. And to hear McMurray's lawyers tell it, Delaware North has rewarded employees who contributed to its PAC.
The company has been laying off workers as the Covid-19 pandemic decimated its incoming revenue. However, "upon information and belief, employees who donated to the Delaware North PAC, supporting Chris Jacobs, were not subjected to layoffs or business disruption leave," McMurray's lawsuit alleges.
Asked about the lawsuit, McMurray said in a brief interview that he has evidence to back up the lawsuit's allegations and that he's anxious to prove his case in court.
"I think the facts speak for themselves," he said. "This is not something I was longing to do, but I think that they (Delaware North) are not used to people standing up to them, and I am determined to do so."