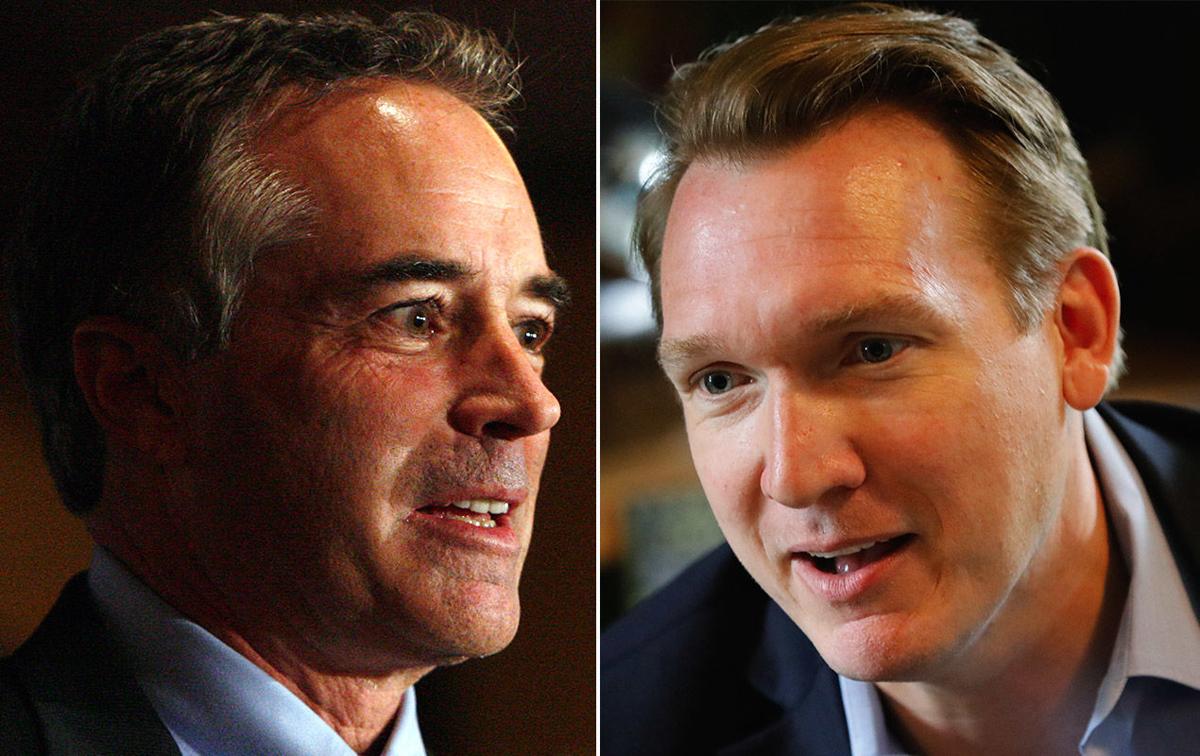 The tedium of ballot counting fueled dueling political theater Wednesday as Democrat Nathan McMurray claimed that tallies of absentee ballots in the 27th Congressional District will produce a "dead heat" with Republican incumbent Chris Collins if the current trend continues.
But a Collins spokesman said McMurray "struggles with basic math" and predicted the congressman's 1 percentage point lead will hold once results from Erie County are tabulated next week.
Both campaigns now continue the back and forth jabs that marked their bitter contest, which was thought to have ended late on election night when McMurray appeared to concede defeat. But later that night he said he would continue his candidacy until all absentee and other outstanding ballots are officially counted. That process is expected to end on Nov. 20 when results from Erie County are finalized.
On Wednesday, however, McMurray said his vote count is "performing significantly higher" than on election night in four counties reporting so far — Monroe, Wyoming, half of Genesee and about a quarter of Ontario.
Compared to election night returns, McMurray said the count of absentee and other outstanding ballots has his share 9 percent higher in Ontario, 13 percent higher in Wyoming, 14 percent higher in Monroe and 15 percent higher in Genesee.
He acknowledged, however, that the official results slated to be counted next week in Erie County, as well as those from Niagara, will determine the election's outcome.
"Unlike my opponent who hid from voters and hoped to end the race before all the votes were counted, I will see this race through to the last vote," McMurray said in a written release. "This is democracy at work, and we will continue to fight so that every vote is counted."
But Collins spokesman Christopher M. Grant noted that Tuesday's counts stemmed from the most Democratic areas of the district, including the cities of Batavia and Canandaigua, as well as Monroe County, where more Democratic absentee ballots than Republican ones were requested.
"Nate won where he did on election night, so there are no surprises," he said Wednesday. "We still have to count the most Republican areas in Genesee, Ontario, Orleans, Niagara where Collins won, and Erie. Yesterday was probably his best day."
Grant noted that McMurray tweeted late Tuesday that he would win if the trend continued, but on Wednesday softened his prediction to a "dead heat." He said 1,900 of the approximately 11,000 outstanding ballots were counted on Tuesday, and that McMurray needs to win 64 percent of the total to overcome the Collins lead.
He traveled to Washington on Tuesday for orientation meetings for incoming congressmen even though he was behind in the vote count, and Republicans apparently did not take very kindly to that move.
Rep. Gregg Harper, the Mississippi Republican who chairs the House Administration Committee, barred McMurray from orientation events and a group picture of incoming lawmakers on Wednesday, McMurray told the New York Post.
Elaborating on what happened in a statement, McMurray blamed Collins for shutting him out of the orientation activities.
"I came to D.C. to equip myself to hit the ground running and better serve the people of Western New York once the results are official," he said. "It is shameful that Collins is continuing his efforts to diminish the will of the voters and call this race before all votes have been counted. As usual, he is actively undermining the future of this district and our country."
Democrats on the House Administration Committee have allowed McMurray to attend their party-only orientation events and have offered to travel to Western New York to help him if he wins.
Neither McMurray nor Collins will know the official results until next week.
Jeremy J. Zellner, who is Erie County's Democratic elections commissioner, said the largest number of outstanding ballots in the district stem from Erie County and are due at the Board of Elections on Monday. Counting is scheduled for Tuesday.
"Nothing will be final until Erie is in," he said. "Once the results are in on Tuesday, things will be much clearer."